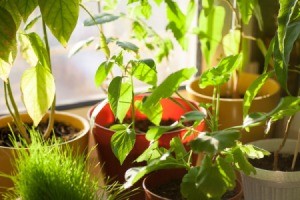 If you are going on vacation from four to five weeks this is a tried and true way to keep your potted plants, as well as large ferns in hanging baskets watered without depending on someone to tend them in your absence. Watering succulent plants is not recommended using this method, learned from experience!
Hanging baskets - water a few days before you are leaving being careful not to overwater. Take a clear plastic dry cleaner bag, put over the fern leaving the hanger exposed to hang up, then once hung, gather at the bottom the excess plastic loosely securing with a twist tie. This works like a greenhouse effect. Use a twist tie at the top where hanger protrudes.
The big heavy plastic zippered comforter bags are excellent to put several plants in the bag after watering, then zip them into their greenhouse atmosphere.
I have used this method for saving five hanging asparagus ferns from outside for four years. You may want to check them over the winter and add a little water to them.
This worked so well for me I thought it worth sharing. Sorry I do not have pictures, but I think it is easily visulized from my description.