Ways for Gardeners to Stay Busy During Winter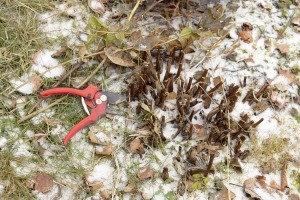 Winter is not a time for gardener's to have the blues. There are a lot of activities you can engage in that will put the old garden to bed and prepare you for the coming season. Clean tools, read up on gardening, order seeds, try new spices to see if you need to grow your own. Concentrate on your houseplants and perhaps make up some garden decorations such as stepping stones or fun planters. More ideas can be found on this page.
Solutions
Share on ThriftyFunThis page contains the following solutions. Have something to add? Please share your solution!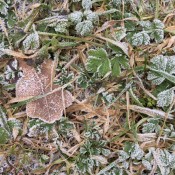 Oh, but it's getting ugly around here. I am speaking of my garden of course. For one thing, about this time I lose interest in it. The magic of watching the plants grow, then blossom and put on their colorful array of tasty treasures for us to enjoy is long past.
Somehow that time seems like a long time ago, back before the weeds got ahead of me a time or two. Before I spent my afternoons canning, when I had other things I wanted to be doing. Before the vegetables that I thought I just had to plant, just had to be taken care of. I know it sounds like there is a lot of whining going on, and you are right, there is; it's time to clear off the garden and store away the canning equipment until next year, and that's not fun.
There are other things I want to do right now, like my crafting, go visit my nephew in Lincoln, and get ready for my booth in our local state wide garage sale so aptly called the Junk Jaunt. Certainly the tools will be okay until next year; they've not run away from home yet. Yes, they would be okay, but that is what I have been saying for several years, and it is time to stop putting it off. My car is parked beside the wall where we hang our tools, and they seem to be staring down at me with sad beady eyes every time I drive out of the garage while they hang there dirty and unattended to.
It's not that I don't clean the dirt off of the shovel or a hoe when I get done with it; most of the time, but it needs a good sharpening and oiling at the end of the season. I occasionally spray it with WD40 throughout the season which helps keep it from rusting. The metal parts need to washed thoroughly, allowed to dry, and then I take my brass wire brush and give them a good brushing, dry them, and oil them with good oil I have on hand. Used motor oil works fine, and you are recycling at the same time. Don't forget the handles. Every couple of years, run sand paper over them then apply oil and they will last a lot longer while being easier on your hands.
Putting a good coat of paint on them also will help preserve the wood. I like the look of the wood, so I oil mine when I oil the blades of the tools.
Don't forget your little tools also; trowels and your string line from the garden need your attention. If you are like me once you are done with the string line, it gets jammed back in my garden tool box and forgotten. Then next spring when I pull out my tool box, I have to clean out the box, sort the empty seed packets from half empty, then unravel the string from the clutter and other "items" that got forgotten in the haste of getting my seeds in the ground.
My string line however has gotten easier to care for, since I discovered using our son's discarded kite handle to wrap the string on. The other end is tied to a metal electric fence post that easily pushes into the ground. Now I am done planting I just wind the string onto the kite handle, secure the end, and put it in my garden box which is a plastic divided box with a handle on it; the fence post then helps hold up my chicken wire for the peas.
So you see, if you take care of your tools now and stick with it when you get all excited next spring to start the magic all over again, your tools will take care of you.
Now it's on to the second big season of the year, GO HUSKERS! What an exciting year this is going to be. Just what is in store for the BIG RED no one really knows, but this much we do know. It will be interesting to see how we fare in the new Big Ten. With all of the speculation going on around my house, I can't wait so I guess I might as well take care of my garden tools while I do. Everything has its place and everything in its place. That's my motto - yea right, if only!
By Ann W. craftingtales.com from Loup City, NE
Do you have a frugal story to share with the ThriftyFun community? Submit your essay here: http://www.thriftyfun.com/post_myfrugallife.ldml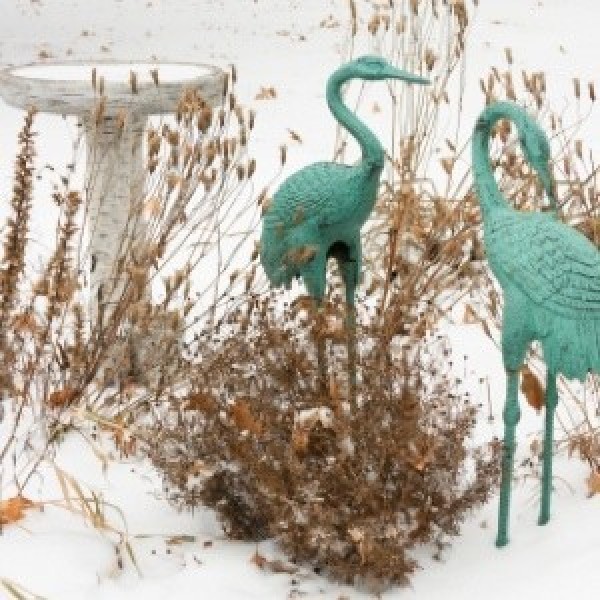 For most gardeners, the beginning of the winter season comes as a welcome relief. It means they can finally turn their attention to other projects for awhile. Around mid-January, however, the seed catalogs start to arrive in the mail and anticipation for the new gardening season starts to build. With a few months of winter still left, suddenly spring can't come soon enough. Here are some activities to help pass the time while waiting for the next growing season to arrive.
Catch Up On Your Reading: During the growing season, most gardeners are too busy planning, planting, and problem solving to spend any appreciable time reading books about gardening. Now that the season is over, catch up on your reading. Explore new types of plants and garden techniques and get some inspiration for next year.
Get Organized: Winter is a great time to reorganize the tool shed, clean up neglected pots and seed-starting trays, and layout plans for next year's garden. Think about this past year. What worked well and what might you do differently next year? Take an inventory of your current plants and supplies and make a list of your wants and "must-haves" for next season. If you start your plants indoors, make sure to mark your calendar for when it's time to start seeds.
Stock Up On Supplies: Late fall and early winter can be great times to score discounted prices on supplies like mulch, potting soil, containers, and garden tools. The selection is usually thinner, but so are the crowds. Take advantage of year-end sales before the lawn and garden equipment is moved out to make room for ice scrapers and snow shovels.
Order Seeds: It's never too early to peruse the garden catalogs and start planning for next year, especially if you want to start seeds early indoors. There are two cardinal rules when it comes to ordering seeds:
Always order seeds that are proven to grow successfully in your area.
Resist the temptation to order more than you need.
Focus On Your Houseplants: Check them carefully for pests and diseases, prune away any dead or leggy foliage, and freshen them up with a little new soil. If plants appear to be getting rootbound, repot them into a container one size larger.
Create Garden Art: If you're the crafty type, the off-season is a great time to take on garden art projects like decorating flower pots, painting garden gnomes, or casting stepping stones.
Try New Recipes: Find a great salsa recipe calling for banana peppers? Discover if you love rosemary? If you like to grow vegetables and herbs, experimenting with new recipes can be a great way to help you decide what to grow in next year's garden.
Visit An Indoor Garden: Spending an afternoon at a conservatory is a great way to ward off the winter blues because something's always growing. Many botanical gardens put on seasonal flower shows, arrange art exhibits, and lead workshops and classes on gardening, cooking, and the arts.
Interact With Gardeners Online: The Internet is home to a huge network of gardeners and garden bloggers. Type "garden blogs" into any search engine and gain instant access to dozens of garden blog directories. There you can connect with other gardeners based on your region or interests. With free platforms like Blogger, even the most technically challenged gardener can have their own blog up and running in under 5 minutes. Blogs are a great way to keep an online gardening journal and to connect with and learn from other gardeners.
Buy Yourself Bouquets: After awhile, winter's lack of warmth and color can make for a dreary outlook. Treat yourself to the occasional bouquet of flowers. Their color, fragrance, and vitality feel good to be around and will help raise your spirits until spring arrives.