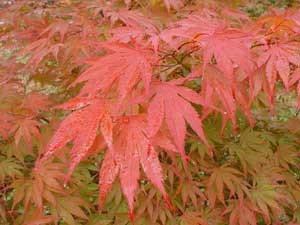 Question:
Thanks so much for all the great Tree ideas in
A Good Tree to Give as a Gift.
. I actually found out a tree story about my brother and his new wife. I guess her grandparents got a tree for one of their wedding gifts and it was a Japanese Maple so wherever they moved to they would dig up the tree and take it with them. So, I thought that might be a good idea. Do you know the meaning of a Japanese Maple?
Thanks again,
Mandi from Erie
Answer:
I'm glad you liked some of my ideas. Trees are a wonderful way to remember a person or mark a special occasion. I was able to find a fair amount of information regarding the spiritual and/or folklore meanings of Maple trees. It was less easy to find information regarding the history or meaning of Japanese Maple trees.
Maple Tree meanings:
Celtic (Independence of Mind) - no ordinary person, full of imagination and originality, shy and reserved; ambitious, proud, self-confident, hungers for new experiences, sometimes nervous, has many complexities, good memory, learns easily, complicated love life, wants to impress. Corresponds to birthdays from April 11-20th.
Traditional Passing a young child through the branches of a maple tree is thought to encourage good health and longevity of life for the child. Success and abundance.
Japanese Maple Tree meanings:
From the National Arbor Day Foundation website:
http://www.arborday.org/trees/treeguide/TreeDetail.cfm?id=29
History/Lore/Use:
The Japanese word "momiji" is sometimes applied to this tree in it's native land. The word is said to have two meanings, both of them appropriate for the description of this wonderful tree: "baby's hands" and " becomes crimson leaves." Japanese Red Maple is a tree that has been cultured intensively for over 300 years and retains a special place in the heart of all who love exotic trees."
Hope this helps!
Ellen

July 15, 2017
0

found this helpful
I love the Japanese Maple and have one outside my Counselling Room. I used some of the leaves as part of a bouquet that I made for our 30th Wedding Anniversary celebration, along with other flowers from my garden. I was very interested to read the description of the meaning which reminds me of myself in many ways!