I am moving and things I want are "gally west and crooked" for now. It has been cold the last couple of days and even snowed some the night before last!
I was invited to a potluck as a good way to meet people of this small town which was good thinking on my neighbor's part! I decided to wear a sleeveless summer top under my winter clothes as added warmth! I realized that this item was going to be UNSEEN and plan on utilizing more of my sleeveless summer tops for added warmth on cold days!

I will get extra usage from the clothing which is a plus and if they are stained or a little bit raggedy, that also is a plus to get a little more wear out of them before they go into the ragbag! This would also go for socks which are mismatched or in bad shape - to wear them as a second pair under the better ones!

By melody_yesterday from Otterville MO
Answers:
Wear Summer Clothes As Layers In The Winter
Thanks for your excellent idea! I have been enjoying the extra warmth of my old clothes under my good clothes each winter and so glad to know you think it is good as well!
Merry Christmas to you!
A great read: John 3: 16 (12/16/2008)

Wear Summer Clothes As Layers In The Winter
Over here in the Netherlands it can be cold too (as you can see on this picture) and I always let our children wear t-shirts (un ironed of course; no extra work that is not necessarily) underneath their hoodies and sweaters. My daughter even wears the ones with the long sleeves, she has to bike a long way to school.

As usually, these t-shirts are from the summer, a bit worn out and sometimes fadet, I am glad that they still can use them. And, you are so right, it gives a lovely warmth! I also wear long sleeve t-shirts underneath knitted gardians, vests or sweater. It stops the itching of the wool.
I am happy to read that you do the same and hope that you bring some people a good idea! Happy holidays to you all! (12/18/2008)

By Mama L.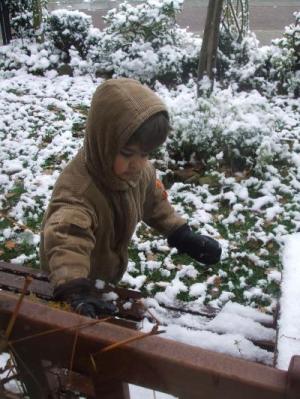 Wear Summer Clothes As Layers In The Winter
I do this with my children. They get extra wear out of summer things, especially the things that are less than prime looking. If a little ragged or stained, who cares when it's worn under something else. I used to buy my son white undershirts but no more. I just take his summer tee's that are starting to show wear or getting a little short and they become his winter-time undershirts. My daughter wears summer tank tops as undershirts. (12/19/2008)
By Debbie52