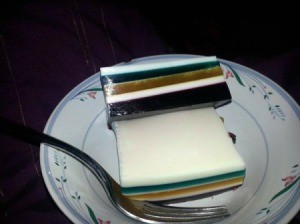 If you love Jello, then you have to try this recipe!

Ingredients:
large or small boxes of Jello (any flavors, although it is best to use just a couple different flavors to start with)
1 can of sweetened condensed milk
1 box of Knox unflavored gelatin
Baker's Release spray
a pan or muffin tin
tea kettle (or pot for hot water)
several mixing bowls (one for each flavor of Jello and one for the creamy layer)
ladle
Steps:
This can take up to an hour depending on how many layers you do and how many flavors.
Jello Layers: Follow the Jello Jigglers recipe, mixing each color in a separate bowl with just the hot water (NOT cold water). Mix well set aside.

Let the mixed Jello cool to about room temperature (this helps reduce the time it takes to chill).

NOTE: Small Jello boxes usually only make one thin stripe whereas the bigger boxes can make a couple stripes. Also flavors like blue raspberry are really overpowering and would be better done with just creamy layers and the raspberry.
Creamy Layers: In a small glass glass bowl, measure 1/2 cup cold water. Drop in 2 envelopes of plain Knox gelatin and let the gelatin "bloom" or swell up. Once it's had a couple minutes to swell, stir it well.

Pour sweetened condensed milk into a medium-sized mixing bowl. Add 1/2 cup of boiling water.

Pour dissolved gelatin mixture into the condensed milk mixture, then add another 1/2 cup of boiling water. Allow to cool to room temperature.
Making the Layers: Spray muffin tin or cake pan with Baker's Release spray. Use a paper towel to spread it all over evenly.
Begin by pouring a layer of Jello in the bottom of the pan. Stick the pan in the freezer for around 6 minutes or until it's set. Thick layers take longer, while thin layers take less time. Check on it often, with a clean finger or a spoon. It is done when it is hard and bouncy.
Remove the pan from the freezer and pour in a about 1/3 of the creamy mixture. Stick the pan back in the freezer for 5-6 minutes, or until set.
Repeat the colored layer process followed by another creamy layer. When you're finished place the whole thing in the fridge or serve it! Store in the fridge, but unlike regular Jello it doesn't melt as fast because it has less water! In a cake pan it comes out looking like a colorful slice of rainbow, from a muffin pan they come out like individual little cakes. A very cooling, guilt-free desert!
Other Ideas:
Set each color in a cookie sheet, cut with cookie cutters, place in a deeper pan, and fill in with white layer.
Or do each individual color in a cookie sheet, let it set, and cut it into random cubes. Put the cubes in a pan, fill in with creamy layer, chill then repeat, leaving you with something that looks like a stained glass window when sliced. The possibilities are endless and kids (big and small) love these!