Jess
Silver Post Medal for All Time! 267 Posts
These meals are intended to be a relatively simple and healthy weeknight meal for a family of four. We assume that these dinners are being made in a kitchen stocked with regular kitchen staples. We will not include prices of oil, sugar, flour, spices, etc. unless you need a 1/4 cup or more. Regional food prices may vary and can be reduced by smart shopping techniques.
This recipe is a version of a childhood favorite of mine, Campbell's Bean with Bacon Soup. This recipe will leave you lots of leftovers and will be just as good the second day, maybe even better. The whole family really liked it.Even my picky nine year old said "It was actually not too bad".
Shopping List
1 lb. small navy beans (or two cans)

$2.00
1 yellow onion
$.99
3-4 cloves garlic
$.33
3 stalks celery
$.50
3 carrots
$.50
chicken base (or bouillon)*
$.50
1 can tomato paste (6 oz.)
$.65
1/2 lb. bacon, cooked and crumbled (appx 6 slices)
$1.50
Total Cost = $6.97
*You can use chicken stock or broth in place of bouillon. A ham or pork flavored broth or base would work well, too. If you have a bone from a Christmas or Easter ham, use it to make stock for a soup like this.
Staples
olive oil
salt
pepper
thyme
red pepper flakes
water
vinegar (cider or red wine would be best but any will do)
milk (optional)
Directions
If using dried beans, be sure to soak them overnight for best results. I place mine in a juice pitcher and then fill it up with water and place in the fridge. They take a little longer to cook but it is well worth it.
Cook your bacon first and set aside. In this case, I already had leftover bacon from an earlier breakfast. Finely chop onion, celery and carrots into "bean" sized pieces. Mince or press 2-3 garlic cloves. Add 1 Tbsp. olive oil (or use some reserved bacon fat) to a stock pot or Dutch oven. Heat oil to medium low then add vegetable mixture. Add garlic after onions start to "sweat".
When onions are translucent and carrots are softened, add water and chicken base (to make 4-6 cups of broth), beans, tomato paste, bacon, 1 Tbsp. vinegar, 1 tsp. thyme and 1/4 tsp. red pepper flakes. Bring to a boil and reduce heat to a simmer.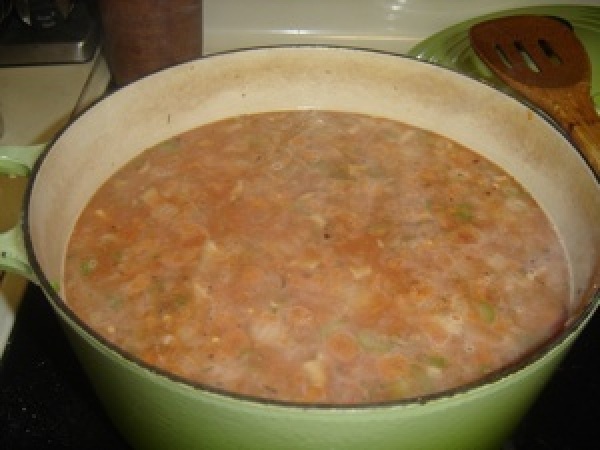 Simmer on low, stirring occasionally until the beans are softened, usually 2 1/2 to 3 hours. When they are done, take an immersion blender and puree about half the soup pot. If you don't have an immersion blender, you could use a potato masher, blend the hot soup in your regular blender (take the center part of the lid off to let the steam escape), or just leave it chunky. The longer you cook it, the more it will break down and be like the canned Campbells soup.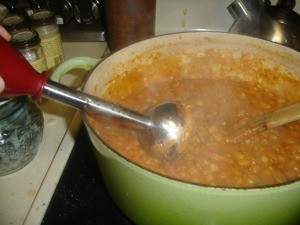 Give the soup a final taste, adding more spices and salt and pepper to taste. If you like a creamier soup, add 1/4 cup of milk or cream to the pot before serving.
Tips:
I served my soup with leftover French bread. You could use croutons, tortilla chips or crackers, too.
This soup will thicken as it sits. Simply add more water or broth for desired consistency.
Buying some ingredients in bulk can reduce the costs. Buy just the bacon you need at the deli counter or get dried beans in the bulk section.
Feel free to substitute the beans. A bean blend would work fine, or any beans you might already have on hand. Bacon bits or leftover ham would work well in this soup. You could also leave out the bacon and chicken base for a vegetarian version
Many recipes online suggest using a "Liquid Smoke" product to intensify the smokey flavor. For a natural version, you could cook the bacon or onions on the BBQ before preparing this recipe.
This soup would be great in the crockpot, just make sure that you leave enough time to cook down the beans at a low heat, probably 10 hours or so. Add salt at the end.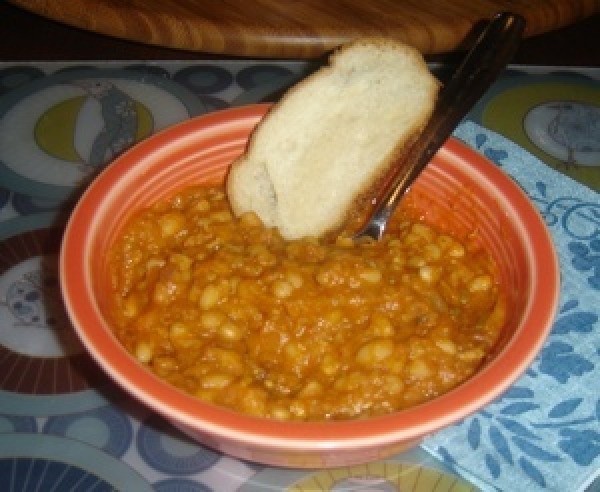 By Jess
Editor's Note:
With uncooked beans, more water is usually desired. I have increased the water/broth range to 6 cups. If you are using canned beans, 4 will be plenty.
Comments

September 23, 2009
0

found this helpful
Wow, that soup sure looks good! Thanks for sharing and love the pictures!

September 23, 2009
0

found this helpful
Bean with bacon was my all time favorite soup. The stuff they have now is not the same. Thank you for sharing your version, might even make some tomorrow.

Marty Dick
Bronze Post Medal for All Time! 169 Posts
September 24, 2009
0

found this helpful
Fall has finally arrived in Houston and this will make a great autumn or winter lunch. Thanks!

September 24, 2009
0

found this helpful
Thank you for this recipe for bean with bacon soup. This is my favorite soup. Will try this soon.
Read More

Comments