These meals are intended to be a relatively simple and healthy weeknight meal for a family of four. We assume that these dinners are being made in a kitchen stocked with regular kitchen staples. We will not include prices of oil, sugar, flour, spices, etc. unless you need a 1/4 cup or more. Regional food prices may vary and can be reduced by smart shopping techniques.
This recipe is a version of a childhood favorite of mine, Campbell's Bean with Bacon Soup. This recipe will leave you lots of leftovers and will be just as good the second day, maybe even better. The whole family really liked it. Even my picky nine year old said "It was actually not too bad".
Shopping List
1 lb. small navy beans (or two cans)

$2.00
1 yellow onion
$.99
3-4 cloves garlic
$.33
3 stalks celery
$.50
3 carrots
$.50
chicken base (or bouillon)*
$.50
1 can tomato paste (6 oz.)
$.65
1/2 lb. bacon, cooked and crumbled (appx 6 slices)
$1.50
Total Cost = $6.97
*You can use chicken stock or broth in place of bouillon. A ham or pork flavored broth or base would work well, too. If you have a bone from a Christmas or Easter ham, use it to make stock for a soup like this.
Staples
olive oil
salt
pepper
thyme
red pepper flakes
water
vinegar (cider or red wine would be best but any will do)
milk (optional)
Directions
If using dried beans, be sure to soak them overnight for best results. I place mine in a juice pitcher and then fill it up with water and place in the fridge. They take a little longer to cook but it is well worth it.
Cook your bacon first and set aside. In this case, I already had leftover bacon from an earlier breakfast. Finely chop onion, celery and carrots into "bean" sized pieces. Mince or press 2-3 garlic cloves. Add 1 Tbsp. olive oil (or use some reserved bacon fat) to a stock pot or Dutch oven. Heat oil to medium low then add vegetable mixture. Add garlic after onions start to "sweat".
When onions are translucent and carrots are softened, add water and chicken base (to make 4-6 cups of broth), beans, tomato paste, bacon, 1 Tbsp. vinegar, 1 tsp. thyme and 1/4 tsp. red pepper flakes. Bring to a boil and reduce heat to a simmer.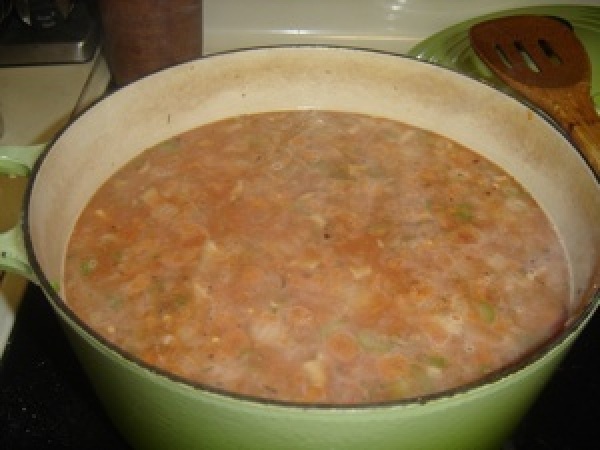 Simmer on low, stirring occasionally until the beans are softened, usually 2 1/2 to 3 hours. When they are done, take an immersion blender and puree about half the soup pot. If you don't have an immersion blender, you could use a potato masher, blend the hot soup in your regular blender (take the center part of the lid off to let the steam escape), or just leave it chunky. The longer you cook it, the more it will break down and be like the canned Campbells soup.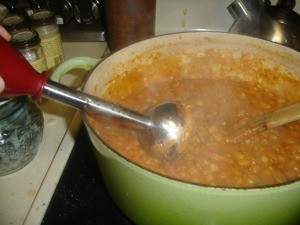 Give the soup a final taste, adding more spices and salt and pepper to taste. If you like a creamier soup, add 1/4 cup of milk or cream to the pot before serving.
Tips:
I served my soup with leftover French bread. You could use croutons, tortilla chips or crackers, too.
This soup will thicken as it sits. Simply add more water or broth for desired consistency.
Buying some ingredients in bulk can reduce the costs. Buy just the bacon you need at the deli counter or get dried beans in the bulk section.
Feel free to substitute the beans. A bean blend would work fine, or any beans you might already have on hand. Bacon bits or leftover ham would work well in this soup. You could also leave out the bacon and chicken base for a vegetarian version
Many recipes online suggest using a "Liquid Smoke" product to intensify the smokey flavor. For a natural version, you could cook the bacon or onions on the BBQ before preparing this recipe.
This soup would be great in the crockpot, just make sure that you leave enough time to cook down the beans at a low heat, probably 10 hours or so. Add salt at the end.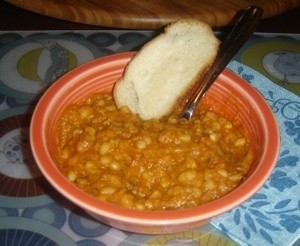 By jess
Editor's Note:
With uncooked beans, more water is usually desired. I have increased the water/broth range to 6 cups. If you are using canned beans, 4 will be plenty.
September 23, 2009
0

found this helpful
Wow, that soup sure looks good! Thanks for sharing and love the pictures!
September 23, 2009
0

found this helpful
Bean with bacon was my all time favorite soup. The stuff they have now is not the same. Thank you for sharing your version, might even make some tomorrow.
September 24, 2009
0

found this helpful
Fall has finally arrived in Houston and this will make a great autumn or winter lunch. Thanks!
September 24, 2009
0

found this helpful
Thank you for this recipe for bean with bacon soup. This is my favorite soup. Will try this soon.
October 1, 2009
0

found this helpful
Thanks this looks yummy! I don't eat meat but will use veggie bacon in this instead, can't wait to try it.
October 1, 2009
0

found this helpful
Jess is that a vintage cast iron covered pot? I didn't know about them until a couple of weeks ago, and I got a white one at a garage sale, and I love it! I use it nearly every day now, it's just the right size for 2-4 meals. I've been collecting cast iron pans and pots, but, that was the first time I ever saw them coated with those colors like that, and so far, no food has been stuck on this covered pot, it cleans up so easily.
October 5, 2009
0

found this helpful
Kas2, it is my prized 5 1/2 quart Le Creseut French Oven (because a Dutch oven wouldn't sound nearly as fancy). My husband bought it for me for Mother's Day a few years back from a fancy kitchen store and I love it. I use it several times a week and it has been in a few other $10 dinner articles too. It was very expensive though (I had been drooling over them for a few years before he surprised me). If you find one at a thrift store, garage sale or even antique store at a good price, I would certainly snap it up.
February 19, 2015
0

found this helpful
Do you really use a whole 6 oz can of tomato paste? My soup looks so red.
January 26, 2016
0

found this helpful
Sorry, I just saw this comment. I did use a whole can of tomato paste. I have also made it with a can of tomatoes.
March 24, 2011
9

found this helpful
Souper quick and souper easy ;-)
Ingredients:
6 strips bacon
1 small celery stalk, finely chopped
1 medium onion, finely chopped
4 tsp. minced garlic
2 (15 oz.) cans white kidney beans, not drained
2 cups water
2 Tbsp. fresh parsley, chopped
salt and pepper, to taste
Directions:
Cook the bacon in a large saucepan over medium heat until crisp, about 6 to 8 minutes. Transfer bacon with a slotted spoon to a paper or cloth towel, let cool and break into small pieces.
Return the saucepan with bacon drippings to medium heat, add the celery, onion, and garlic and cook for 3 to 4 minutes, or until celery and onion are just tender, stirring well.
Add the beans and water and bring to a boil, cover, reduce heat to low, and simmer for 10 minutes.
Uncover and partially mash the bean mixture until it thickens slightly. Stir in the parsley, bacon, salt, and pepper to taste and serve.
By Deeli from Richland, WA
I am wondering if 4 cups of water is correct for bean soup with bacon. When I make soup using 1 lb. of beans I use 3 qts of water. Please advise.
By Doris from Parma, OH
June 2, 2011
0

found this helpful
Best Answer
Doris, I think you are referring to my Bean with Bacon soup recipe that I posted in the Recipe Newsletter recently. As the beans have already been soaked before cooking, the 4 cups makes a nice brothy soup. Of course, you can always add more or less.
June 1, 2011
0

found this helpful
To tell you the truth I don't think it matters. Do you like your soup thicker or thinner? It's a matter of personal taste.
June 2, 2011
0

found this helpful
You have a proportion of water to dried beans that you use for bean soup; why would it be different for bean soup with bacon? The bacon itself would not affect the amount of water you use. Is there something special about this dish, is it thicker or thinner than your regular bean soup? Does it have other ingredients that would make it thicker or thinner?
June 2, 2011
0

found this helpful
I think it will depend on the beans you are using more than anything. If they are already cooked, then maybe 2-3 cups of of beans will be OK with or without bacon and 4 cups of water. That would make a good thick soup.
If you are cooking a pound of dried beans from scratch, you'll need those 3 quarts of water as the beans will soak up a lot of it, and some will evaporate in the cooking process.
I would have to see the entire recipe before giving you a better answer.
Good Luck anyway. Try looking up the recipe for Senate Bean Soup and use that recipe as a good guide. It's one of the best. Supposedly, it's served every day the Senate is in session in the USA.
Pookarina
June 2, 2011
0

found this helpful
Pookarina is right re Senate Bean Soup. That is the recipe I always make. When I saw this one I thought I might try to make it. But it appears something or a step is missing as I know from experience that 4 cups of water is not sufficient for 1 lb. beans even if it would be a very thick soup. Thanks anyway.