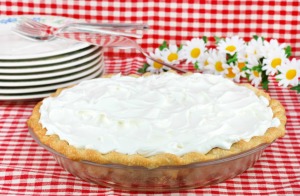 This is an unusual pie recipe that was given to my Mother years ago and I still make it. It is always enjoyed and loved by everyone! It is easy to make because most of the items are readily available.
Ingredients:
1/2 cup cake flour
1 cup sugar
2 cups milk
1 tsp. oleo (butter or margarine)
1 tsp. vanilla
1/8 tsp. salt
2 egg whites
whipped cream (we use cool whip)
chopped nut or almonds to sprinkle on top of whipped cream
Directions:
Mix flour and 3/4 cup sugar. Add milk, oleo, 1/2 tsp. vanilla and salt. Cook until thick. Cool. Beat egg whites until stiff. Add 1/4 cup sugar and 1/2 tsp. vanilla. Fold into cooled mixture. Pour into baked crust. Chill. Top with whipped topping and chopped nuts.
Make chocolate pie by adding 2 Tbsp. cocoa to sugar and flour.
Servings:
8
Time:
25 Minutes Preparation Time
8 Minutes Cooking Time
Source: This recipe came from my minister's wife years ago when I was young. It was given to my mother and our whole family has went by the recipe for years. I made it for my children when they were young and still at home. Since that time, I have read online about the recipe originating from a small restaurant in southern Illinois called Burton's Cafe.
I am not sure where it originates from, but it sure is good! For those of you who are not familiar or are too young for the term (haha),"oleo" is just butter or margarine. I hope many of you will try it. It's a great recipe and very cost cutting to make.
By Kathy from Mt. Vernon, IL
Read More

Comments