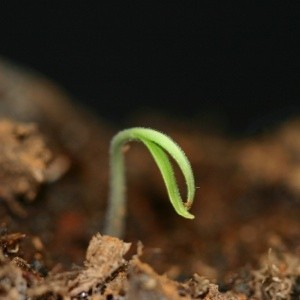 True or False? All seeds need to germinate is an ample supply of water, the right temperature, and some well-aerated (oxygen-rich) soil.
False!
As it turns out, coaxing seeds into germinating can be little bit more complicated. Although horticultural vegetable and flower seeds have been developed to germinate as easily and reliably as possible, things don't always go as planned. If some of your seeds failed to germinate this year, here are some clues to what might have gone wrong.
Undesirable Temperatures
Some seeds need cool temperatures to germinate, but more often than not, they require warmth. Both low and high temperatures can inhibit germination. In soil temperatures below 45 degrees F (or above 90 degrees F), most seeds will germinate very slowly, if at all. Cold tolerant vegetable crops like cabbage and broccoli will germinate at temperatures between 40-50 degrees F. Heat lovers like tomatoes, corn, poppies, and nasturtium will not germinate reliably below 50-60 degrees F. Don't rush to plant too early. If necessary, use cloches and row covers to trap in heat and warm up the soil. Different soils warm up at different rates, so use a soil thermometer to provide accurate readings.
The Wrong Light
Seeds can be fussy when it comes to light requirements. Most seeds germinate best in darkness. Fine seeds, however, tend to need exposure to light in order to germinate. When planted outdoors, they should only be covered with a fine layer of dirt to prevent them from blowing away.
Lack of Scarification
The thickness and hardness of a seed coat determines how fast water can penetrate it, and in turn, how quickly it germinates. Some types of seeds (especially some perennial seeds) must be scarified (nicked, scratched or scraped) before they will they will sprout. In nature, scarification is done by soil fungi and bacteria, sharp soil particles during heavy rains, or by the crops of birds as seeds pass through their digestive system.
Lack of Stratification
In colder climates, seeds germinate as soon as possible after the snow melts so they have enough time to establish themselves before the next winter. Germination happens only after the seeds go through a natural cycle of stratification (are moistened by falls rains and given an extended period of low temperatures). If some of your seeds have failed to germinate, check to see if they need to be artificially stratified (given a cold treatment) before breaking dormancy.
Bad Seed
If a seed becomes completely dried out during storage it loses its ability to germinate. Just how long seeds can remain viable depends on the species and the conditions endured during storage. For best germination results, seed needs to be stored in a cool, dry, dark place.
Planted At The Wrong Depth.
Seeds sown at incorrect depths may germinate unreliably. Always check the recommended sowing depths on seeds packets. If instructions are not available, use the use the general rule of planting the seed at a depth twice the diameter of the seed.
Drowned
Seeds are living things that need oxygen to survive. Many seed packets advise gardeners to soak seeds in water for 1-2 days before planting. Unfortunately, soaking them for too long deprives them of oxygen and may cause them to drown. An alternative is to wrap them in moist paper towels for a few days. Seeds that sit in wet soil due to heavy rains or over-watering may also fall prey to rotting or oxygen deprivation and fail to germinate. Use soil that drains well and try to keep seeds moist, but not wet until they germinate.
Carried Away By Wind, Water or Animals.
Sometimes the lack of germination is due to cause completely out of your control. Seeds may be carried away by winds, hungry animals, or washed into clumps by heavy rains.