Two wonderful ideas I happened across this month are: Window Farms and sprouting (please don't confuse "window farms" with "windowsill gardens"). Neither of the two are exactly new ideas, but having fresh homegrown veggies in the winter has a great deal of appeal to me and I am MUCH interested in doing both!
YouTube has a lot of videos about both of the two ideas above and I watched in awe to learn that in tiny apartments in crowded cities a whole fresh homegrown salad can be grown PER WEEK using the concept given in the videos!

Sprouting also has a lot of appeal to me. You don't really need all the commercial items available to sprout successfully! A bulk store near me carries several different sprouting seeds. I called a seed store and was told they can't sell their seeds as "sprouting seeds" without a special room to keep them and a separate scale on which to weigh them. So they don't advertise them as such. A person would have to be knowledgeable enough on their own to decide which are and which are not safe for this particular purpose. Also you "spend" 1 part seeds and "earn" 7 parts sprouts! So it is a good way to stretch food inexpensively.
The picture is of old flower seeds I wasn't sure about being too old or not. I am sprouting in a recycled plastic cookie box and dryer lint ! "Never say never!"

By Melody_yesterday from Otterville, MO

Editor's Note: Buy sprouting seeds from a natural foods store or seed supplier that are untreated seeds for sprouting. You can also use your own seeds leftover from last year that you have collected, if they were grown without chemicals. Don't use the growing seeds right out of the packets because many have been treated with fungicides which wouldn't be good to eat.
Window Farms
I decided to further my little sprout experiment with the flower seeds with the expired shelf life and they are doing quite well! I sandwiched them between clear plastic wrap doubled over so I could tape them to the window. (using a try of some sort under the plastic wrap helps). Leave about 1/2 to fold over and a little at the top so you can get moisture to them)
It's fun to see the sprouts with the full blown winter scene in the background! I just placed an online order for a variety of seeds/beans so I will soon be eating much preferred RAW food and hopefully become the picture of youth! ;)

I won't leave them there in the night. We are under a windchill advisory for -22F and I wouldn't want my sprouts to take chill and die !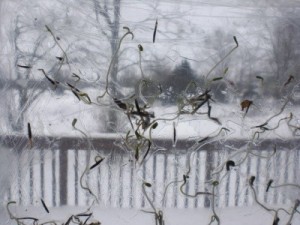 Jars
Here are my lentils I wait eagerly for! It is day 2 for them. I started a few blackeyed peas too. It is so much fun!

The jar is on it's side because more seeds can get maximum light.

I secured a piece of netting on the jar mouth with a rubber band as shown in some videos I watched.It works fine and is tight enough that I can do the rinse/drains needed without removing the sprouts from the jar.