Here's an inexpensive way to add more vegetables to your diet all year, and all it takes is a quart jar and a spot near your kitchen sink. Sounds too easy? I thought so too, but I've enjoyed it so much that recently I found a way to enlarge my "garden" without taking up any more counter space. It's clean, no dirt involved, and requires very little work to maintain. With my method, I have at least a quart of fresh sprouts daily.
At the beginning, you really only need one large-mouth quart jar, and a scrap of fine fabric netting (tulle) or some plastic canvas. This is to hold the seeds inside your jar while rinsing so they don't wash out and go down the drain. If cutting a round shape of plastic canvas, cut it so that it'll fit snugly inside the jar ring. When sprouting small seeds, you'll still need to put some tulle over the jar the first few days or the teeny seeds might wash out of the jar before sprouting!
The first time I tried it, I bought a bag of dried lentils at the grocery store, but it's safer to buy organic lentils at a health food store. A bag costs about a dollar or two, and 1/2 cup of dried lentils will make a quart or more of sprouts. Put the half cup of lentils into the jar, cover it with the plastic canvas or netting under the lid, put enough cold water into the jar to more than cover the lentils, soak 8 hours or overnight and drain. Tilt the jar at an angle inside a cereal bowl to drain more. Twice a day, rinse briefly and drain again.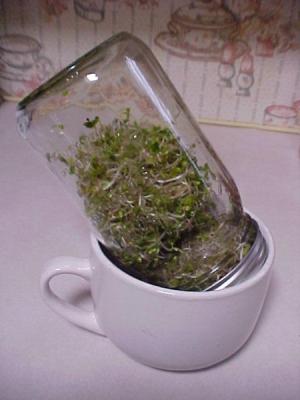 Within only about 3 days, there will be sprouts to start tasting, and when large enough, cover and put them in the fridge for a few hours after the last rinse/drain cycle (so they'll be dry). Eat raw within a few days in a salad, on sandwiches, or you can cook them. Sprouts cook VERY fast, but for the most nutrients, they're best eaten raw. Most are said to have around 30 times the nutrients as full-grown vegetables, plus sprouts don't produce intestinal gas.
Truly, I thought nothing could taste better than lentils so that's all I did at first, but finally came the trip to the health food store where more organic alfalfa (my current fave!), broccoli, red cabbage, and radish sprouting seeds were purchased. You can grow all of them, mix them up, and have quite a salad. If you start a new jar daily, you'll always have something ready to harvest.
When using these tiny seeds, it only takes about four hours of initial soaking, but they take closer to five days of twice-daily rinsing to get to the sprout size that tastes best. Some people sprout in trays or baskets, but quart jars are so easy to rinse and wash, they work fine for me. It's a method people have used since the 70's and is just incredibly simple...soak once, rinse twice daily, then eat. It can't get any easier.
If yours don't sprout right, it may be that you have something harsh in your water. A friend of mine who uses water from a well adds a dab of vinegar to her soak water to counteract it. As tiny seeds sprout, they throw off their hulls, which make no difference to me in taste, but some like to rinse the hulls away when they float up to the top under running water. I have several commercial sprouting jar lids with stainless steel screening that come in different sizes that work great for this, and I have simply let the loose hulls float out and over the side while running water into the jar. Sometimes I put the sprouts in a bowl of water, swish them and lift out to put back in the jar. That will leave the unsprouted ones and most loose hulls behind.
Of course, now, so MANY jars of different seeds were always sprouting on the counter! What to do? I found an old decorative wine rack with wooden sides (at a thrift store) that held two rows of 3 bottles each. Wine bottles are longer, so the wires were too far apart to hold shorter quart jars, but that was simply fixed. It's easy to unscrew the back wires at the ends, move the racks closer to the front ones and a little higher (about at a 45 degree angle to help jars drain better) and screw them back into the wood.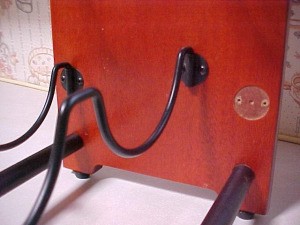 If your wine rack hasn't any rubber feet on it (mine didn't and I got a little water damage to the varnished finish before noticing it), it's easy to find four small rubber feet or grommets at a hardware store and screw them into the bottom of the side boards, which will raise your rack off the cabinet and keep it dry. Your jars will drip as they drain, so you'll want to put a tray underneath to catch the water.
I tried small cookie sheets, a dish drain rack, etc., but found that those nice long trays that come with George Foreman kitchen grills are perfectly sized to go under the edge of my particular rack, and they are dishwasher safe.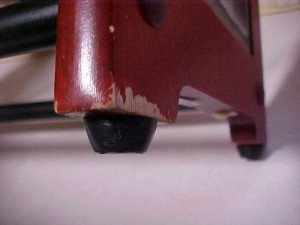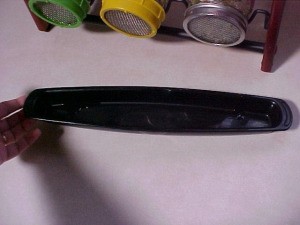 If you want to try sprouting, please read various web sites to find out more about it. My main tip is to look for a wine rack similar to mine and adjust it so that you'll have a neat, easy-to-care-for "double layer garden" close to your sink. My rack even has a handle, so I can lift and move the whole garden away quickly if I need the counter space.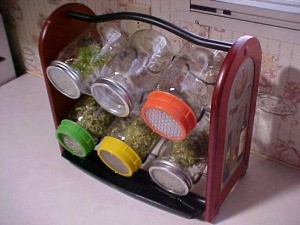 My total costs were $3 for the wine rack (found at a thrift store), I already had large mouth quart jars but they are usually 25 cents at thrift stores, I had the rubber grommets in the junk drawer, and just a few dollars for the seeds. A large bag of alfalfa seeds cost $8 here, and at 2 tablespoons per quart, it lasts a long time. (You might want to buy a smaller bag for under $4 until you know what seeds you like best.)
Just a final note, some people think that sprouts can be dangerous because a few years ago there was a big uproar when sprouts at some restaurants made people ill. Please keep in mind that those were commercial sprouts. When you grow sprouts yourself, you know exactly how clean they are, how well you wash your jars, and how long since they were sprouted. Always practice cleanliness when doing this and do your research. It's best to use only certified organically produced seeds that are sold just for sprouting.
I did use lentils from the grocery, which probably isn't the best to buy, but it got me started. Don't sprout any kind of seeds you find that aren't specifically sold for sprouting, to be the safest, and don't just listen to me, do your own research online or at your local library. A good website to start on might be www.sproutpeople.org. If you look a little down the left side of their page you'll find their Sprout School tutorials, which I found helpful.
Once you find all the great things you can do with sprouts, try out the recipes that abound, and see how much great nutrition you can get for a fraction of the cost of grown veggies, you may get as hooked as I did. It's really fun, as well as tasty!
Source: One of the websites I remember reading was Sproutpeople.org. There are lots of books on Amazon and at your local library as well.
By Mary LaCaze from Mtn. Pine, AR
Comments

March 13, 2012
2

found this helpful
What a great tip! Excellent instructions and photos. You might want to try my fav' which is a mix of clover, radish and alfalfa. It just seems to taste better and last longer. Give it a try!

March 4, 2016
0

found this helpful
I wish I could give you two thumbs up! Great tip.

April 25, 2017
0

found this helpful
Best posting on the internet I have seen all week. This totally deserved the win. I just priced sprouts at the grocery a few hours before reading this....imagine my delight. Thank you for sharing.

March 10, 2019
0

found this helpful
I have found old panty hose cut up make a good material to put over top of jar. Also Health Food stores often sell organic alfalfa seeds, lentil etc by weight. So you can buy a very small amount to get started. We sprout in winter mist when lettuce us so expensive. I use recycled spaghetti sauce jars that have flat sides good as jar stays balanced easier.