After spending the winter thumbing through seed catalogs and dreaming of digging in the dirt, the last thing you want to do in the spring is waste your time (and money) shopping for new tools. Take a few minutes this fall to properly clean and store your garden tools for winter. You can use the money you would have spent replacing neglected tools to buy more plants for the garden next spring.
Clean & Disinfect
Hand Tools (trowels, rakes, shovels, hoes, etc.): Use soap and water to remove residual dirt and dried-on materials from tool surfaces. Scrape off stubborn clumps with a putty knife or a wire brush. The steel brushes made for cleaning grills work great for this because they usually have bristles on one side and a scraping tool on the other. Don't use wire brushes on painted surfaces though, or you'll scratch off the paint and make the surface more susceptible to rust. If surfaces are showing signs of rust, try loosening the specks with steel wool and then rubbing with a dry cloth.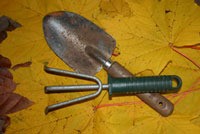 Mowers and Trimmers: Grass is acidic and can cause a chemical reaction that leads to rust during prolonged contact with metal. Scrape off the undercarriages of lawnmowers and weed whackers with a putty knife.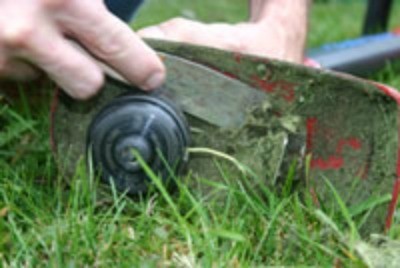 Grass is acidic and can cause a chemical reaction that leads to rust during prolonged contact with metal.
Sprayers: Empty chemical sprayers and properly dispose of leftover contents according to package guidelines. Sprayers should be flushed at least three times with soap and water before storing for winter.
Disinfect all tool surfaces that are in contact with soil by dipping them in a solution of one part non-chlorine bleach, to four parts water. Hold them in the solution for about 15 seconds. Empty used pots and seedling flats should be disinfected now too so they will be ready to start early spring seeds.
Remove Gas
Gasoline should not be held over from one season to the next. Old gasoline can gum up parts and slow down ignition. Use an old turkey baster for the sole purpose of siphoning out leftover fuel from gasoline powered equipment like lawn mowers, weed whackers and tillers. If you can time it right, you can also run equipment until its out of gas. This is also a good time to check and replace sparkplugs, examine electrical chords and remove and store batteries for winter. Remove (and recycle) used motor oil and replace or clean dirty air filters. Check your owner's manual for any other storage or lubrication requirements.
Sharpen Blades
Sharp blades make cleaner cuts, which when dividing plants means quicker healing and less likelihood for disease. Following the existing angles of the blades, use a whetstone or file to sharpen dull blades on trowels, hoes and shovels. Have your lawn mower blades professionally sharpened now to avoid the spring rush.
Prevent Rusting and Cracking
Sand down splinters on wooden handles and apply a coat of linseed oil to prevent wood from cracking. Wipe off any excess to prevent handles from getting sticky.
Lubricate all tool pivoting points and springs and pay special attention to wheels, axels, and moving assemblies. Paint exposed metal surfaces or rub them with a sock dipped in motor oil. A spray-on lubricant like WD-40 also works well for this.
A great way to store tools and keep them from rusting is to insert them blade down into a 5-gallon bucket filled with builder's sand and one quart of 10W-30 motor oil.
Drain and Hang
After the garden gets one last, long drink, remove nozzles and drain and hang your hoses and irrigation equipment away from freezing temperatures.
Tighten Up & Check for Leaks
Tighten up loose nuts and bolts and inspect moving parts for wear and tear. Check the tire pressure on wheelbarrows, garden carts and lawnmowers and check tires for any cracking and splitting or signs of leaks.
Proper Storage
For safety, tools with sharp blades or tines should be stored upright and off the floor using hooks or nails or wooden pallets.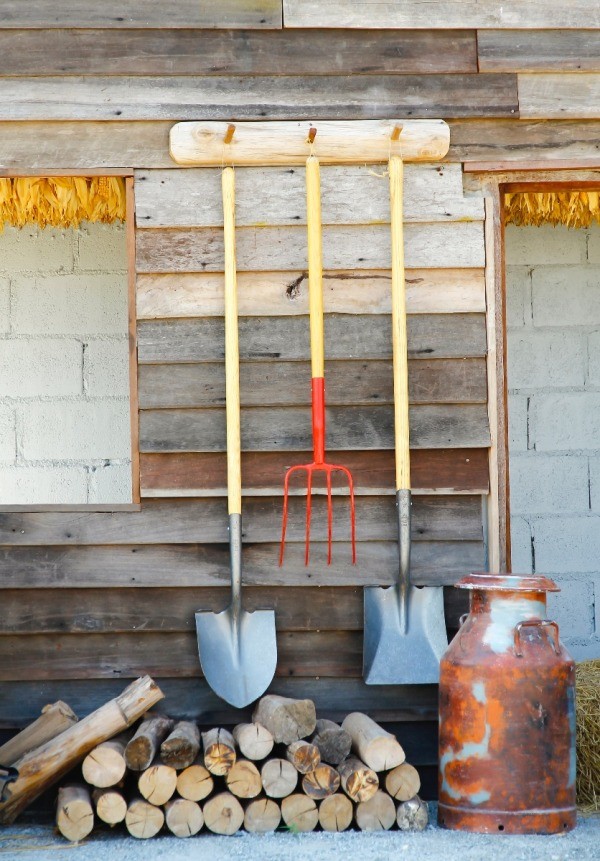 Dry chemicals need to be kept dry throughout the winter and liquid chemicals should to be kept from freezing. Store them in plastic bins or garbage bags away from humidity and keep them up off the floor on wooden pallets and away from children and pets.
Organize Manuals & Other Important Data
Keep chemical application instructions and growing information organized in a 3-ring binder or photo box so they are easy to access. Create a separate section for manuals, fertilizer rates, planting notes, and photos tracking your garden's progress from year to year.