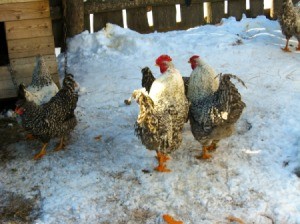 With the snow as deep as it is now and with more to come, heading over and breaking frozen water bowls in the chicken coop in the morning is a cold proposition!
Since chickens sleep all night and do not eat or drink in the dark, I have come up with an idea that allows me a second cup of coffee without guilt. They always have pellets available to eat. I read that 100 grams of Iceberg lettuce is 95.5 grams of water. Now, when I hear the morning weather will be extra cold or nasty, I roll in a head or two when I lock up the coop after dark. They can hit the lettuce in the morning when they wake up, getting the water they need and finding entertainment as well poking it around. We both get what we need until I get the courage to trudge on out there!
By Susan from Long Island, NY
Comments

January 21, 2011
0

found this helpful
Top Comment
Well gotta say I love my chickens! I have around 165 +- .of them. I have 7 equines, four mules three donkeys and three dogs. Farm chores are a daily effort and sometimes being creative is a wonderful opportunity to try things. I'm up in the high desert, where in the winter time I'll start off with a thin layer of ice on the water to something thicker that may take an ax to a sledge hammer to break the ice to the water below. I do make sure the water buckets we have can take the blows. Sometimes I take a hot pot of water out to the bowls and pour it onto the rubber bowls only to have it quickly cover over with ice. I have found that if the bowls are deep and wide enough the water doesn't completely freeze up and I'm able to get some water to the chickens. Luckily we don't have this kind of cold for weeks on end.
I found the extension cords that traveled across the land into the coop to be a cautious issue. Vehicles such as tractors, trucks and wheel barrels cause damage to the cords. Of course our coops (we have three of them) are a distance away from the house. We didn't find the extension cord to be a solution for very long. We tried Apple cider vinegar and found it was helpful some. I too have used the heads of lettuce, pumpkins, leftover stored watermelons, or cabbage to be of help. Doing something rather than doing nothing is great. I'm curious as to what Deeli's grandparents did since they didn't have any power.
Now we are moving to an off the grid property that we are working with solar for our only power. No option to run a cord! By the way, our animals have a job. Chickens are for eggs only. Our three dogs, well, our best farm dog is a white standard poodle who can chase off the coyotes and round up loose chickens, put the rooster in his place and help chase the equines back into the corral. We volunteer for Search and Rescue and one dog is a K-9 Search and Rescue worker. The other is new to us and finding his nitch to help with guarding the land from predators but showing promise in Search and Rescue also. All of our dogs go to church with us, one at a time of course, someone needs to stay at home watching the farm! They enjoy the socializing and the congregation also loves the dogs!
The mules we use in Search and Rescue for evidence search or locating lost people in mountains. One miniature donkey was a hospital therapy buddy. His sister is his support team and the big donkey was sentenced to become a big pot of chili before we took her home. I trained her to trust us and she can now pull a cart and be ridden. She has been used in TV and also guards the chicken coop. We seem to have a way with letting our animal family find their place and shine in what they do best. So I am open to anything people try to help make living easier is helpful. Thank you Susan for sharing! Suz
Read More

Comments

Our chickens absolutely love any special little treat we give them. So, on very cold days I'll cook up some oatmeal, enough for our flock of 16.
But of course you don't want to add any sugar or butter : )