January 21, 2011
0

found this helpful
Top Comment
Well gotta say I love my chickens! I have around 165 +- .of them. I have 7 equines, four mules three donkeys and three dogs. Farm chores are a daily effort and sometimes being creative is a wonderful opportunity to try things. I'm up in the high desert, where in the winter time I'll start off with a thin layer of ice on the water to something thicker that may take an ax to a sledge hammer to break the ice to the water below. I do make sure the water buckets we have can take the blows. Sometimes I take a hot pot of water out to the bowls and pour it onto the rubber bowls only to have it quickly cover over with ice. I have found that if the bowls are deep and wide enough the water doesn't completely freeze up and I'm able to get some water to the chickens. Luckily we don't have this kind of cold for weeks on end.
I found the extension cords that traveled across the land into the coop to be a cautious issue. Vehicles such as tractors, trucks and wheel barrels cause damage to the cords. Of course our coops (we have three of them) are a distance away from the house. We didn't find the extension cord to be a solution for very long. We tried Apple cider vinegar and found it was helpful some. I too have used the heads of lettuce, pumpkins, leftover stored watermelons, or cabbage to be of help. Doing something rather than doing nothing is great. I'm curious as to what Deeli's grandparents did since they didn't have any power.
Now we are moving to an off the grid property that we are working with solar for our only power. No option to run a cord! By the way, our animals have a job. Chickens are for eggs only. Our three dogs, well, our best farm dog is a white standard poodle who can chase off the coyotes and round up loose chickens, put the rooster in his place and help chase the equines back into the corral. We volunteer for Search and Rescue and one dog is a K-9 Search and Rescue worker. The other is new to us and finding his nitch to help with guarding the land from predators but showing promise in Search and Rescue also. All of our dogs go to church with us, one at a time of course, someone needs to stay at home watching the farm! They enjoy the socializing and the congregation also loves the dogs!
The mules we use in Search and Rescue for evidence search or locating lost people in mountains. One miniature donkey was a hospital therapy buddy. His sister is his support team and the big donkey was sentenced to become a big pot of chili before we took her home. I trained her to trust us and she can now pull a cart and be ridden. She has been used in TV and also guards the chicken coop. We seem to have a way with letting our animal family find their place and shine in what they do best. So I am open to anything people try to help make living easier is helpful. Thank you Susan for sharing! Suz

January 21, 2011
0

found this helpful
Absolutely no offense meant but why don't you just get an inexpensive specialty heated water bowl at a feed store or a doggie heated water bowl from a pet store and run an appropiate extension cord to the hen house to keep the bowl(s) heated? Yes, your chickens are getting a source of water from the lettuce but it's not the same as fresh water. The heated bowls and extension cords would pay for themselves in just a month versus about $60.00 or more for lettuce per month! Or, at the very least, couldn't you use metal bowls that won't break because of a freeze and have your two cups of coffee after taking care of the animals who count on you and are at your mercy first?
My (and your) grandparents and great grandparents and back and back and back over time raised chickens, cows, pigs, goats, cows, etc and they didn't even have their own breakfast before they went out to tend the animals. We are such a spoiled and selfish people now that a couple of cups of coffee are more important than the comfort of the animals that give us pleasure and/or a food source.
My Paternal Great Granparents lived in the Black Hills of South Dakota (with no electricity) that receives far more bad weather and for a much longer period of time than what you're experiencing this Winter in New York and they would have been horrified to know that people would think just rolling a couple of heads of lettuce in at night would be okay so they could have a couple of cups of coffee. :-(

January 22, 2011
0

found this helpful
Mule/donkey gal, I mentioned it was my great grandparents. They were combination farmer/ranchers and electricity wasn't standard in rural areas until after WWII. ;-)
You can bury the extension cords and, for extra safety, run them through narrow pipes before burying them. Am attaching a picture as an example of the snow my great grandparents dealt with for much of the winter. Almost all of us take for granted how much luxury we have these days.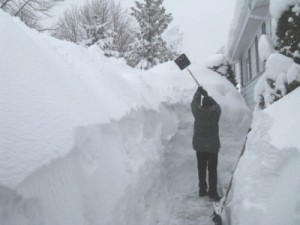 January 27, 2011
0

found this helpful
I dont know who you were referring to by mule/ donkey gal, but I think you should cool your jets and take a chill pill. You make many assumptions in your reply. If you read my post accurately, you would see that I said "when its going to be". I did not say that rolling in a head of lettuce was in anyway a daily occurrence. Nor that it was their entire source of water. I raised horses for many years, and my daughter was a volunteer at The Museum of Science, animal dept . while at college. We know the duties that the field of animal husbandry entails. My animals are healthy, hardy and well cared for. To buy ones self an extra 15 minutes in the morning would have been a gift to "our Great grandparents." Back then there were no produce stores, nor lettuces' imported from sunny climates to eat them selves never less feed to farm animals in the winter...duh.
I have electric to my coops and heat lamps on to warm them in very cold weather. I taught/encouraged my children to replace the water with fresh warm water twice daily, PRN...rather than rely on festering warmed water that may well be contaminated by the nature of the beast. Metal bowls freeze twice as fast. Speak for yourself and not me when you refer to selfish nature. I will continue to "roll in a head" when needed, and carry out the fresh water after my second cup of coffee. If the coffee were more important than the hens health/best interest, they would be pecking at a block of ice and not consuming the lettuce for a short while after they awaken.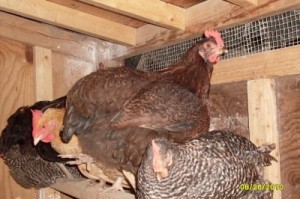 January 28, 2011
0

found this helpful
My post didn't show what I previously wrote. I'd like to see it, to re-read what I wrote that got you heated at me! I am always interested in how people find different ways of tending to daily chores and animals. I've always played the "what if" game and constantly think about how these guys would be if "what ever" happened.
Putting in a head of lettuce is great and as I added I've done pumpkins, watermelons also potted plants (celery, kelp, out of the cold case garden) for them to occupy themselves until I am at their coop. (I have three coops.) My animals are all fed before I get to eat! Today I spent three hours plugging up coyote holes around an 8 acre fence line before I came in to eat. I am always willing to learn what other people do to keep predators away and keep the "Ladies safe" and comfortable. By the way, I'm a high desert kinda gal with lots of time under my belt for adverse weather conditions for in the mountains. I too volunteer. For SEARCH and RESCUE, and we have to be ready for extreme conditions. A big range in temps around here to deal with.
I have to make a comment about that snow picture! Wow! Humbly I say, I always wondered how people live in that kind of weather with the animal farming idea in mind. I see barns and wonder how people get from the house to the barn? I wonder, how do the dogs go out to do their business? It seems like a lot of muscle is needed just to make a path out to the coops or barns. I don't think I could do that kind of labor. I probably wouldn't last very long having a farm living there! And Chicken Momma! You have nice healthy lookin' gals. One looks like a Bardrock, (Or maybe a COO COO Moran) Road Island Red, and peeking around the corner, Buff. Am I Right?
I hope to read more of how people deal with the animals in today's day and age. Suz

January 28, 2011
0

found this helpful
Susan and Mule/Donkey, I am so sorry to have hurt your feelings and ruffled feathers but everyone has a different feeling about things and what I originally wrote was well intended. Like I pointed out we have become quite spoiled and there are more convenient alternatives for us now if we don't want to get started in the morning right away. :-(

January 28, 2011
0

found this helpful
Any ideas and tips to help with chores around the farm are greatly appreciated! We are moving onto a 40 acre piece of mountain property that will never have modern electricity Nor phone to the area in my life time. There was a tiny solar house on it that we are up grading. I realize that even though we live in a modern world we will be living very humbly. Back to basics!

February 1, 2011
0

found this helpful
Mule/donkey gal, I don't have any tips for chores around a farm other than that I do remember my grandparents telling me that they were expected to keep on a strict schedule for everyone's healthy survival. I just found some links that might be of interest to you and even though some are simply stories they will give you ideas. There are a couple of links that have sublinks on the left that have oodles of info so be sure to check those out too :-) All of these links are based on information before electricity:
www.livinghistoryfarm.org/.../life_08.html
www.fingerlakesfinns.org/.../index.htm
www.watersheds.org/.../oldtimer.htm
www.pennridge.org/.../p-chorespast.html

February 8, 2011
0

found this helpful
What a wild ride that cold snap was for me! It was only three degrees, when I got up last Thursday morning! We have had single digits before, but not such wind! This time we had water in buckets in the house, ready to bring out to the chicken coops. I was simply amazed at the fact that when I went to pour out a stream of water from the bucket into a bowl for the chickens It didn't get to the bowl. It froze in space!
I also broke an ax trying to chop ice in the equine tanks! All of the animals did great with my efforts though! Super glad we don't get weather like that every year! Yup, I'm spoiled! Thanks Deeli for the web sites. Fun to look at.