Worming a Puppy
I just bought an 8 week old, 3/4 Husky, 1/4 Shepherd puppy from a lady. She told me she dewormed it, but no shots. Is there anyway of knowing if she actually did deworming, as well how often should deworming be done? What is the lowest cost place possible to get the wormer, as I am a single mom with sole custody and tight on funds.
By Stacey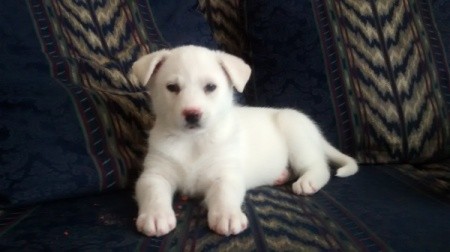 Add your voice! Click below to answer. ThriftyFun is powered by your wisdom!
February 24, 2015
0

found this helpful
Best Answer
Usually a pup's 1st worming is at 2 weeks. Then at 4 or 6 weeks. It's not a big problem, the vet can tell if a worming is needed when you go for shots etc. I have no idea about vets in your country :) Enjoy your pet and good luck.
February 26, 2015
0

found this helpful
Best Answer
What a beautiful puppy. Do not forget shots that she needs right away. Parvo is common and deadly without shots, and is a terrible and painful death for the dog.
You cannot skip her puppy shots. A vet can worm your puppy when you go for shots. Remember that any pet will have Vet bills. You cannot avoid it.
February 27, 2016
0

found this helpful
You can buy do it yourself shots at most any feed store buy the 3-1,4-1 or if they only have 5 in 1 its okay. Very important do NOT get any vaccination that has "Lepto-Spira Bactrim" do Not ever get the vaccination that has Lepto-Spira at all this vaccination should be banned because it could cause respiratory or heart failure in ANY dog weighing less than 60++lbs even then the larger breed & size dogs have died from these vaccines w/Lepto-Spira. Have first-hand experience with pure-bred mini-snauzer going into cardiac arrest(after she pooped,shook violently then died because of this vaccine containing Lepto-Spira). Over the counter vaccine is usually around $6-$10 easy to administer if you can't give shot between folds of skin between shoulder blades ask around at store someone will help you for free I'm sure just please stay away from the higher number vaccination(6-1,7-1,8-1 these are the ones that contain Lepto-spiro) Feed store "apologized" for selling it to me saying clerk made mistake should of warned me of dangers with that vaccine but didnt know.
Vet told me he knew of several thousand across country dying because of Lepto and to always go to him for shots as he only does 2-1 or 3-1, of course couldn't afford office visit of $85 and the shot fee of $65. Called other vets said same, and cost relative range of $45-85 visit plus shot cost $45-$65. Too much when I can buy 3--1 for $8 at my local feed store.
Add your voice! Click below to answer. ThriftyFun is powered by your wisdom!
Related Content