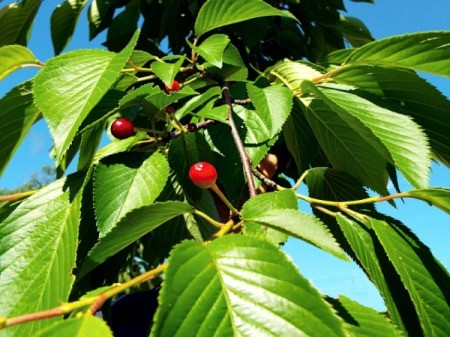 Photo Description
Now, here's something I bet most of you have never seen, Yoshino cherries. I think it's my first time, as well. Spotting these while deadheading a pansy bed beneath the tree has initiated a need to know.
One sister and brother-in-law would not have a computer. They had heard of all the filth on the Internet. I tried to tell them that filters could be put in place to avoid such, but being old fashioned, they wouldn't listen.
Well, I'm glad to have a computer and access to the Internet. Rather than a trip to the library, walking up and down rows of aisles, I can sit at home and find if these cherries are edible, if the seed are fertile, if they will come true, and how many years from seed to a tree that is mature enough to bloom.
There will always be bad mixed in with the good. In most cases, we can avoid it if we know it's there and look for ways to deal with it.
PS. I've read that all parts of the cherry tree are poisonous except the actual flesh of the cherry. I find it interesting that this flesh is the only part we care about, and the program is such that it spared only this part of any poison.

May 13, 2017
0

found this helpful
Interesting tree.
I started using a computer at work in the late 70's and have never slowed down (almost 40 years). It is amazing to think of all the changes in that 40 years but fortunately I have never had a "bad" problem other than just wanting a newer model.
i have just purchased a lemon tree so I am busy learning all about this great tree.
thanks for keeping us informed on all your marvelous plants/tree.

likekinds
Gold Post Medal for All Time! 523 Posts
June 1, 2017
0

found this helpful
I'm not that much into lemon although I do really like lemon meringue pie. Let me tell you what's nice. A few small tangerine trees sitting around where you sit and relax. You can actually smell the leaves and they smell just like tangerines. And if you bruise a leaf, the scent is almost overwhelming. I kept one for several years til it became too large to bring in for the winter. Of course, you might not have to worry about that.
They are beautiful plants.

June 5, 2017
0

found this helpful
I think plants are like people to me and I try very hard to take care of all my "charges". When I occasionally feel let down by the sad things in our society, my plants always come to my rescue and just a visit will cheer me up. i love reading about all things growing whether it is on the Internet or in one of my many gardening books.
thanks again for all your articles on plants and life in general.
Betty