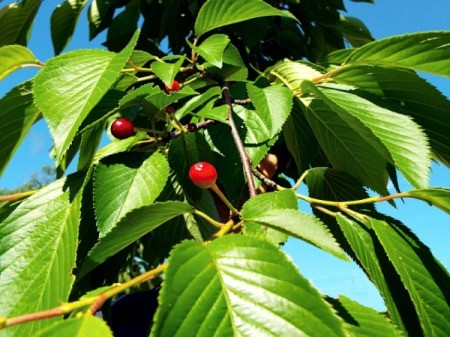 Photo Description
Now, here's something I bet most of you have never seen, Yoshino cherries. I think it's my first time, as well. Spotting these while deadheading a pansy bed beneath the tree has initiated a need to know.
One sister and brother-in-law would not have a computer. They had heard of all the filth on the Internet. I tried to tell them that filters could be put in place to avoid such, but being old fashioned, they wouldn't listen.
Well, I'm glad to have a computer and access to the Internet. Rather than a trip to the library, walking up and down rows of aisles, I can sit at home and find if these cherries are edible, if the seed are fertile, if they will come true, and how many years from seed to a tree that is mature enough to bloom.
There will always be bad mixed in with the good. In most cases, we can avoid it if we know it's there and look for ways to deal with it.
PS. I've read that all parts of the cherry tree are poisonous except the actual flesh of the cherry. I find it interesting that this flesh is the only part we care about, and the program is such that it spared only this part of any poison.