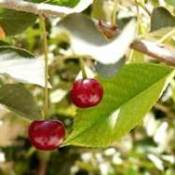 Question:
How do I start a cherry tree from the pit?
Hardiness Zone: 7a
Edie White from Whitmore, CA
Answer:
Edie,
To start a cherry tree from a pit, remove the pit from the fruit and clean off any remaining flesh. Don't try and remove the hard part of the shell that surrounds the pit. Cherry pits need a chilling period before germinating. To mimic the necessary winter-like conditions, place the pit in a plastic bag filled with moist vermiculite or peat moss (or damp paper towels) and store the bag in the refrigerator for about 10 weeks. Check the moisture level in the bag now and then and don't let the pit dry out. After about 10 weeks of chilling the pit is ready to be planted. You can start it in a pot indoors or plant it outside. Plant seeds about 1/2 inch deep in nutrient-rich well-drained soil with exposure to full sun. You should expect to see growth in after a few weeks. If our planting outdoors during cold weather, the seedling may just stay chilled and resume growth the following spring.
After planting, you can expect to see mature fruit after 7 to 10 years. Grafting your seedling onto an already mature tree will reduce the waiting time considerably. It's best to plant several seeds at one time, because a good number of seeds may fail to germinate. It's also helpful to understand that the fruit you eventually harvest from the "pit" tree is not likely to be the same juicy cherries you ate from the parent tree. Commercial fruit trees are propagated from grafting or budding so your seeds will not likely reproduce true to the parent plant. The fruit from your seedling may be somewhat bitter, then again, it might taste even better than the original cherry.
Good Luck!
Ellen