Well now that I am debt free, I am still a frugalite as I am saving for a one year emergency fund. Here are a couple of the ways which I am doing it. I hope that you will be able to apply a couple to save a little money.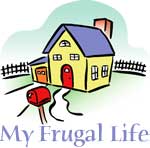 To begin with let's begin with the limitations, of which a major one is that I live in an apartment, so I can't do any structural changes such as adding insulation to decrease my heating bill etc. But other than that the sky is the limit. So here we go:
I made window blankets from old thrift store blankets which I found cheap, cheap, cheap at my local thrift store. I covered them with some broadcloth which was in my fabric stash for aesthetic purposes. I hung them at my windows which considerably warm up the rooms.
I love wearing thermal underwear; however, when I pulled out all of my thermal underwear which I have worn for several years, I found that the elastic at the waist had lost its elasticity so I had stopped wearing them. I contemplated purchasing new ones, but decided instead to sew a waist casing (again from my broad clothe fabric stash) and place elastic within the casing. This rendered these underwear usable for a couple more years and saved me a bunch in replacement costs.
I have begun turning off my heat at night and instead sleeping with flannel pajamas, heavy hunter's socks, a scarf, and a sweatshirt. I am toasty warm.
I have an electric heating pad at my back when sitting reading or sewing while on the couch as well as a blanket on my legs.
I brought all of my clothing drying racks indoors. I dry all of my clothes on these racks. The clothes raise the humidity level in the house, which makes the temperature feel warmer and saves me the cost of purchasing, as well as the expense of operating, a clothes dryer as well as a humidifier.
I find that my neck gets cold while in the house so I wear a neck scarf indoors. Who cares what other people think? I am toasty warm.
I stopped using the stove which came with my apartment for baking and instead purchased a counter top toaster oven. The toaster oven uses less energy and gets the job done. I have even perfected making bread in the toaster oven.
I unplugged the mammoth refrigerator which came with my apartment and instead purchased a 1.7 cubic foot compact refrigerator. It is similar to the type which you see in college dorm rooms. I have found that it perfectly meets my needs, saves on electricity, and as an added bonus I never encounter spoiled food which used to get pushed on a back shelf in my old refrigerator and forgotten.
Last spring, I found sweaters on sale for a quarter at my favorite thrift store. Needless to say, they were picked over and the ones which were left were very short. They barely came below my bust. I purchased three anyway and got out my old crochet hook and crochet several inches to them to make them waist length. I saved a bunch versus purchasing new ones.
I have over two dozen long sleeve t-shirts which I purchased over three years ago. My city water has a lot of minerals and after several washes they looked pretty dingy, even though I use bleach. I did not feel comfortable wearing them to work. I decided that instead of replacing them, I would use fabric dye and dye them. I found the dye at the grocery store for only $1.67 per box and I was able to dye three t-shirts per box. They turned out GREAT. I saved a bundle as each long sleeve t-shirt would have had a replacement cost of $6.00 each.
I hope that these were of benefit to you and please keep sending in these Frugal Life stories. I love reading what others are doing.

By Lovejoy from Dallas, TX
Do you have a frugal story to share with the ThriftyFun community? Submit your essay here: http://www.thriftyfun.com/post_myfrugallife.ldml
We started living a frugal life because we have 7 children, and I wanted to stay home with them. We did not want to be saddled with debt. I planted a garden, raised chickens, and beef.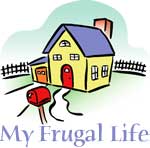 I shop a lot of bent and dent stores and Amish bulk food stores. I really try not to overbuy. I use coupons and shop sales only. I have had family members make fun of me.
Now that I have 2 grandchildren who live 2 hours away, it is nice to have the money to be able to go see them. We kept our thermostat set at 62 until we could afford a wood furnace. We don't take money from the government.
Our first 3 children paid their own way to college with no government aid and no debt. One is a nurse, one a lineman, and one a mechanic. Our next son is planning on starting Tech school in the fall. They have taken many jobs and worked very hard. I thank the Lord for what we have.
By Jilly
Do you have a frugal story to share with the ThriftyFun community? Submit your essay here: http://www.thriftyfun.com/post_myfrugallife.ldml
Kelly Ann Butterbaugh
1

found this helpful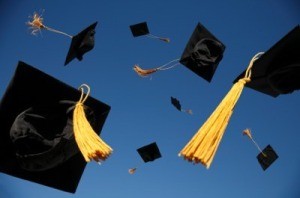 As colleges prepare for graduation, thousands of people prepare to enter the workforce. There's a promise of paychecks and prosperity, but there's also the threat of dangerous levels of debt.
Leaving college with the weight of student loans on their shoulders, new grads need to know that it takes time to build up the financial security that allows for the perks of adulthood. Without savings and without accrued material objects, it becomes important to establish an understanding of crucial needs versus extravagances.
Avoid Debt
Avoid the lure of credit. It's time to face the real world fact that debt adds up quickly and disappears slowly. No one is there to bail you out anymore, and you don't want to pay the price of poor financial choices for the next ten years. If you must purchase something on your credit card, put the card away until the original purchase is paid off.
The Essentials
As you prepare to enter the workforce, there are some essentials that are worth the money. They'll pay for themselves in no time.
Money is well spent on a suit. Whether you're male or female, a good suit is crucial for interviews and meetings. When you land the job, the money you spent on the suit will come flying back to you. It doesn't have to be a designer suit, just something classic and well fitted. Have it tailored to fit you, and look for options that it offers for various occasions. If you're called back for a second interview, you'll need to wear your suit again.
For instance, men can purchase the suit with additional shirts and ties. For the first interview, wear a basic white shirt and tie. Then, for the call back add a colorful green shirt and patterned tie. Later, you can wear the pants without the jacket. If the store is offering a sale on multiple pieces, consider buying two pairs of pants that match the jacket.
A black blazer paired with olive pants looks a little more casual, but a black pair of matching pants makes a full suit. You'll get a lot of wear out of a few items. Women can take the same approach to their suits and change it up with fresh jewelry and blouses or pants and a skirt paired with the same jacket.
Another investment that you won't regret is a good pair of shoes. You'll wear them to interviews, you'll wear them to work, you can wear them to church, and you can wear them out to dinner. Make sure they're versatile and comfortable as well as supportive. These aren't going to come cheaply. Cost does not make the shoe, but a good leather shoe from a reputable company won't appear on a "buy one/get one free" sale.
Women should look for a good pair of loafers or pumps that can pair with both skirts and pants. Men need a pair of shoes with a good sole but a dress look. Avoid patent leather looks as they wear quickly and require a dressier outfit choice.
Another more pricey investment is your car. Look for reliable and affordable cars. Many great trade-ins are guaranteed by the dealer and have low miles and little wear. New cars are expensive, though they also offer the peace of mind of a warranty. If you can purchase an additional warranty on your used car, consider it seriously.
While you're paying monthly payments, you don't want to incur repair bills as well. Commit to a good used car and save the splendor of the new car for a few years into your career.
The Pitfalls
There are many temptations in the world, and quite a few of them approach the new members of the working world. As you watch your co-workers spend their money on family vacations, new cars, and fancy phones, remember that they're earned the right to spend their money on those items. They've, hopefully, accumulated savings and retirement plans; they've built equity on their homes, and they've established personal goals. You'll get there as well, but you're not there now.