Remembering Where You Parked
Solutions
Share on ThriftyFunThis guide contains the following solutions. Have something to add? Please share your solution!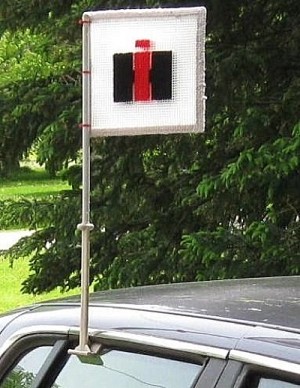 Tired of losing your car in that crowded parking lot? I know I was, so I came up with the homemade, plastic canvas, car locator sign. This attaches to your car antenna and proudly stands out in any crowded lot.
Approximate Time: Depending on size, about an hour
Supplies:
plastic canvas
plastic canvas needle
yarn in colors of your choice
plastic tie straps
scissors
Instructions:
Cut plastic canvas to desired size. Plan out your design and go for it. I discovered that if you do the edges and a center design, leaving the rest "open," it seems to work better.
Stitch design, wrap stitch the outer edge. Using the tie straps, attach to the antenna and there you go!
I am now experimenting with beads in the center to look more feminine and to jazz them up a bit.
By Chris from Oshkosh, WI
I can quickly locate my car in a parking area by tying a plastic bag to the top of my mini van. I recycle the bags that come with purchases and cut them into strips (like ribbon) then I make a bow out of them, and attach to the top of my van. They are easily seen. They hold up very well to wind, snow, rain and cold.
They don't damage the paint. I change them with the holidays, orange for fall, red for Christmas and Valentine's Day and green for St Patty's Day. Just throw them away when they are looking tacky or it is time to change. An added benefit when meeting someone in a public place, just say I'll have the red ribbon attached to the top of my van.
By Kate from Grayling, MI
I always park in the same general location no matter what store. To sneak in a little exercise, I park in very back of the parking lot to the right of the door I intend to go into. Before cell phones, this has helped my teens locate me when I was grocery shopping and running errands. They drove through a couple of parking lots, and when they spotted my vehicle, they knew I was in the store.
By mmwonline from middle of nowhere, AL
If you've ever tried to return to your car after shopping, and couldn't remember where you parked, then you'll appreciate this simple tip, so you won't spend precious time trying to find your car in a sea of others. Just take your cell phone out, snap a picture showing your location and shop 'til you drop knowing you won't be frantically trying to locate your car--especially in cold or rainy weather.
Read More...
When leaving your car in a parking lot that is not marked, (like a school, grocery, etc.), I use a VERY RED sock or scarf and tie it to the top of my antenna. Be sure to loop part of the ID over the top of the antenna so it doesn't slide down! It is not only functional, it's pretty!
Read More...
Do you forget where you park when shopping? If so, make it a habit to always park on the same parking lane, regardless of the store. For example, I always park on the lane in front of the left side entrance of any store.
Read More...
Use your phone so you do not forget where you parked. Go to your maps setting menu, and scroll down. You will see a toggle option labeled "Show parked location".
Turn that feature on. The maps app will show you a notification that it has dropped a pin for your car location.
Questions
Ask a QuestionHere are the questions asked by community members. Read on to see the answers provided by the ThriftyFun community or ask a new question.
What do you tie the bag to on top of your car?
By Mari
Answers
April 23, 2012
0

found this helpful
Roof rack, radio antenna, or just a balloon on one of the wipers. Need enough string so the balloon is high enough to see. It needs to be loose so it will move as movement attracts the eye.
April 23, 2012
0

found this helpful
I don't put anything on top. I usually remember in the area of where I parked.
A lot of bigger stores have the isles numbered. And you can always hit the unlock button on your car that makes noise and follow the noise.
April 25, 2012
0

found this helpful
Washingtonapple, well how wonderful for you that you can remember but sometimes, even if we do have a good memory, it's difficult when you're overly tired or just don't feel well and not everyone has an alarm system and some alarm systems do not make a beeping noise. Plus you didn't answer Mari's particular question - LOL ;-)
Mari, Chloelizabeth's answer is perfect!
April 25, 2012
0

found this helpful
I use one of the flags you can attach to the window. That was great when we were in DC and trying to caravan with another vehicle!
April 25, 2012
0

found this helpful
Radio antenna is the usual site. If your car doesn't have one, you could use the roof rack, or you could get one of those flags that fit in the window that show your favorite sports team, and then add something to that.
It isn't as high as an antenna, but it will help.
August 7, 2018
0

found this helpful
I bought a roll of bright pink tape @ Lowe's and used to tie a piece of it to the top of my antenna. My new car has no antenna so I locked a piece of the tape in the back of both rear windows and the front of the sun roof. I also have tied a piece of it to my back license plate cover. This makes it easy to tell my car from all the other ones that look almost exactly the same. I don't use the front windows as the tape makes noises in the wind that I would rather not listen to. When it wears down to a nub I just replace it with another 3" piece from my roll. The other thing I do is park in the same place at all the stores I go to - far left (shade there!) @ Walmart, far right @ Safeway, etc.
Answer

this Question

...
Related Content