Cleaning a plastic bath tub and shower stall. It has a lot of mold and mildew as well as soap scum. I have used Tilex and scrub brushes but it will not budge.
BK From North Carolina
Answers
By ljm529 (Guest Post)
September 7, 2006
0

found this helpful
There is a spray on product called Kaboom that may work. Also I love the scrubbing bubbles automatic shower cleaner! You hang it in the shower and everytime you get out you press the button and it sprays the shower. They tested it on the local news with a really dirty shower and after two weeks the shower was a lot cleaner.
September 7, 2006
0

found this helpful
I have found the best thing is the Magic Eraser sponges. I was in a hurry one day and didn't get the cleaner. The mildew came off with just water and the Magic Eraser! Good product.
September 8, 2006
0

found this helpful
I use a bath scrunchy and fill the bath tub with warm water and some old cheap bubble bath and then use the scrunchy to scrub the bath and it comes up a treat, nice and shiny and clean.
By Donna, NC (Guest Post)
September 8, 2006
0

found this helpful
I have the Scrubbing Bubbles auto shower cleaner, and it is great! I have not cleaned my shower since I have used it! Grant it, my walls still look a little dingy and not shiny (fiberglass), but it hasn't in a very very long time. And I haven't been able to clean it that well myself. But for me, who hates to clean my bathtub, it is well worth it. 20 sprays per bottle.
September 13, 2006
0

found this helpful
MAGIC ERASER. IT REALLY IS MAGIC!
By Linda Dennis (Guest Post)
June 28, 2007
0

found this helpful
Help- my problem is not mildew or water stains, it is dirt and hair dye imbeded in the plastic from the tenant. What do I use for that? Bleach, tile cleaners and comet don't work..?
By David (Guest Post)
February 13, 2008
0

found this helpful
I tried the laundry soap with a drop of dish washing liquid and it worked! I have been trying to remove the scum from my plastic shower since i moved in 3 months ago. I had to scrub extra hard where the years of buildup were but rest came right off after sitting for 10 minutes.
By guest (Guest Post)
March 16, 2008
0

found this helpful
After I had scrubbed on our shower walls most of the day, my husband came in with a drywall finishing knife. He sprayed grease lighting on the walls and then used the finishing knife to scrap the stuff off of the walls. It worked great! Whole job was finished in less than 10 minutes. After he had finished, we applied wax to the walls to prevent the problem.
By firstapartment (Guest Post)
May 16, 2008
0

found this helpful
THE MAGIC ERASER IS AMAZING! I just sprinkled some Ajax in the bottom of the tub and scrubbed that around and washed it out to get the surface dirt off and the I used the magic eraser and all of the mildew came off! As you can see the bathtub was gross but it is sparkling clean now.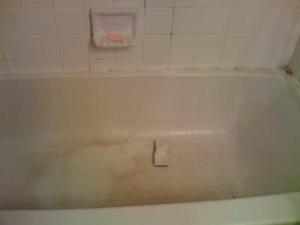 By Mike (Guest Post)
June 28, 2008
0

found this helpful
I used a little bleach, scrub free, spray'n'wash and liquid laundry detergent it worked like a charm. I applied all and let it sit for a few minutes mixed some water in just a little and began to scrub. Once it lathered I added more water and gave it a good thorough scrubbing. It worked very good.
By monica (Guest Post)
July 6, 2008
0

found this helpful
My tub is fiberglass and where you stand is not a smooth surface it has little grooves. I was able to clean the sides with bleach but I just cant get the bottom clean. Do you think this mr. clean magic bar will work for this problem?
By ELisabeth (Guest Post)
December 29, 2008
0

found this helpful
WOW! It worked. I used the Eraser sponge with OXI Clean and a bit of automatic liquid dishwasher soap and it took no time at all. I had been dreading this project for quite some time, hence it got worse and worse.
Thanks.
Read More

Answers