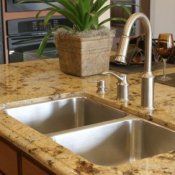 How do I clean granite countertops? They are darkening, and are bothered by water stains. Actually, they seem to stain very easily. Products advertised to clean granite and marble do not seem to work. Please help! They do not look good at all! Thanks in advance.
Daphne from Madison, WI
Answers
By (Guest Post)
October 10, 2008
0

found this helpful
I do not have granite counters, but I use the Mr. Clean Magic Erasers on everything in my home. They have gotten every mark off of every surface I have used them on in my home. Good luck!
October 11, 2008
0

found this helpful
Your counters may need to be sealed with a granite sealer - try checking at Lowe's or Home Depot. Some granite is more porous than others, though I have heard that it is a good idea to seal them all periodically.
By Sassysimo (Guest Post)
October 13, 2008
0

found this helpful
I know just what you mean! I have had granite countertops in my last few homes, and I will never have them again! They are just not worth the price, worry, and trouble. Anyway, I had a lot of success using acetone. At first I dabbed it, but then I got bold and just put down several layers of paper towel and completely soaked it in acetone (caution...VERY FLAMABLE!) and then let it sit.
Some websites suggest covering it with a plastic bag and taping the edges to keep it from drying too quickly. After a good soaking, lift up the paper towels and your granite will look dark from the liquid, but will dry and the stains should be gone! Good luck!
October 26, 2008
0

found this helpful
You are dealing with natural stone! I will suggest that you hire a professional Stone & Masonry Cleaning Service from your area. Think about how much you spent on that granite top! Why assume anymore responsibility on adding more damage to the cause of trying to remove the first one.
When you place the call for service, find out if they are certified in Stone & Masonry Restoration, How long they have been certified, how long they have hands on experience, what success rate do they have, do they have a customer feedback list they can offer,are they insured to cover the cost if they make matters worst, etc.etc! Get it in writing first before you sign the dotted line.
The problem with natural stone usually starts with acid stains ex. (tomatos,citrus,wines etc.) Alkalines also could damage the stone. When you purchased the granite, did they offer you a maintenance procedure at all?
In order to correct this problem, the granite has to be pumiced out rinsed and then impregnated with a sealer. To clean your granite, you should use a neutral cleaner and/or they have simple wipes you can keep on the counter.
Check with a reputable contractor by all means.
This advise is for your own good and I'm sure if you check around, you'll find out what I have explained to you is correct. Good luck in your search!
Certified Stone, Masonry, Tile & Grout Specialist
Supreme Care Carpet & Upholstery Cleaning
Seymour, CT
www.supremecareleatherservice.com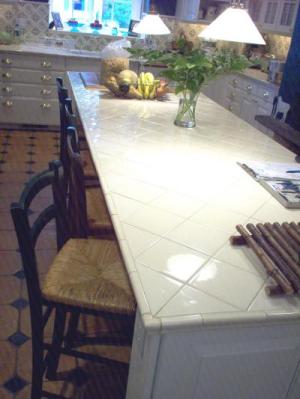 Answer

this Question
Red dye from a floral arrangement stained granite a cemetery headstone. Does anyone know how to remove it?

Answers
December 22, 2008
0

found this helpful
Just mix
3/4 cup bleach
one cup water
2 squirts of Liquid dish washing soap
in a spray bottle and your ready to clean almost everything!
You don't even need to rinse it unless your serving food on the cleaned items.
*try using a small amount on the back of the stone and see if it discolors it.*
By rae (Guest Post)
January 4, 2009
0

found this helpful
The maker of my parents' tombstone told me to keep it nice with a pumice stone. I would think that would remove a red stain.
January 4, 2009
0

found this helpful
I know Coca-Cola removes many stains (full sugar- not diet) - I don't think it would hurt to try it. They use it on the highways to remove oil spills so it could very well work.
Good luck
Monique :)
Answer

this Question