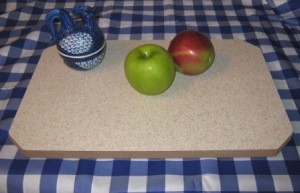 This is a great way to have a very nice, sturdy cutting board on your kitchen counter or use as a craft board to glue gun or make small items. Recycle pieces of countertop that would normally be discarded.
I saw a bin of pieces of countertop cutouts (from sinks and leftover pieces) in a bin at a local thrift store and decided to make it into a cutting board. You might have your own piece from building your home, or at a local building supply facility, etc...
I selected one, brought it home and painted the rough cut edges with tole paint, color choice is yours! Pick a color to blend in or a contrast that matches your kitchen color scheme. Then adhere large felt furniture pads (sticky on one side) to each corner, this will stop it from sliding around and protect your kitchen counter.
This is great for making sandwiches, buttering your toast in the morning, cutting veggies, etc...and very very inexpensive. I made the one pictured for six dollars. Most good cutting boards are much more than this. I couldnt wait to throw out my old plastic one!
By linn from Canada
November 13, 2004
0

found this helpful
This project takes giving a gift with a personal touch to a whole new level. Follow these steps to create a fun and functional cutting board designed (by you!) to match their kitchen and their personality perfectly.
Tools & Materials
You'll need a Dremel rotary tool with plunge router attachment, the 18 inch Dremel scroll station, contour sander, 3.4 inch piece of hard maple, cloth, mineral oil, construction paper, pencil, and pattern.
The Steps
Trace the desired pattern onto construction paper to the actual size you want, and cut it out.
Then trace pattern onto the wood and cut it out using the Dremel scroll station (don't forget to wear proper eye protection).
Use the Dremel rotary tool and #335 router attachment with #612 router bit to shape the edges (both available at homedepot.com). Option: You may want to drill a hole through the wood in order to hang your finished piece.
Using a contour sander, prepare the surfaces and edges for finishing.
Apply mineral oil with a soft cloth to the entire cutting board.
By Kathy