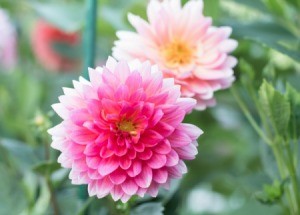 Photography can be as fun and rewarding of a hobby as gardening. Your flowers may fade, but photographs of them will last forever. Even though today's point and shoot cameras make it easy to take brilliant pictures, it's still the photographer, and not the camera, who makes the shot. Here are some tips for capturing this season blooms.
Composition: Seeing Flowers Photographically
Good photographs are not created just by the skillful use of your camera, but also by the choice and arrangement of the subject you're photographing.
Let the Subject Steal the Show: When photographing flowers, avoid shooting the clutter and keep the background simple. Solid colors like dark blue, black and green, or soft pinks and yellows create good contrasts and allow the subject to stand out. Use colored poster board or an old sheet for a backdrop to really make color pop.
Capture Them at Their Peak: Photographing flowers takes patience. Wait for flowers to peak. Examine petals, leaves and stems carefully for insect damage and blemishes. What you don't normally notice with the naked eye will show up immediately once your pictures are developed.
Emphasize Color and Shape: Look for patterns of color, texture and shape. When you look through the viewfinder, think about what you want the focus of your picture to be. Consider shapes, lines and colors that will give your picture impact. Study other pictures of flowers for interesting ideas on how to frame your subjects.
Use Creative Angles and Get in Close: Unusual angles and perspectives work well to capture visual interest. Try shooting from directly overhead, from ground level or from underneath flowers. Many of today's cameras also have a close-up or macro mode usually indicated by a flower on the setting dial. Get in close and fill the frame for a high impact image.
Experimenting with Creative Techniques
There are many simple and inexpensive ways to enhance your images and make them more visually interesting using techniques and special effects.
Stage the Effects of Nature: To capture a sense of early-morning dew, spray or mist your flowers with the garden hose before photographing. To block the wind, set up a barrier of cardboard around the flowers or fasten flowers to stakes to keep stems in place.
Soften the Focus or Smear the Image: If your camera does not have an adapter for special effect filters, you can create your own. Stretch a piece of nylon stocking material over the lens and secure in with a rubber band for a softer focus or smear a tiny amount of petroleum jelly around the edges of plain glass (leaving the center clear) and hold it in front of the lens while shooting. Never smear petroleum jelly directly on the lens itself.
Reflect the Beauty: Try placing a mirror or other reflective material behind or below the flowers you photographing for an interesting effect. Photograph the flowers with the reflection or simply photograph the refection itself.
Tell a Story or Select a Theme: Show before and after shots (from seed to flower), the changing seasons or your overall garden design with your images. Use your photos to document your plantings and create an album or scrapbook or flower images. Photograph still life images of cut flowers in vases. Enlarge and frame them and create inexpensive art for your home.
Illuminating Secrets of the Pros
Time of Day:
Professional photographers know that some of the best light is during the morning and evening hours, and color looks more balanced on cloudy days. The best time to photograph flowers is before 10am and after 4 pm. The sun is lower in the sky during these times and colors look warmers and less bleached. A sunny day might be great for gardening, but an overcast day is much better for taking pictures.
Diffuse Light and Reduce Glare: Diffuse bright light by stretching a wire clothes hanger into a square and covering it with a white tee shirt or white plastic grocery bag. Hold it over the subject while shoot to diffuse harsh light and shadows.
On bright, sunny days, a polarizing filter is designed to reduce unwanted glare from the sun and enhance the tone of your image. If your camera doesn't accept filters, try holding a pair of polarized sunglasses as close to the front of your lens as possible while you take pictures.
Fill In with Flash: Using flash or the "fill-in" or "flash on" mode of your camera can fill in spotty sunshine. Stay within 10 ft of your subject for best results.
Adjust Your Digital Balance: If your shooting with a digital camera (including point-and- shoot models), adjust your while balance settings to "cloudy" mode. This will increase the warm tones in your picture and prevent your images from looking too cool and gray in bright sunlight.
Bracket Your Shots: Take the same picture repeatedly, but change your camera's settings each time. This is called "bracketing your shots." This allows you to compare how different light exposures, film speeds, and aperture settings affect the same image. Sometimes over exposing or under exposing an image will give you unexpectedly pleasant results.
Slow Things Down: For dramatic shots of flowers swaying in the wind, a slow shutter speed of 1second or longer will blur the image and give you a sense of wind blowing. Slower shutter speeds require a steady hand, so for best results, use a tripod or some other kind of support to keep the camera perfectly still.