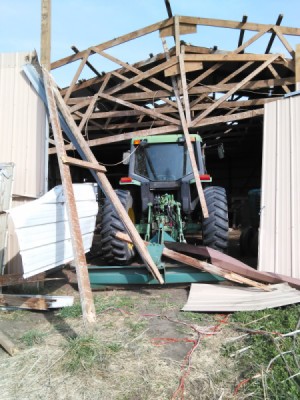 Take frequent inventory of what you own. When you get a new appliance, vehicle, or equipment, take note of the vin or serial number. Put it in a safe place at your location and at a separate location, such as in your safety deposit box or with a trusted relative. Also, have a photo inventory updated yearly or as needed.
We had tornadoes Monday night. Most of the farms on the first 1/2 mile of our road are destroyed. 11 homes in the county are completely gone and numerous barns, with several million in damage. Now we are in the midst of replacing things and with the serial numbers and vin, we can easily trace the makes, models, and such for the insurance adjusters.
This is of one of our buildings. I can't feed my cows by tractor now, but I was prepared for a few days of weather so bad the tractor could not get out, that I had 50 small bales of hay to throw. I have used about 1/2 of those now. Hopefully the company will be here tomorrow to lift the barn off the tractor so I can feed big bales again.
We had a list, and photos from last fall, that showed what we had and where it was. It was very simple to go through the list and see what was missing and damaged (or in a tree...). I had stuff I could print off and hand to the adjuster.