I recently got renters insurance. I thought it would be smart for my agent to have photos of the things in my home and to give him a CD with the shots on it. I did that as a general "photo gallery" and then took several hours making a detailed list of the items.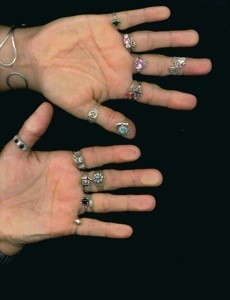 However, I found that so many things were too small to show up in the larger shots. So, I began putting things that could fit on the scanner bed and took the shots that way. I even twirled all my rings to under the fingers and laid my hands on the scanner to get a good shot of them. By putting as many smaller things as you can on the scanner, you get a clean and clear shot of each one.

Once it was all done, my worldly possessions were all on one CD, and I made a copy for the agent, my daughter and my executor. If something like a break in, fire or flood happens, you will be in too much trauma to remember what you owned. This will help you recover things that someone takes and tries to pawn, are damaged beyond repair and can be replaced.
And lastly, if you can't replace it, you may have the only scan of that irreplaceable photo or document that you can at least print out for the sentimental value of.
No one wants to think that something horrible will happen, but the odds are 50/50 that it either will or won't happen. This will help you be prepared and feel a bit more in control.

I hope this helps. It sure has me.

Sandi/Poor But Proud and now Prepared!

By Sandi/Poor But Proud from Salem OR

Answers:
Photograph Your Belongings for Insurance Purposes
You may want to check with your agent. We own our home, but our policy will not cover jewelry unless we have a rider. Valuable jewelry is considered the same as fine art, it must be appraised and insured separately. (06/06/2009)

By susan
Photograph Your Belongings for Insurance Purposes
You better get a different policy for just your jewelry. If you have it all together you want get the true value of it. I don't know why your insurance agent didn't tell you this. My friend learned the hard way. (06/06/2009)

By Teresa Tart
Photograph Your Belongings for Insurance Purposes
Wonderful! I wish everyone thought like you. I sell insurance and I agree please check your policy to make sure that all is covered, if not please cover it. You should have your home rerated at time of renewal to make sure that you will get the max amt. if something happens, and if you get anything new please don't forget to contact your agent. (06/30/2009)

By tawana
Photograph Your Belongings for Insurance Purposes
I uploaded mine to snapfish.com so that there will always be that digital copy, in case anything happens to the CD copy. (07/02/2009)

By Emily Pierce