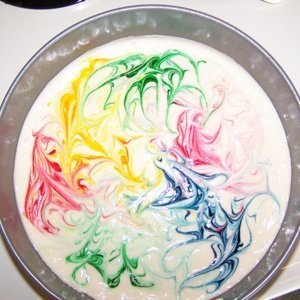 A moist delicious cake bursting with Spring.
Ingredients:
1 cup powdered sugar
1 cup granulated sugar
1/2 cup butter
1 tea. vanilla
dash salt
2 1/2 cup flour
2 tea. baking powder
1 cup cold water
spring food coloring
toothpicks
Frosting:
12 oz Cool Whip
8 oz. cream cheese
2/3 cup powdered sugar
1 tsp. vanilla
preserves
decoration and coconut optional
Directions:
Note: If you prefer to use a box mix, mix batter as directed on box. If you are using a cheaper brand add a box of instant pudding for great moisture.
Cream butter until fluffy, add vanilla and salt. While creaming butter sift the two sugars three times. After the butter is creamy add sugars slowly with 2 or 3 tablespoons of the 1 cup cold water. Sift the flour and baking powder 3 times then add to the butter/sugar batter alternating with the rest of the water.
Beat 6 egg whites until stiff then fold them in. Pour half in each of two 9" pans. Drop several drops of food coloring a couple of inches apart, take a toothpick or knife and push the color down into the batter swirling around. Move a few inches and repeat with another color.
Make sure you push the coloring down into the batter. You could use cake decorating paste for deeper color. Bake 25 minutes at 350 degrees F.
Bake your cakes and cool. Remove from the pans. Put a dollop of frosting in the center of your plate to secure your bottom layer, spread it out some so it is level. Spread frosting over your cake then a layer of your preserves. Add the second layer and frost the top and sides of both layers. Pipe or spread a border around the edges and fill inside the border with more of your preserves. Pipe or drop frosting in the center of the top.
If your family likes coconut, put 1 cup in a container, add 2 drops of food coloring and shake until all is distributed evenly. Make 3 different colors of colored coconut and add it to the frosting around the sides of the cake. Our family loves coconut so I add a cup to the cake batter.
A little hint from my Mother, if you freeze your cake layers they will come out of your pans easier without breaking and be easier to handle. If you only have one pan, your batter will keep until your first cake cools enough to remove from the pan.
This frosting is so quick and easy, not over rich as the ones made with shortening. Just bring all ingredients to room temp and beat with mixer until it is of spreading consistency. Because it has cream cheese and cool whip in it, please refrigerate the cake.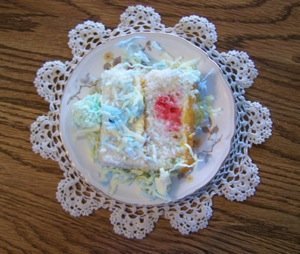 By Ann Winberg from Loup City, NE