Preventing Kitchen Fires
Solutions
Share on ThriftyFunThis guide contains the following solutions. Have something to add? Please share your solution!
Every year thousands of people have kitchen fires. These fires can become very dangerous and can get out of control quickly. A fire extinguisher is very helpful in situations such as this, but a simple remedy can save your home.
Keep a large box of baking soda near your stove. Should a fire occur, you just throw baking soda on it and keep it contained until you can get more help. Usually the baking soda will put out the fire immediately and doesn't cost much for such a simple solution.
So the next time you go to the store, buy a box of baking soda and keep it within reach should you need it.
By Gem from VA
With Christmas on the way you are normally cooking more than any other time. Buy a big box of baking soda and keep it within reach just in case you have a fire. You can buy a big box for about $3 at most big grocery stores and it sure beats having your kitchen burn down. So take an extra safety step and buy that box of baking soda. It may save you a lot in the long run.
Source: Experience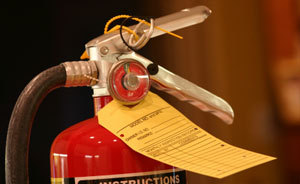 It has been three years ago this month I had a kitchen fire and panicked. When the fire got out of hand, all I could think about was calling 911 and getting my dog and myself out of the house. We had extensive fire damage to the kitchen and extensive smoke damage to the entire house. We were out of our house for three months.
As I was reflecting on that experience today, I felt strongly the need to share a few tips with you. The first thing I learned is never, to throw anything on your kitchen counter where you have a smooth top cooking range. I did this as I came into the house with groceries. I then headed to another room in the house to use the bathroom. When I came back to the kitchen, the entire area above the stove top was in flames. I did do the correct thing by calling 911 and getting my dog. I did not remember to use the fire extinguisher, and, to be honest, I doubt I could have put it to good use. Now, I am aware of how to use the extinguisher.
After calling 911, here are a few things you can do. If the fire is contained in your oven, close the oven door immediately and turn the oven off. If it is a small grease fire, put a lid on the pan. Do not lift the lid again or oxygen can start the fire up again. Here are the directions for using your fire extinguisher, read them and commit them to memory. Remove the plastic tie from the handle, pull the pin out and aim the nozzle at the base of the fire. Keeping the extingusher upright, move the extinguisher from side to side until the fire is completely out. If this does not work, back yourself out of the room and get out of there. Again, be sure you have called 911.
If you catch your sleeve on fire or any part of your clothing, STOP, DROP, and ROLL by doing this you are taking oxygen away from the fire, so you never want to wave your clothes around. Thankfully, I was not hurt in my kitchen fire, but the months that followed were very stressful to say the least. Even with insurance, we had a large amount of money we had to pay out of pocket.
By Bobbie from Rockwall
August 27, 2008
0

found this helpful
Yesterday the weather turned colder so I got out my bread machine and set up a loaf for dinner. I placed it on my flat topped stove because I don't have a very large kitchen and the counterspace was full. This was a big mistake.
Somehow, the back burner got switched on, right underneath the bread machine. The machine was high enough that I couldn't see that the knob was turned and I didn't notice the little light. An hour and a half later, I noticed acrid smoke coming from the kitchen. I went out there and must have stirred up the air because the whole thing went up in flames right as I walked in the kitchen. I was able to unplug it, grab the fire extinguisher and put it out quickly but if I had not been right there . . .
My kitchen is a mess, there is some residual burned plastic still stuck to the back burner and the bread maker is toast! But my kitchen is not burned up, or the rest of my house or my kids, so I feel pretty lucky indeed.
Here are my tips for preventing this from happening again:
Don't Use Your Stove As Counterspace: I have melted plastic cutting boards and rubber spatulas before. I should have known better. But that flat expanse is just so tempting. Anything that goes on the stove should be non flammable and placed there only temporarily.
Don't Leave Your House With An Appliance On:
This counts for your oven and clothes dryer as well as slow cookers, coffee pots and, of course, bread machines. I had actually just gotten back to the house about 20 minutes before it caught on fire. If I had not been there, the kitchen and probably the entire house would have been in flames when I got back.
Check Your Smoke Alarm: We have a hardwired hallway smoke alarm in our little house. For some reason, it didn't go off. We check it every New Year's but now I'm going to check it more often. I also might get another smoke alarm for closer to the kitchen, the place where fires happen most often.
Have Your Fire Extinguisher Handy: Do you have a working fire extinguisher? Is it in your kitchen, maybe under the sink? Mine wasn't, it was still in a box in the garage from when we bought it months ago. Luckily, I knew right where it was and was able to run out and put out the fire. But sometimes seconds matter. It is also a good idea to have two extinguishers in different locations. If it had been under the sink, the fire might have prevented me from getting to it.
Have A Family Fire Plan: I plan to have a fire drill tonight to talk about what we would do in a real emergency. I had trouble getting the kids to understand what was going on yesterday. If you haven't sat down recently to talk about fire safety and your emergency plan, please take some time this weekend to do it.
Sorry I don't have photos, I thought about it after I had most of it cleaned up. I hope some of you can learn from my mistakes and stay safe.
Jess
Forgive me for not having a photo, but the skillets are no longer here. Let me explain.
July 14, 2005
0

found this helpful
Keep salt close at hand to throw on oven fires in the bottom of your oven. Once the oven has cooled, the salt will aid in cleaning up the spill that caused the fire. Baking soda also works well for this.
Read More...
Archives
ThriftyFun is one of the longest running frugal living communities on the Internet. These are archives of older discussions.
September 27, 2010
0

found this helpful
If grease catches fire, put a large pot lid over it at once to cut off the oxygen supply; or pour baking soda on the flames, and they'll disappear.

Keep a small spray fire extinguisher within easy reach in your kitchen. Read the directions for use every now and then so that you won't have to stop to read them if you need it quickly.

By Joesgirl
Related Content