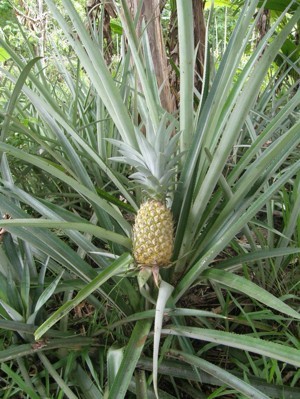 Of course, this is for those living in warm areas or those who have a greenhouse. Pineapples are one of the easiest fruits to grow. Simply cut off the green "hair" (as my 4 year old calls it) and plant it. Our garden has grown just by tossing the stalks back amongst the other plants. They will root on their own.
By Kelli from Sentani, Indonesia
Question:
I have a pineapple plant that is fully matured and the pineapple is ripe. How do I actually "pick it"?
Hardiness Zone: 10a
SMOODY from SACRAMENTO, CA
Answer:
Smoody,
Just grab it by the leaves and twist it to break it off from the stem. Timing is important when picking pineapples, because once they are removed from the stem they will not ripen any further or get any sweeter. The outer shell color isn't always a good indicator of ripeness, in fact a pineapple can be completely green on the outside and still be ripe. Size isn't necessarily an indicator either. It just means that you have more pineapple that isn't ripe if you pick it too soon.
Start by selecting a pineapple that is fresh and plump. The leaves should be green and fall off easily when you tug on them. Most ripe pineapples will have a pale orange complexion and the bottom of the fruit will have a pleasant, sweet smell. They are best when eaten immediately after being harvested, but will keep longer if stored in the refrigerator.
Ellen
Answers
By Jeanne (Guest Post)
August 28, 2006
0

found this helpful
Years ago, I planted the top from the best pinapple I had ever eaten. That plant lived through extreme drought and neglect through the last two years of my mother's life when I was too busy caring for her to spend any time on any of the plants, and went on to bear three really great pineapples. Despite giving several away I still have six bearing off-spring from that original plant and a couple more started from the second generation.
I always just grasp the top crown of leaves with a gloved hand and use a strong knife to cut through the stalk as close to the base of the pineapple as possible.

Holly
Silver Post Medal for All Time! 364 Posts
August 28, 2006
0

found this helpful
There are two signals that indicate the pineapple is ready to eat:
1. Look for a strong pineapple odor coming from the stem end. But not a fermented 'wine' odor.
2. If a leaf pulls out of the top of the pineapple easily, you can safely buy it.
Of course, these are also signs of the pineapple being over ripe, so look for rotten or soft spots and discard if found.
By (Guest Post)
August 29, 2006
0

found this helpful
I too need to know when a pineapple is ripe. My pineapple plant has beared 2 pineapples. The first time critters got to it before I did. The second time I really watched it checking it for ripeness. I wasn't going to let those critters get it again.
But low and behold I went out to check it and it was laying on the ground, not a bit of fruit left. I'll keep trying though. I enjoy watching it develop. Maybe one day I'll get it picked before something else does.

November 3, 2006
0

found this helpful
I too have had the same problem. I grew two pineapples and both were also eaten by critters before I had a chance to pick them. But I too will keep trying. I still enjoy watching them grow.

January 18, 2007
0

found this helpful
after picking the pinapple what do you do with the stalk it grew on?
By Jason (Guest Post)
January 24, 2008
0

found this helpful
I picked pineapple for a company some years ago and the tips as far as when to pick are good... twist the fruit from the stock. Another plant will re-grow in it's place. The plant will produce about 3 fruit in a lifetime that are pretty good(one after the other).
Next, rather that chopping off or snapping the crown from the fruit, twist it off of the pineapple so as to get the fleshy part at the base of the crown. This is a potentially new plant. Plant it just as you did the first and watch it grow.
By lois (Guest Post)
July 21, 2008
0

found this helpful
Do you get rid of the plant that you picked the pineapple from, or will and another one come?
Answer

this Question

I live in SW Florida and have had a dozen or so pineapple plants for 4-5 yrs. This year, one of the plants has a solid chute growing out of the core, which is about 16" long now.
I have never seen this before. Does anyone have an answer what this is, and what, if anything causes it, or what to do about it? Thanks.
Answers

May 2, 2017
0

found this helpful
I also live in Florida and love growing pineapples - so easy! I have not seen anything like you are describing but I think your county extension office/agriculture agent could give you an answer if you contact them but they may want to see a photo of your plant.
I have links to a couple of really good sites that show how easy it is to grow pineapples in almost any climate/zone:
www.tropicalpermaculture.com/growing-pineapples.html#growing-pineapples...
www.tropicalpermaculture.com/pineapple-growing.html
Please let us know if you get more information.

Judy
Gold Post Medal for All Time! 677 Posts
May 2, 2017
0

found this helpful
According to WikiHow, you may have a flower coming?
Look for flowers. It can take several years, but eventually a red cone should appear from the center of the leaves, followed by blue flowers and eventually a fruit. It takes about six months for the fruit to fully develop. The pineapple will grow from the flower, above ground, in the center of the plant.
Answer

this Question

I am growing a pineapple from a fresh pineapple. I am wondering the kind of soil it needs and how often to water. So far it has grown about 4 inches.
Hardiness Zone: 6b
By joyce from Laconia, IN
Answers

January 15, 2011
0

found this helpful
Pineapples grow in most soils, I live in Orlando and they grow in my slightly sandy soil, takes about two years to produce a pineapple.
Pat
Answer

this Question
Updated: I received this kind of pineapple fruit one year ago. On it's every eye, it is growing new plants and on the top of this plant growth, another small pineapple. I don't know what to call for this kind of plant? "King of the Top" pineapple or "King of the King" pineapple?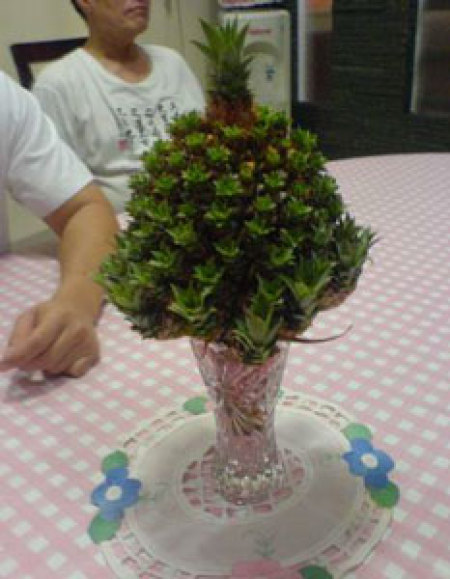 Read More...