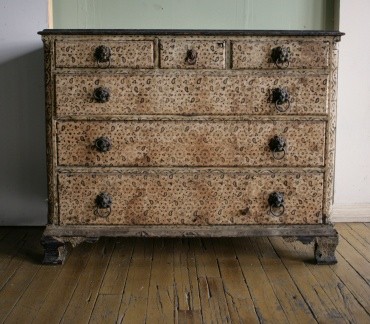 Whether scouring tag sales or the attic, the find of a large wooden dresser is akin to finding buried treasure. It is an amazingly versatile piece of furniture, and it's a shame to see one unappreciated at the curbside. Many people don't realize the value of these pieces, but they need to take the steps to learn them.
Make It Pretty
The first concern is that dressers are damaged or unsightly, so they are often discarded. However, there are simple fixes for these cumbersome eyesores. Consider a gallon of paint for something that can't be fixed. If the top of the dresser is severely warped or water damaged, consider pulling it loose and replacing it with a heavy board, or layer a piece of plywood above the damaged top.
A basic tan paint will cover any damage and make the dresser neutral. If you have a handy painting hand or know someone who does nice brushwork, paint the dresser to reflect your personal taste. I've painted one so that each of the four drawers represents a different season. If it's a child's dresser, place little hands in various paint colors and decorate the dresser.
Another more work intensive option is to strip the dresser and restain it. Many do not want to take that step, so they consider other options. Consider staining the dresser with a much darker stain color to cover imperfections and repairs. Simply scratch the surface with a metal brush or steel wool so that the new stain can adhere, and then take a brush to the surface. Look for a deep mahogany stain and apply two coats to cover most anything.
The easiest cover-up of a damaged dresser top involves a pretty doily or some table runners.
Take It Out of the Bedroom
Dressers aren't for the bedroom alone. Try moving them around the house. The greatest benefit of the dresser is that it offers great storage solutions. With deep drawers that can be organized in a variety of ways, there are more than enough uses for the piece. Consider using it as an entertainment center and store your video game equipment, cables, movies, and other media in the drawers. Place one in the entryway and store your winter apparel, seldom used items, and backpacks. Consider fitting one of the flat shoe storage racks into the bottom drawer and organize even more. Dressers in the dining room create interesting buffets or end tables, and if space allows, they're amazing in the bathroom. (Dressers used in bathrooms should be painted with latex paint to protect them from steam and moisture.)
Alter It As Needed
Consider altering your dresser as needed. If a shelf is needed instead of every drawer, pull the drawer out and store it elsewhere. The drawer can fit beneath your bed as a slide out storage bin. Some dressers have bottoms beneath the drawers, but others are open. If yours is open, place a piece of wood across the opening to make a shelf and paint it to match your dresser.
Consider placing a small dresser on top of a larger one, bolting them together. The look will echo a hipped dresser style, and this massive piece of furniture will hold everything in your closet or hallway. Slide the beast into a closet and you'll get instant organization; this works especially for shorter dressers or those with damaged exteriors. If the dresser is sorely in need of visual help but it's sturdy and large, consider painting it with a dark latex paint and stashing it in the garage or shed to store tools or sports equipment. There's always a use for a dresser!
Read More Comments