Using Your Bathroom Mirror for Reminders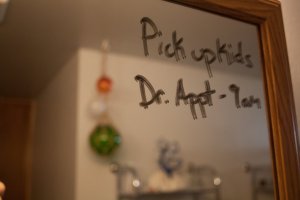 Leaving notes for yourself on the bathroom mirror is a tried and true method of reminding yourself of something important. There are a number of ways to get the message across though, find the one that is right for you. This is a page about using your bathroom mirror for reminders.
9 Solutions
Share on ThriftyFunThis page contains the following solutions. Have something to add? Please share your solution!

When I am in the bathroom each morning putting my makeup on and doing my hair, I am always thinking of things I need to do (Dr. appointments, errands to run, calls to make, gifts to get, birthday reminders, etc.) or stuff I need to buy at the store.
One day I had a dry erase marker in my bathroom drawer (why I even put it there in the first place is beyond me). I got it out and began writing my thoughts on the mirror. Wow, this was a life saver for me!
When I'm done in the bathroom I transfer the list to paper and put it in my purse immediately. If it is something that needs to be done around the house I leave it on the mirror until it is done (or if company is coming over, I write it down elsewhere). I hope this works well for you too!
Read More

Comments

Both of my children are growing up and getting more involved with their own activities, as they should be. The challenge is keeping track of who needs to be where, when and with what. So, we write notes to each other on the bathroom mirror with dry-erase markers!
Everything from "late start today" to "orthodontist appt at 3:30" to "please take out the trash" or just "I love you!" My daughter writes her work schedules (multiple jobs) on her mirror, so I have a clue where she might be at a given time. The dry-erase markers wipe right off whit a washcloth or piece of paper towel.
Read More

Comments


I have been using dry erase markers on my bathroom mirror to list appointments and things to do. You can use a different color for each subject and/or family member.
Read More...

When you need to leave a note for the kids, spouse, cat sitter, etc. write it on the mirror with a white-board (dry erase) marker.
The marker will come off with a swipe of a kleenex or washcloth, and you'll be relatively certain they saw the note.
Read More...
When I need to do something in the AM, I jot a note on the bathroom mirror with a dry-erase marker at night. I see it as I am dressing and brushing teeth, and I can then wipe it off the mirror with a tissue.
Read More...
Hang small dry erase makers beside all the mirrors in your house and when you think of something that needs to be done or something that you need to buy, grab a pen and write it on a mirror!
Read More...

With a busy schedule, leaving notes and messages becomes a 'way of life'. I got tired of the kids 'not seeing' the notes I left, so I came up with a way I knew they couldn't miss.
I use dry erase markers on their bathroom mirrors.
Read More...

To remember something for the next day, I use an old/stale lipstick to write a one-word reminder on my bathroom or vanity mirror.
Read More...
Archives
ThriftyFun is one of the longest running frugal living communities on the Internet. These are archives of older discussions.
I keep a dry-erase marker in the bathroom and write myself a note right on the mirror to remind myself of something for the morning. Wipes right off with a tissue!
By Linda

Answers:
Dry Erase Reminders on the Bathroom Mirror
This is a great idea!! (10/29/2004)

Dry Erase Reminders on the Bathroom Mirror
Just be sure to periodically use some sort of cleaner. I have been using this method for years and have noticed that when the mirror steams previous messages reappear in the steam. I leave my husband notes in the hall bathroom and I always clean the mirror with cleaner before company comes so that they don't read previously written messages after they shower, that I don't want them reading ;o) (10/30/2004)

By Gwashburn
Dry Erase Reminders on the Bathroom Mirror
This is a great idea! I am always leaving myself messages and I always have to look in the mirror! Its perfect. But ya, you do need to clean it once in a while. (07/29/2006)

By tauni
Dry Erase Reminders on the Bathroom Mirror
I used leave my daughter before school notes. Just to say good morning have a good day at school, those kinds of things. Then we started leaving all of our messages on the bathroom mirror. She is grown now and just told me the other day she really looked forward to seeing those messages first thing in the morning and the last thing before she left the house. (03/28/2008)
By CHRISTY
Read More

Comments
Published by ThriftyFun.
© 1997-2022 by Cumuli, Inc. All Rights Reserved.
https://www.thriftyfun.com/tf/Organizing/Bathroom/Using-Your-Bathroom-Mirror-for-Reminders.html