I would like to decorate the inexpensive cardboard magazine holders so that they look better and match the colors in our office. I am clueless about craft projects so I do not know where to begin. Any suggestions are greatly appreciated. Thanks!
SassyGirl from Sumner, GA

Answers:
Decorating Cardboard Magazine Holders
The easiest way would be contact paper. You can get it in the housewares section of Walmart and stuff. It will make it cleanable too! (11/19/2007)

Decorating Cardboard Magazine Holders
You can also use wallpaper other than Contact. It should be easy to find something in keeping with your decor. There is also spray paint. It won't hurt the cardboard. (11/19/2007)

By Marty Dick
Decorating Cardboard Magazine Holders
You could try decoupaging pictures or old receipts or invoices, etc. using thinned with water white glue or the specially made product for decoupage. Add things one at a time, overlapping and cutting as needed to fit the shape. Tearing tissue paper or a single printed layer from napkins and gluing it on then coating top with decoupage medium works too. I did mine with office cartoons that I had clipped from various sources and pictures from magazines. (11/20/2007)
By Mary Lou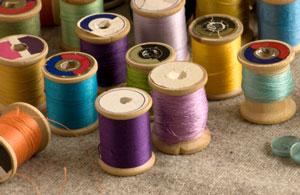 Decorating Cardboard Magazine Holders
With all of the beautiful scrapbooking papers that are available, you could probably find something that coordinates with our office. (11/20/2007)

By Rachel's Mom
Decorating Cardboard Magazine Holders
Find some light weight fabric you like enough to do one or all of your magazine boxes individually. This, of course, can be an old curtain, sheet, even a piece of clothing, like a full skirt you no longer wear.

On newspaper, lay down your box repeatedly, drawing the surface to be covered with a half inch to spare all around each piece.

Buy a bottle of inexpensive liquid starch (laundry products section at the store). Pour some into a bowl. Dip each piece into this, squeeze out excess and smooth onto the appropriate part of the box. Use a table knife to stuff fold part into creases. When another part overlaps that crease as you work, fold under the excess and press down firmly. When all covered, let dry very well. If any edges are loose, glue down with common Elmer's white glue. Glue on any braid, rick rack, or other trim you might like.

The same method can be used to make gift boxes for Christmas or any time of the year. They, like bags, are reusable (say within a family) and they can be well trimmed with glued on ribbon and bows! I covered several to save newspaper clippings in in my office, using an old couch cover's good parts. It is in a plaid design and I love 'em! (11/20/2007)

By Janetl
Decorating Cardboard Magazine Holders
Thank you all for your suggestions. I will see what works best for me. (11/23/2007)