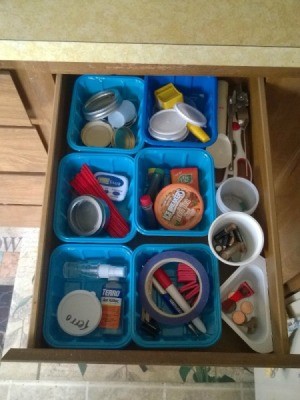 I swear I took a "before drawer" photo but I can't find it anywhere. So, you will just have to imagine the drawer with everything you see but all mixed up.
Have one of your own? Well this will help. I buy mushrooms a lot, and absolutely love the blue containers they come in. They nest in each other when not in use, make great plant starters, catch all of crafts, office supplies, snacks in the car, and endless more tips.
But for this one, I used it for the best fitting dividers. There is room on the side for Chobani Flips cut down, and a bulk gum container. Or you can use that for longer stuff you can't fit anywhere else.
Hope this helps you as much as it did me. N-JOY!