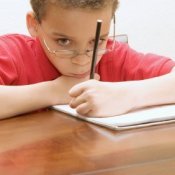 I am at my wit's end and so ready for school to begin. I have a six year old boy whom I'm thinking has ADD or ADHD just by his behavior. I don't want to put him on drugs. Does anyone know what I could do for him as far as his diet or vitamins goes?
I am so frustrated as to why he thinks it's okay to put toothpaste on the new recliner and nail polish on the new end table (which removed the stain and finish). He sneaks food into the living room and it ends up in my carpet or furniture. My last furniture he peed on.
If I'm out in public with him, he has to find a bathroom several times. His K teacher wanted us to hold him back in K another year, but I won't do that, since academically he's fine (smart), he just doesn't focus well or follow directions well. Same thing with karate. He may not be promoted to the next belt.
Plus, he's still in Good Nites at night. Help!
Sandy from WI
Answers

August 28, 2007
0

found this helpful
There is several books by Dr. Fiengold, I have read two of his books so far, and it explains what certain foods do, and how the react with certain people. I haven't tried it yet, but I need to my 3 year old son sound's exactly like your 6 year old, and the stress is awful.
I wish you luck
Kim
Read More

Answers

My 8-year old has ADHD. Wednesdays and Thursdays of EVERY week he is just impossible to deal with. However, he maintains the same schedule every single day and everything is always fine every other day. It's just those 2 days out of the week. Does anybody at all have the same problem? Does anybody know what i can do? Please help.
Thank you,
Michelle from Virginia
Answers

March 1, 2007
0

found this helpful
Wow that's a tough one. Something has to be different, even a tiny little detail. You may not see it since you spend so much time with him, maybe a relative can try spending the day with him. Does he go to school?, is there a class/event/person that occurs on those days? Could it be a food allergy, something he might eat then? or Is there something that you do on those days that might differ from the norm?
Or he could be letting off some steam from the week? Anyway I would try doing something completely different on one of those days, keep him out of school for the day and go to a park/ class / anything different this may help you figure out the significance of the days. I hope you find your answer.
By Autumn (Guest Post)
March 2, 2007
0

found this helpful
Exercise and nutrition are the two most important factors in managing ADD. Make sure your son gets plenty of omega oils, and plenty of exercise.
Is he eating something different that day? The less processed and less chemicals and unpronounceable things in the things he eats, the better.
By dotty (Guest Post)
March 2, 2007
0

found this helpful
There has to be something different. Does he sleep the same on those days? Is there someone different in the house? Does he drink dairy products or eat cheese? Is he going through puberty? If he uses dairy products this is possible because there are growth hormones and antibiotics, and other things in them.
I wish you could contact me directly, perhaps the Thrifty Fun people would find out if you wish to do that and they can arrange it. Good luck--Dotty
By Diana (Guest Post)
March 2, 2007
0

found this helpful
Does he take other medications?
Some people have drug metabolizing deficiencies and they do not process AHDH (or other meds) in the "normal" fashion. You can see a list of meds that apply by visiting http://www.pgxlab.com. he may need to have is gene metabolizing enzymes checked-this is a new field...but has very promising results (Check your package insert to see if his drug is metabolized by 2D6, 2C9, 2C19, etc) or call this lab-they are VERY helpful. Good luck
By Linda (Guest Post)
March 2, 2007
0

found this helpful
I have been a spec. ed teacher for over 30 yrs. An ADHD child who is worse on some days and not others is reacting to something in his environment that is likely stressful for him. Does he have a class assignment or a test on these days, a class or assembly or after-school activity. Is his teacher different on these days?
It appears that he is reacting to a situation and on these days he is having more problems than usual managing his behavior. This isn't only true of kids with ADHD, it happens to lots of kids who have a stressor or situation at certain times or days of the week.

March 2, 2007
0

found this helpful
Wow. Thank all of you so much for responding. He is on Adderall XR, 5 mg. He was on a higher dose, but he became very emotional all of the time - crying in class for no reason, or when somebody tried to correct him. He keeps the same schedule every day - getting up at the same time, going to bed at the same time, doing homework at the same time.
He has a routine that i make him stick to because i've heard this was what you were supposed to do.
Dotty - I had no idea about the dairy products. I would love to contact you to know more. I'll see what i can do. Thank you so much.
Thank you all for being so understanding and being there.

Janice C.
Silver Feedback Medal for All Time! 418 Feedbacks
March 2, 2007
0

found this helpful
There must be something or someone different on Wed. and Thurs. Different bus driver or teacher that he doesn't like? You have to be so careful these days.
I'd also check for allergies, esp. food allergies. If all is ok, how about a special treat on those days that he can look forward to? Reward him for using words to tell you what's wrong, if he can.
Read More

Answers

I found out my son has ADHD, we are a family of 5. Myself, hubby, 3 kids (Brandon 7, Angela 5, Jessica 1). I am learning to cook all over again and I am so overwelmed, it is not funny... We can no longer use canned goods so I am learning to cook from scratch. Can anyone grab my hand and tell me it will be ok and help (lol)? I am looking for all sorts of recipies.
Thanks,
Jean
Answers
By Eric's girl (Guest Post)
May 2, 2005
0

found this helpful
I have never heard about the no can diet but whatever works is good. I have come across these little bits of wisdom in living with and dealing with the same condition.
Red food coloring is out a lot of the time
Sometimes sugar helps when a person gets shaky.
Adderral doubles the half life of caffeine.
Cafeine relaxes most adhd persons
Adhd usually does not come alone but comes along with other conditions.
Antidepressants and lithium are helpful in most cases.
Potatoes are very calming.
Mercola.com is a great website to go to, I follow almosts everything he says to a T except for raw foods.....
Rocking chairs are very soothing.
Learn to accept limitations without stressing out about it....this is where antidepressants come in handy.
Remember mecola.com
Good Luck and lots of love and best wishes!
Racer
By Jamie (Guest Post)
May 2, 2005
0

found this helpful
Jean,
You are not alone. My son is ADHD, DD, and Autistic. It is possible to feed your family and not go nuts. What I found very helpful was growing the veggies myself then canning them. Giving up flour was hard but workable. If you want recipies check out a book by Lisa S. Lewis, PH.D. called Special Diets for Special Kids. Another Book that has a lot of recipies in it is called "Autism and Pervasive Developmental Disorder...by Karyn Seroussi. Good luck and Don't give up...your child is worth it. Jamie
By (Guest Post)
May 3, 2005
0

found this helpful
I tried the mercola.com website--they have several books you can order but no online reciepes. Am I missing something?
By Allison (Guest Post)
May 3, 2005
0

found this helpful
Try to get your hands on a cookbook called The More With Less Cookbook. I think the author's name is Doris Janzen Longacre. There are two great recipies in there-- one for homemade "Bisquik" (called Master Baking Mix) and one for cream-of-anything soup mix (called White Sauce Mix) that you keep in the fridge. I would type the recipes here but I can't seem to locate my book. My husband may have hid it... he calls it "More OR Less Cooking" LOL. Honestly we haven't enjoyed every recipe I've tried out of that book, but those two mixes are staples at home now.
By Sandy (Guest Post)
May 4, 2005
0

found this helpful
My son also has ADHD. We were told when he was young. He is now 28 years old. He just got married last year and has purchased a new home. He holds a steady job in manufacturing and has been there for 8 years. Kids can lead a productive life with this.
We kept all oranges, artificial food colorings, salicilates out of his diet. The food colorings are in EVERYTHING. It will take time but you can learn to cook from scratch and it is cheaper. Best of luck to you. When things get you down remember in the end with lots of love and support from your whole family he will turn out great.

May 4, 2005
0

found this helpful
Go to your farmers market or large supermarket produce section. Anything except lettuce can be steamed in your microwave in meal quantities then seasoned to your preference.
My husband has been on diets for his health that required fresh food with no or very little preservatives. We both became fresh fruit and veggie friendly. Meat and poultry can be easily sauteed, baked or crockpotted (is that a word?). And gravy over stuff is a real meal stretcher.
Good luck to you. My grandson is adhd and bipolar. He takes medication and is 19 now, happy, healthy and active in good ways.
The years may seem long but the days are short. Don't stress, just enjoy his creativity if/when you can.
Feel free to email me if you would like recipes or just to chat. lol pomoth1@aol.com
By little me (Guest Post)
May 4, 2005
0

found this helpful
I don't have anyone with ADHD. But I do cook from scratch. Don't be fearful. It is very easy. It won't be long until you won't even use cookbooks - you'll become an 'intuitive' cook and will throw delicious things together without even thinking. It's easy - I'm living proof, if I can, anyone can. :-)
You can get fresh vegetables at your farmer's market (in season) and in the produce section always. The food really DOES taste better, too. In the summer buy (or raise) fresh vegies and freeze. It's easy, too. Often you really only have to wash and freeze. Sometimes blanching is required, but even that isn't hard.
Here is one hint that will also save you tons of money. You will be AMAZED at how many "free" meals you get when you do this. When just little bits are left over from meals - little enough that you throw them away, or put them in the fridge and they grow hair - put them in a jar instead. Just about everything except lettuce, fish, and breakfast food goes in there: gravy, mashed potatoes, other potatoes, tablespoons of vegetables, macaroni, etc.. Save all the water that you cooked your potatoes and vegetables in and put it in this jar. At least once a week, or when the jar gets full, dump it in a slow cooker and fill out with anything else you want. I usually add tomatoes and tomato sauce (which you can easily make too). If potatoes, carrots, or other things are getting to the end of their refrigerated life cube them and put them in too. Add water - just put it in according to if you like your soup thick or thin. Add salt and pepper - and spices, if you want - and let simmer all day. This is the best soup in the world, and seldom do I get less than 2-3 meals from it. To special it up a little I usually make hot homemade bread in my breadmaker to go with it (if you don't have one, you can now get one for about $50.) And a cup of fresh fruit for dessert. It's very inexpensive, very easy and goes over quite well.
And .. finally .. go to the internet. I like Google best. Go to www.google.com, then type in "cooking from scratch" You'll find more than you can work with. If you want something special try typing that it, too, followed by "from scratch".
You're going to enjoy this - and be surprised at how much money you save!
By guest (Guest Post)
May 6, 2005
0

found this helpful
Don't panic. I have never liked the taste of canned foods. It's a LOT cheaper buying fresh vegetables and fruits in season. U-Pick farms or local vegetable stands are fun and cheap. You can take your entire family to pick them and everyone helps prepare them when you get home. We shelled peas, shucked corn and broke beans when we were little, so your kids CAN help (no knives involved) and learn something. If you clean and cut up the veggies as soon as you get them home from the store or garden and either freeze them or put them in containers in the refrigerator, it helps a lot. I don't feel so overwhelmed when I'm tired and want to make dinner if I know I can just dump some veggies in a stir fry or microwave them and toss with brown rice or pasta and have a nice dinner in 10 minutes. With vegetables that turn brown if you cut them up, like potatoes, just go ahead and cook a bunch of mashed potatoes or your favorite dish and freeze it in small portions. "The Joy of Cooking" is a GREAT cookbook with a lot of hints about preparing vegetables and making your own sauces, dressings, just about anything and is pretty easy to follow. It also explains different cooking techniques and every recipe I have tried has been good (family liked them, too).
By KLS8800 (Guest Post)
May 11, 2005
0

found this helpful
I have an autistic 4 yr old. I don't really modify his diet, but I love experimenting in the kitchen, which just may be a good thing.
At wal mart, in the MICROWAVE section, there are now two CDs called One Million Recipes by Easy Chef (EasyChef?) Anyhoo, I have the first volume. Literally almost every recipe you can think of. Kids friendly recipes, diabetics, vegetarian, ethnic, no bake, low sodium, also cateogorised in breakfasts, appetizers, soups/salads, sandwiches... I paid 9.99, so it may be very close to that. Also, you can print them in a full page or 3x5 (at least on my volume, I don't know what modifications the second volume may have). My son that has autism loves fresh fruit, especially peaches, pears, some fruit cocktails, cucumbers, strawberries, he doesn't care for hamburgers, but loves chicken fingers. I also buy Wal Mart sugar free drink mix (1.76 for six pre-measured powder servings. All you do is add water)
He loves apple juice, lemon-aide, cherry and fruit punch (sugar free).
I also buy fresh broccoli (he'll eat in SMALL doses). Bananas, cut in little round disks, carrots, I use a potatoe peeler if we are travelling, so when he is in a car seat, there is less chance of choking, or disks if we are home.
You say you cannot use canned goods, but what about boxed? If you make mashed potatoes, instead of water, use chicken broth with your milk and butter, etc. There is one brand of chicken (and beef) broth that comes in a waxy box (like a very large juice box drink type.) I also will add a bit of broth to rice, and it is wonderful. I put milk in my water and butter for boiling corn on the cob. It makes the corn even sweeter.
If you are on AOL, there is an autism chat that meets every Thursday night. Contact me and I'll send the link. It is for people who have a loved one in their lives who is autistic, or has asperger's. VERY helpful.
Best Regards
By Rose (Guest Post)
May 18, 2005
0

found this helpful
go to www.wwrecipies.com He has loads of great recipies and from scratch substitutes for canned stuff.
enjoy
Rose
Read More

Answers