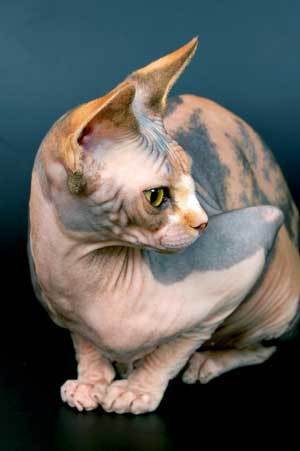 Breed Description:
The Sphynx is immediately recognizable for its wrinkled skin and lack of hair. It has a long arched back and whip-like tail, long legs and a head featuring huge ears and large, expressive eyes. In many ways, the Sphynx has a body similar to the Cornish or Devon Rex, except that it lacks hair.
History & Origin: The Aztecs were known to have hairless cats like the Sphynx (and hairless dogs) centuries ago, yet the exact origins of this breed are still unknown. The gene responsible for the absence of their coat is recessive, so unless both adult cats carry the gene, it may be passed down through many generations before it appears in offspring.
Character & Temperament: The Sphynx make a wonderful companion for people who aren't away a lot. They establish close bonds with their people and do not enjoy being separated from them-even if left with a companion. They need lots of attention and may get literally heartsick if feeling lonely or neglected. This breed seems to lack aggression and has a very friendly and social nature. The Sphynx has a unique ability to use its paws like hands. Combined with an inquisitive nature, they will work open any doors and cupboards left unsecured. These cats are happy indoors, but are playful and active and need to scratch and climb.
Color: All colors and patterns, in any combination.
Coat Type: Very fine downy hairs.
Grooming: Despite being almost hairless, the Sphynx requires regular bathing (every two weeks) to remove the grease that would normally be absorbed by hair. Intact males need even more frequent bathing. This breed's ears also get dirtier than other breeds and need more frequent cleaning. Claws should be trimmed as necessary.
Health Considerations: This breed is hardy and has no serious inherited breed-related problems.
Trivia: Unlike hairless dogs, the Sphynx does not seem to be affected by UV rays. Its color actually intensifies in the sun. In the summer in warmer climates they may develop freckles.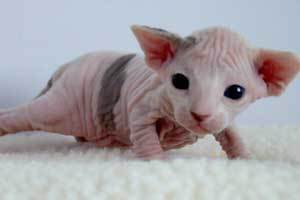 Catherine Forman
2

found this helpful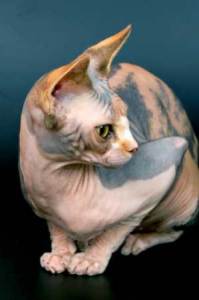 I'm too sexy for my fur. Sorry, couldn't resist.
Okay, hairless cats aren't totally hairless. Like a peach, they've got fuzz. Down, if you will. The sensation of touching a hairless cat has been compared to warm velvet, or a hot water bottle.
While there are a few types of hairless dog, there is only really one type of hairless cat: the Sphynx. The Sphynx (or Canadian Sphynx) cat breed was born in 1966 as a result of a natural genetic mutation. Through careful breedings, these naked kitties were born! And despite their lack of hair, the Sphynx cat is rather hearty. Sphynx variations also come from Russia (with love!) as the Don Sphynx or Peterbald Sphynx.
Caring for a hairless cat will actually involve more bathing than caring for a shorthaired or longhaired cat. Hairless breeds don't have fur to absorb excess skin oils. But, on the plus side, you won't have as much of a hairball problem, either.
And contrary to popular belief, a hairless cat (or hairless dog, for that matter) is NOT a hypoallergenic pet. Most people with allergies don't have issues with the hair; they have issues with the dander, flakes of dead skin that also carry certain skin oils and proteins. That's what causes the allergy issue: skin. So if your pet has skin, you may still see allergy problems. Maybe fewer allergy problems, because a hairless cat (or dog) doesn't have long fur to trap the dander. They just have the dander.
And just to dispel another hairless cat myth, no, they aren't cold. Not all the time. Most Sphynxes are smart enough to find a warm lap to sit on or some laundry fresh from the dryer to burrow into. Keep this in mind: if you are warm enough, your cat is warm enough. If you're cold, your cat is probably cold too.
If you have your heart set on a hairless cat, get ready to wait. The waiting lists for Sphynx kittens are long. Check with your local shelter and breed rescue organizations if you desperately want a purebred.