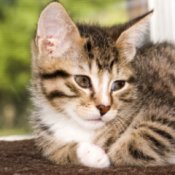 To make a cat window sill perch, cut a board as long as your window sill, and as wide as you want the perch to be. Take a piece of carpet, cover it, and staple excess under the board. Put 2 shelf supports under the perch screwing it to the bottom of the perch, and the other side of it to the wall. Make sure the screws do not go through the board all the way, or it will scratch kitty. To clean just roll a lint remover over it. Kitty will be sitting in the window waiting for you to come home and greet you.
By Kathy Bourg from Jefferson, LA
Read More

Comments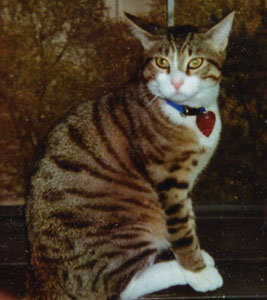 My cat just loves to look out the window (especially at night). I have screens in the windows for safety. My problem is that my window sill is narrow and he barely fits his fat butt on it. I would like to extend my window sill by maybe a few inches. Any ideas how this can be done? Thanks.
Linda from New York City
Answers

April 4, 2008
0

found this helpful
PetCo and PetSmart both sell a little 'window seat' for cats that attaches to the sill. Check out their websites.

April 4, 2008
0

found this helpful
Hi Linda, You didn't say what kind of sill that you have but what I did is actually just nailed a larger peice of wood to my sill I painted it to match and it works fine. My cats have fat butts too!! Also you could put some brackets like for shelving and a piece of wider board if you sill isn't sturdy enough to hold by itself.
Of course you can always purchase a sill extender just for this purpose but I found mine works great and is not noticeable, the extenders I have seen are, but if you want to spend a more they work! Hope that helps. Michelle

April 4, 2008
0

found this helpful
The window sills that the pet stores sell have, ahem, weight limits. If your cat really does have a fat butt (both of mine do too!) then you might exceed the weight limit. It would be easy enough to get a wider piece of wood and a couple shelf brackets to extend the sill yourself. Redoing the entire sill is a real pain- you'd have to take apart the entire window (assuming that's even possible, since newer windows are pretty solid)...
Just make sure you hit studs when you attach the brackets, otherwise kitty will make a loud noise when he hits the floor. Probably in the middle of the night, too. By the way- he's very handsome! (Even though he looks like he'd like for you to hurry up with his windowsill project!)
By tj (Guest Post)
April 4, 2008
0

found this helpful
Perhaps you could place a table, bookcase or other piece of furniture next to the window. If you have a cat tree/perch or large scratching post that the cat can sit on comfortably and safely, maybe you could put that by the window.
No damage to the wall, a wider space for the cat to sit on and possibly some extra storage for you.

Cyinda
Bronze Post Medal for All Time! 213 Posts
April 4, 2008
0

found this helpful
My mom just mentioned to me how they sell "window sill wideners" made FOR cats at most pet stores. I don't know if they clip-on or what, but she said they are super-easy to install. (My cat just had surgery & can no longer go outside)...
*If I were you, I'd go to the pet store & price them, if they cots to much, then build one like theirs, yourself.
By chris (Guest Post)
April 7, 2008
0

found this helpful
I did is actually just nailed a larger piece of wood to my sill I painted it to match and it works fine.
We did this - took a piece of wood & covered it with scrap carpeting. My husband screwed it to the window sill & our cat loves it.

April 7, 2008
0

found this helpful
wal mart might still have the window seat I got when I had
a cat she spent many happy days/years looking outside
Oh when the cover got old we just made a new one but the
frame kept.
By Paula Jo Carr Mebane, NC (Guest Post)
April 8, 2008
0

found this helpful
Clamp a thick & wide piece of wood to the sill on each end of the window. (Perhaps 1/2" thick plywood cut the size of the window would support his body weight and lumber yards always have extra unwanted pieces that are unsold laying around or ready to purchase.)
By the way, what a handsome cat you have. We had the same problem but was able to put a kitchen chair up to the edge of the window sill for our kitty to look outdoors as they were the same height.

janice
Bronze Request Medal for All Time! 53 Requests
April 8, 2008
0

found this helpful
Alot of great ideas here. Just wanted to tell you, your cat is beautiful. Love the colors and markings.
By Janet45101 (Guest Post)
April 8, 2008
0

found this helpful
There are cat seats that fit over windowsills. They are carpeted. I have one, and my cats love it! You wouldn't need to do anything to your windowsill this way.
You might look in Carol Wright or similar catalogs, or check at a pet supply store. Good luck! PS Your cat is beautiful!

April 9, 2008
0

found this helpful
Hi Everyone,
Finally a beautiful day in New York City.
Thank you all so much for your suggestions, some really great ideas, really helpful.
Even "boobaluba" appreciated it (l0l).
Just wanted to say thanks and have a great rest of your week.
Linda
By Mom to Jerry (Guest Post)
January 13, 2009
0

found this helpful
HI, just go to pet co. They have shelves that hook onto the windowsill, actually on top of the sill. They have brackets that press against the wall below and the seat is 8 inches wide and the width of a regular single window. I have two for Jerry.
Answer

this Question

I'd like to hear ideas about how to make an inexpensive, yet durable cat window perch. Or if anyone has ever made one, how did you do it? My 7lb. calico loves to sit with me at the window when I am at my computer, but during the winter, the window is closed and the ledge is not big enough for her to sit, lay, or stretch out. I would love to here a Do-It-Yourself way to build one.
By Vanessa
Answer

this Question