My daughter recently moved and couldn't keep her little doggie. We have given her a new home with us. Her name is Bella. She is so little, weighing under 5 lbs. Her skin is sensitive so she had pet shampoo, and it was fairly expensive. When she ran out, I just bought baby shampoo. I thought a baby's skin is also sensitive, so I gave it a try.
I bought the cheap baby shampoo for $.99 . It worked really well on her. She is soft and shiny. I will continue using it on her. Save a lot of money with this!
By dorothy wedenoja from New Creek, WV
Over-bathing most dogs can lead to dry skin issues. To avoid this problem, use a simple four-step process in between baths.
Sprinkle baking soda into your dog's coat and comb out thoroughly with a wire brush.
After thoroughly combing, use aloe baby wipes in a forward-then-backward motion. Dogs with long hair will require 5 or more wipes. Shorthaired dogs will take about three.
Brush out with soft bristle brush.
To finish, coat your hands in baby oil and run through your dog's hair, back and forth. This simple process reduces odor and helps keep your dog's coat healthy and clean.
Source: Volunteer shelter experience and dog owner
By Carol from Lebanon, TN
I've got three little white dogs that all need regular grooming, and have "learned on the job" how to do it myself. Check out the internet for useful videos.
Before grooming: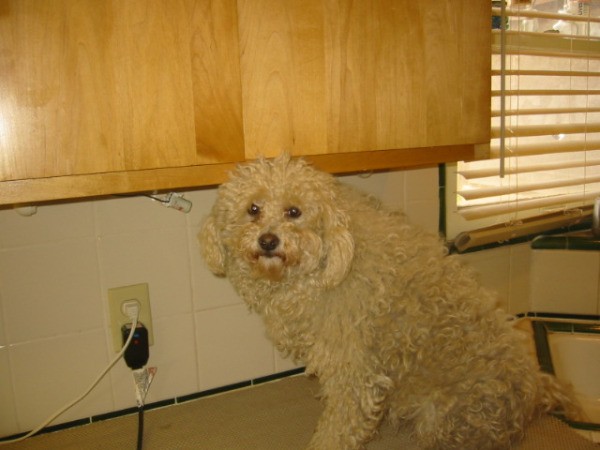 To be thrifty, get blunt tipped scissors and shampoo from the dollar store. I also get conditioner which helps the clippers glide through fluffy fur.
I saved empty dish soap bottles, then diluted both the shampoo and conditioner, for both ease of application and economy. If you find it's hard to get your dog's fur wet, then go straight to the diluted shampoo to break up the natural oils that keep the coat waterproof.
The most important thing to remember is to make your furry friend feel completely comfortable. Make it an enjoyable experience with lots of praise. If they relate having a bath and grooming to quality time with you, with lots of praise and touching, you're home free.
Remember to rinse, rinse, rinse! Sensitive dog skin doesn't like residue, and not rinsing properly is a major source of later 'hot spots'!
After grooming: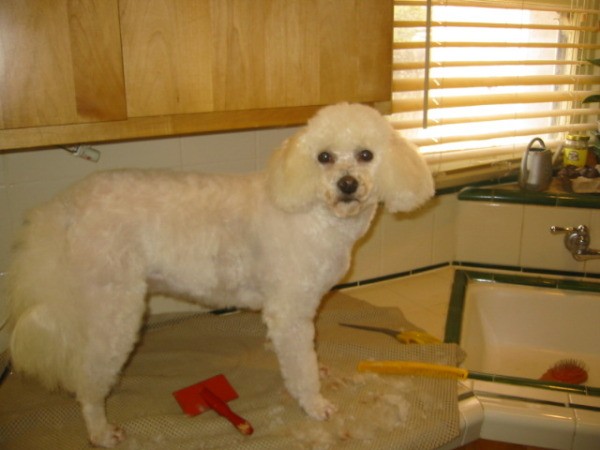 By Maile from Onalaska, WA
I am going to purchase a hound brush from drsfostersmith.com. They are also known as the Hound Mitt or the Hound Glove. Do any of you use one and do any of you like it?
By Robyn from TN
Answers
April 6, 2013
0

found this helpful
You won't be sorry if you go ahead and buy this, it works an absolute treat to groom dogs and cats.
I used one on all my dogs when I had them and they loved the glove! They thought they were being petted and cooperated completely-no more struggling to get them to let me groom sensitive areas, either. I raised Boxers (short hair) but I've seen smiling Goldens, Setters, and Collies being groomed with these gloves, too.
Cats like the glove too, again, works great on long and short hair cats.
April 6, 2013
0

found this helpful
That is wonderful. I recently took a course on Dog Grooming and I read the following:
"The best way to brush a short-haired dog is to rub down his entire coat with a hound glove (as you might have guessed, a hound glove fits over your hand and is covered with semi-soft rubber bristles) and then using a curry brush, brush the coat with the grain of the hair.
Next, use a flea comb to check for the presence of fleas and then finish with another once-over with the hound glove. " Now I need to find out what a Curry Brush is.
April 9, 2013
0

found this helpful
A curry brush is a metal wire with what sort of look like saw teeth on one edge and is bent into an oval feeding down into a wood or hard plastic handle. It is also available in a soft plastic or rubber configuration that you slip over your hand:
The brush is used to curry (groom) horses primarily but also short hair dogs. You can buy curry brushes for dogs in the pet aisles. The item is usually listed as a 'curry comb'.
Dogs don't much care for the curry brush in my experience, I think because it 'scrapes' their boney areas and is an uncomfortable sensation for them no matter the configuration.
To be honest, I wouldn't waste the money. My dogs hated the curry brushes so much they would grab the brush, run off and hide somewhere they could chew the handle to bits-which is not something you want to have happen considering the dangers of having a dog swallowing splinters! When I tried the rubber ones that slip over the hand, the dogs would steal and eat those-also not good because the swallowed rubber can cause some pretty serious blockages and lead to sick dogs at the vet.
It took me a while to figure out but I eventually gave up the curry brush as a 'finish' to grooming sessions.
If you like the appearance the curry brush gives (it does smooth the coat and bring up a rather lovely gloss), a (genuine) boar bristle brush does the same exact thing and dogs seem to enjoy that a whole lot better than the curry brush.
Boar bristle brushes can be bought in the human hair brush aisle, sometimes for a lot less than a boar bristle brush on the pet aisle. Just be sure it is labelled as genuine boar bristle to get the glossy, smooth finish to the grooming session. (LOL, a genuine boar bristle brush does the same smoothing and shining work on human hair too:)
Answer

this Question

...