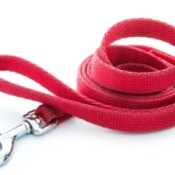 In a home with multiple dogs, there are several ways to keep dog leashes organized and readily available when you need them.
Hang a shelf style coat rack on the wall near the door you use most often when taking your dogs outside. Hang leashes individually on the hooks beneath the shelf. Dog treats, dog coats and sweaters, or your outdoor accessories such as gloves or hats can be kept on the shelf above the coat hooks or in cubbies that are part of the coat rack design.
If space near the door is severely limited, decorative cup hooks can be screwed into the wall beside of the door and leashes can be hung on them.
A wall mount key holder requires little wall space and is ideal for hanging multiple dog leashes. For a more decorative option, choose key holders with a dog motif as part of their design.
Another organizational option is to keep a multi-section storage unit in a specified area such as the laundry room or an enclosed porch or back entry way. Designate a box, basket, or shelf for each pet and keep their supplies and accessories there.
By VeronicaHB from Asheboro, NC
Read More Comments
I have 2 dogs and 1 cat. I don't keep collars on any of them at home. Of course anytime we leave to go somewhere, be it locally or on a trip, they must have them. At those times they all have their collars on, from the time we leave home until the time we return.
I keep 2 sets for each of them. Each one (collar and leash) has the pet's name on it. I use craft paint because it never wears off. I keep one set in the house in my coat closet in a small bin up on the shelf. The other set goes in the car.
My car has little cubbyholes in the back (small station wagon type car), and I put them in there. In past cars, I kept them in the pocket that's behind the driver's seat. The set in the car is the one that has their rabies tags on them. This way, if I'm ever in a hurry and forget something, it won't be their collars and leashes!
In these same cubbyholes, I also keep collapsible water bags, food dishes, and one small toy for each pet.
Although it's not kept in the car, the cat always travels, whether locally or long distance, in a cat carrier.
By Cricket from Parkton, NC
Read More Comments
We have two German Shepherds, and have all sorts of leashes, accessories, etc. We have a desk organizer that we store leashes and collars in. Each drawer has the name of our pet and what's in them.
Read More...
I have 3 dogs, a yellow lab, pitbull and German Shepherd. I bought a small expanable coat hanger with pegs on it and hung it by our back door. I hang the leashes there along with their harnesses for walking. If I take them for a walk or out in public, the harnesses and leashes are there by the back door. I just grab the harness and leash and they know we are going someplace!
By Mary Jo Hartzell from Mansfield, OH