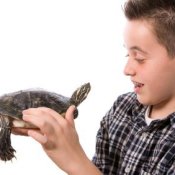 If you raise turtles as pets, you know they need calcium. You can float a cuttle bone in their water. The turtles will eat the cuttle bone and sometimes also use it as a floating island. This is an excellent source of calcium for the turtles and very inexpensive. Cuttle bones can be found in the bird food section of pet stores or big box stores.
By Avery Davis-Fletcher from Langley, OK

My kids just got a pet water turtle from a neighbor. Does anyone have any good information on care and feeding them?
By Alita Ware from Orlando, FL

Answers

May 9, 2009
0

found this helpful
We've had a turtle for 13 years. He started the size of a quarter and now he's bigger that I can hold. We started him in an aquarium - must be a 10 gallon. We put a rock in that was big enough for him to crawl up on to get out of the water. When he grew so did the rock. You can put smaller stones to make a walkway for it but ours like the 'physical workout' in order to get up on his. We purchase Wardley Reptile sticks for him to eat. He comes to the front of his tank and bangs around and 'scratches' the front of his tank while I'm at the computer.
Now, he does go through this smelly stage a couple of times a year. He goes into a dormancy during the winter. Let me tell a funny - One day I thought 'Stinky (turtle's name) was in this smelly state. I asked our son to change Stinky's water. He did and it still smelled awful. I walked back in the room and there was our son's shoes. That what smelled! Teenage shoes. Anyway, we thoroughly enjoy our turtle and hope you have a long happy life with yours.

May 9, 2009
0

found this helpful
Why don't you just put 'feed water turtle' in your address bar at the top of your screen and let the search engine in your browser find way more ideas than just us?

May 14, 2009
0

found this helpful
I have my turtle and its half as big as a wall clock. We feed him reptile food and he loves it he is also used to eating pesky mosquitoes and flies and moths.
We play and taunt with him by putting our fingers to the glass and he swims up and tries to bite it and hits his head on the glass.

November 8, 2011
0

found this helpful
My grandkids have one and it loves lettuce and the tops of the strawberries that are cut off....
Answer

this Question