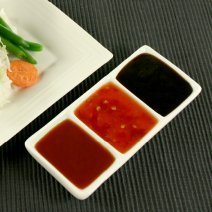 Why purchase these four standard condiments when you can make them fresh at home? They are so easy to make that you're going to have an "I could have had a V-8" slap your forehead moment ;-)
Chinese Hot Mustard
Ingredients:
1/4 cup boiling water
1/4 cup powdered mustard, such as Coleman's
1 tsp. vegetable oil
Directions:
Slowly stir the water into the mustard powder. Add the oil, stir and serve.
---
Fish Sauce
Ingredients:
12 to 14 anchovy filets
1 cup water
2 Tbsp. soy sauce
Directions:
Soak anchovies in water for about an hour. Strain, add soy sauce and stir.
---
Hot Chili Sauce
Ingredients:
6 Tbsp. vegetable oil
2 Tbsp. hot chili powder
1/8 tsp. salt
Directions:
Mix chili powder and salt in a small glass bowl. Heat oil in a small sauce pan, slowly pour into the powder mixture, stirring constantly, and let stand until cool, about 15 minutes.
---
Sweet and Sour Sauce
Ingredients:
1 Tbsp. peanut oil
1 tsp. crushed garlic
1/16 tsp. ground ginger
1/2 cup water
1/2 cup vinegar
1/2 cup sugar
1/2 cup ketchup
1 Tbsp. cornstarch
1 Tbsp. water
1/4 tsp. salt
Directions:
Heat oil in a wok, stir in garlic and ginger, add the 1/2 cup of water, vinegar, sugar and ketchup, stirring occasionally. Meanwhile, dissolve the cornstarch in water and stir in salt.
Once wok sauce is heated, add the cornstarch mixture and cook until desired consistency.
By Deeli from Richland, WA