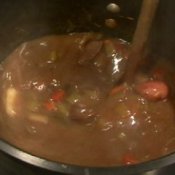 Ingredients:
1 lb. pork shoulder, cut in 1 inch cubes
2 Tbsp. butter
1/2 cup chopped onion
1/2 cup chopped celery
1 small garlic clove, minced
1 tsp. salt
3 beef bouillon cubes
3 cups hot water
2 cups carrots, cut in strips
1/4 cup flour
1/2 cup water
1 pkg. frozen mixed vegetables
Caraway Dumplings:
1 1/2 cups sifted flour
1 Tbsp. sugar
2 tsp. baking powder
1/2 tsp. salt
1/4 tsp. dry mustard
1 1/2 tsp. caraway seed
1 slightly beaten egg
2/3 cup milk
2 Tbsp. shortening, melted
Directions:
Brown pork in butter, in 4 quart dutch oven (can use electric skillet at 350 as well). Add onion, celery, garlic, and salt; brown lightly. Dissolve bouillon cubes in 3 cups water; blend into meat mixture. Add carrots. Cover and simmer 45 minutes or until meat is tender. Combine 1/4 cup flour with 1/2 cup water to form a smooth paste. Add slowly to meat mixture; stir carefully until thickened. Add mixed vegetables. Top with dumplings; cover tightly and steam 25 minutes. Serve 6-8.
For dumplings: Sift together into mixing bowl: flour, sugar, baking powder, salt, and mustard; stir into caraway seed. Combine egg, milk, and shortening. Add dry ingredients all at once; stir until ingredients are moistened.
By Robin from Washington, IA