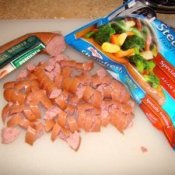 Ingredients
1 Pack Hilshire Farms Polish Sausage
1 bag frozen stir-fry vegetables
1/4 cup Kikkoman's Teriyaki Baste and Glaze
Directions
Saute Polish sausage in skillet. When heated or browned, add frozen vegetables and stir until softened. Add about 1/4 cup of the Teriyaki Baste and Glaze, more or less to taste. Stir well and serve over rice or as is. Everyone will love this and beg for more! This cooks fast so be watchful!
By Linda from Eustis, FL
Editor's Note: Some of the ThriftyFun crew tried this recipe. It was wonderful, even passing the taste test of a 4 and 6 year old! We made a few slight modifications of the recipe on our 2nd attempt.
We used 1/2 a Hillshire Farms Turkey Kielbasa and sauted onions along with the sausage. We also added 2 Tbs. of water as it was cooking to provide a little more liquid when it was served over rice. The pictures provided are from when we made this dish!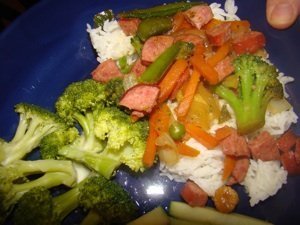 Read More

Comments

Robin
Diamond Post Medal for All Time! 5,887 Posts
In a large pot, place the cubed potatoes, cabbage, carrots, and add enough water until everything in the pot is covered. Cook over medium heat for about 45 minutes.
Read More...
My parents and I really enjoy kielbasa. We have very limited ways of preparing it. Normally we fry or grill them and eat them on hotdog buns or bagels. We would really appreciate any casserole dishes or other ways to prepare this meat. We looked in a couple cook books with no success what so ever.
Thank you.
By Suntydt from Tazewell, TN
Answers

March 26, 2012
0

found this helpful
I love to chop mine up and add it with chunks of pineapple to a package of red beans and rice. Dirty rice is also really good. Zateran's is my favorite brand, but any of them will work.
If the beans and spices give you any trouble, put in about 1 T. of sugar once everything is done. It takes the kick out of tomato products, and helps to neutralize the beans and spices.
I hope this helps.
PBP

Jess
Silver Post Medal for All Time! 267 Posts
March 26, 2012
0

found this helpful
Here is a recipe I posted a few years ago. It's my mom's recipe and we make it often.
Grandma Sue's Famous Sausage Stew
www.thriftyfun.com/tf59439654.tip.html

March 27, 2012
0

found this helpful
I cut the sausage up into 2 inch pieces, put in casserole dish, along with 2 cans of new potatoes (pour in 1/2 to juice from can), parsley, minced onion and pepper to taste. Cover and bake at 350 F for about 30 minutes.

March 27, 2012
0

found this helpful
I like to cut it up and put it in a pot with potatoes and onions and green beans and season with salt and other thing a little broth or water and cook on stove top.

March 27, 2012
0

found this helpful
Try frying with cabbage and some onion flakes or chopped green onions.
Read More

Answers
I am looking for a bean recipe. If I were to name this recipe, I would call it ranch style beans, but not like the canned ranch style beans. These are slow cooked and have some sort of kielbasa sausage in them. (No other chunks that I could tell... haha) Wonderful flavor. I don't like most of the canned baked bean and related beans but we had these at a catored event recently and they were marvelous! Does anyone have anything similar?
Trisha from Albuquerque, NM
Answers

September 25, 2006
0

found this helpful
I have eight baked bean recipes,none with Keilbasa.This one has Pastrami. Do you suppose we could substitute?
Special Baked Beans # 7
~~~~~~~~~~~~~~~~~~
1 large can of pork n' beans or 2 regular size cans
1 medium sized onion chopped fine
2 ribs of celery
1/4 cup of molasses
1/4 cup brown sugar
1/2 cup or medium salsa (more or less and mild to hot as you wish)
1/2 pound of Pastrami 1/4 inch diced
Add all ingredients and bake uncovered in 350 degree oven for 3/4 hour
or until hot and bubbly.
By Paula Jo Carr (Guest Post)
September 25, 2006
0

found this helpful
In the south (NC) we take a can of pork n beans, (or true ranch style beans) cut up alot of onion in them, slice up a beef kielbasa and add "only a cap full" off of a LIQUID SMOKE bottle. ("It" is found at your local grocery store in the seasonings department). Put in microwavable bowl, cover with saran wrap and nuke for 15 to 20 minutes depending on how strong you microwave is. OR bake at 350 for 30 minutes. It is the Liquid Smoke that gives it the great flavor WE THINK! GOOD LUCK AND HAPPY EATING!
By carla bledsoe (Guest Post)
September 26, 2006
0

found this helpful
my baked beans and sausage:
1 can prk and bns
1 tbl bacon drippings or lard or oil
chopped onion
chopped green pepper
about 1/4 cup catsup or b-b-q sauce
1/4 cup brown sugar or molasses
1 tbs yellow mustard
1 lb browned sausage pieces.
brown the sausage chunks in the bacon drippings and remove from the pan (a large iron skillet works well for this)
saute the onion and the pepper
add the rest of the ingredients
add the sausage
heat through. if you like less soupy/saucy cook till they are the consistancy you like.
By trisha Pehrson (Guest Post)
September 27, 2006
0

found this helpful
thanks, i will try these, if anyone has any others, i would love to try them!

October 2, 2006
0

found this helpful
are you talking about red beans and rice? or bacarro beans(which are Mexican beans with bacon or can have smoked sausage in it)
Answer

this Question

I've been trying to find a recipe for kielbasa made with Coca Cola.

Answers

August 20, 2005
0

found this helpful
I've never tried this, but what I would do: brown the sausages in a small amount of butter. Then just toss them in with a couple of cans of coke, simmering. I cook most of my stuff with either beer or wine, but I expect coke would work pretty well with Kielbasa.
I'd probably add a couple of shots of rum to the coke. Intresting idea, I'll have to play with this one a bit.
By sUSAN (Guest Post)
December 31, 2005
0

found this helpful
I was told...
1 package kielbassa
1 small package of brown sugar
1 can of coke
Simmer in crockpot.
Im actually also trying to look for a precise
recipe. This guessing is driving me crazy. lol
Answer

this Question

My son gave me some kielbasa, the Polish sausage. I would like some recipes for its use, but not too heavy. Does one boil it, saute it, broil it? Help!

Answers

March 30, 2011
0

found this helpful
I saute in skillet using water instead of oil ( to reduce the fat) for 2 minutes then drain on paper towels. I then use hash brown potatoes and add a side of vegetables and make it a meal.
Answer

this Question