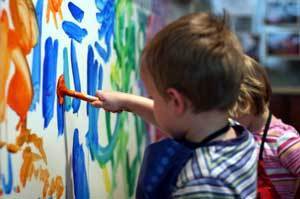 During the summer months, child care costs can skyrocket for families with kids getting out of school. What are your tips for saving money on child care?
Boys And Girls Club Income Based Camp
I don't know where you live, but if you have a Boys and Girls Club there, their summer camp fees are income based. I have a 6 year old boy who goes there and he loves it, and since I just recently seperated from his father and have no job yet, I'm not paying anything for it.
By Jaclyn
Network With School Friends Or Neighbors
If you have school age kids, sometimes you can arrange for a stay at home mom in their class to watch them for cheap. Their kids get playmates for the summer and you could work out some sort of a trade, watching all the kids in the evenings or on the weekends. I have also heard of groups of moms banding together and each taking all the kids for one day a week.
Until I was able to work at home full time, my daycare was my next door neighbor. She watched my baby Ethan from the time he was two months old and is like a second mom to him. She charged me less for my two kids than I was paying for one toddler in Boston. She doesn't advertise, just word of mouth but she is pretty much always full. Look around your neighborhood or ask your circle of friends if they know anyone like this.
Network With Moms
Network with other moms! I think I have said this before, get to know the parents of your children's friends. I have 2 moms that will switch off daycare with me. I have only had to pay a sitter one time this summer. I need a sitter every Saturday for my 6 year old from 2 till 8 PM. To get the help I need, I keep one little girl 3 nights (overnight) a week as her single mom works third shift. My back up is another mom who works second shift, but not Saturdays. I keep her daughter every other Friday when Dad can't. It takes planning but it can work.
By Billie Jo
In Home Child Care
Definitely check out family (in home) child cares. Fees are less than centers generally and will often accommodate more part time schedules.
By Slransom
Staggering Work Hours
We saved money on child care by staggering our work hours so that our child was with the sitter a few hours a day rather then a full day. Not every job/career can allow for this but when they do it makes life a little easier for the family and the pocketbook.
By Sara
Several couples that I have met manage child care expenses by working different shifts. A nurse I know works the night shift at the hospital. Her husband works days.They never need a sitter for longer than 1-2 hours in a day. It works for them.
By Coreen Hart
Dependent Care Flexible Spending Account
If your employer offers a dependent care flexible spending account where you designate tax free dollars toward your dependent (child and elder) care, sign up for it. In most cases the tax savings are greater than if you had just taken the tax deduction. If you work for a large employer check and see if you get discounts at any day care centers as an employee benefit. Ask your Human Resources department.
By Mesarobins
Read More

Comments
We need extra money so I am going to need to go back to work. I found a job that will likely have me working similar hours as my husband. Anyone have some childcare tips? Its looking quite expensive at the moment.
Thanks
Tammy in SC
Answers
By Katie (Guest Post)
April 20, 2004
0

found this helpful
Where are you in SC I just moved to Greenville and are looking for stay at home work. my email is dhwilliamsiii@yahoo.com
By Melissa (Guest Post)
May 8, 2004
0

found this helpful
Tammy,
When considering childcare, the best advice that I can share is listen to your instincts. If it doesn't feel right, it sounds too good to be true, then it probably is. If you are considering in-home care, be sure to check each individual out carefully. If they have pets, ask if the pets will be around the children. If you are considering a daycare center, again, check out the people who work there. Check out the center with the BBB, the Chamber of Commerce and most importantly, check it out with the other parents. You can find really good daycares or in-home providers at reasonable rates. Again, if it looks too good or sounds too good, then it probably is too good and not a good suggestion to go with. If your child doesn't like being there and cries everytime you drop them off or even if you just drive by, then there is something wrong and don't go back. I can speak from experience that what I thought was a good center turned out to be a nightmare for my child. He cried when we dropped him off and even when we just drove by the center. I then put him in a in-home child care center and the first day he was there, the lady's family dog bit him on the face causing facial disfigurement for the rest of his life. My son was lucky that the bite only left a scar on his cheek which can't be really seen and also one by his lower cheek. And when he smiles, he now has a dimple. So, please as one mother to another, use caution, listen to your motherly instincts and trust your children. After that ordeal, I went into the business of having my own daycare center. My children under my care became a part of my family, as well as their parents. I fully involved the parents in everything their child did. And in the end, when it was time to leave, it was hard for all of us to say "good-bye". I wish you lots of luck. Email me @ mississippi33@hotmail.com and let me know how things are going in finding a provider for your child. Aloha from Hawaii.
By Childcare home & Centers (Guest Post)
February 26, 2005
0

found this helpful
I am a single mom and I have found it very very hard to get good child care. I have had bad babysitters who put me thru alot of STRESS. I had a in home babysitter who STOLE my IDENTITY. YES. 18 year old girl. HER mother also called CPS on me because I FIRED her for stealing.
Just a thought. GET online and do a BACKGROUND check.
I am a childcare provider myself. But never got into it seriously.
I found a job just in time.
I am fingerprinted thru the POLICE dept. and also
have ADULT and INFANT CPR training.
I have found that people also want MONEY PAID up front.
I DON'T write checks, unless it is a STATE certified company.
I carry a receipt book from any MAIL BOX store.
I paid same day and get a receipt for my records.
With all of my experience and working nights and weekends.
MY LESSON I SHARE with everyone. DO A BACKGROUND check.
YOUR CHILDREN ARE PRICELESS. NO ONE cares for them like you do when you are with them.
GOOD LUCK.
if you have any questions where to get information,
you can email me directly:
By singlemomma (Guest Post)
May 13, 2005
0

found this helpful
Does anyone know of any good daycares here, in the bay (925) area? I need to go back to work, but I am worried about leaving my child with people I hardly know anything about...people that may or may not abuse/neglect my child. Help!
By (Guest Post)
July 9, 2005
0

found this helpful
Hi, I'm jill and I run jilliejellies daycare out of my home in simpsonville SC I only keep babies 4 wks to 24mo. not sure of the age of your child but if interusted contact me anytime day or night weekends does'nt matter 313-8116 or email me at jilliejellie@yahoo.com thanks Jill
December 23, 2008
0

found this helpful
There is a good article on finding a babysitter that has a lot of good tips here:
June 5, 2009
0

found this helpful
Check out this new website http://DaycareTrade.com Tell your friends about it too. The more people who know about the site, the more likely we are to find the right person to trade daycare with. I'm searching too.
Answer

this Question
I am having a very hard time finding cheap child care. The day care people here ask way too much money and think we are being selfish by saying it's too much. With their rates, I may make $1.00 an hour myself, while the rest goes to support the sitter. Any ideas please? I have to go to work.
Cindy from Oakley, KS
Answers
December 9, 2012
0

found this helpful
Just call around. use goodle maps to find day cares in you're area and call all of them. I have found the prices are very different! I'm in Louisville and I was taking my boys to kindercare (big chain but nice) just for a good social day for them once a week. It was crazy. Almost $50 a half day per child and $70 a year registration, which I had to renew every time they were away for more than 2 weeks.
Anyhow I finally took the time to call around and found a really nice place called Genesis for half the price. It's like anything, you really have to shop around and don't let them guilt you into feeling like you have to spend a million dollars on your child all the time. I love my kids, that is why I work hard, I save money. Working moms are a staple of the economy. We are the modern Rosie the riveter!
P.S. If you are reading this and you live in Louisville check out genesischilddevelopment.com/ We love them and they have been so good to us! Good luck to everyone else!
Answer

this Question