Cooking a Turkey in Your Oven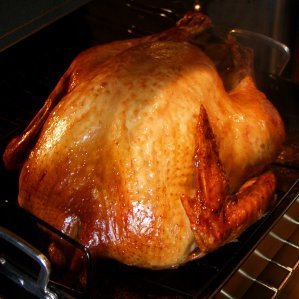 Cooking a turkey can be quite intimidating if it's your first time. It is not as hard as it may seem to cook a turkey yourself. This is a guide about
cooking a turkey in your oven
.
Solutions
Share on ThriftyFunThis guide contains the following solutions. Have something to add? Please share your solution!
My husband never likes turkey, but last year for Christmas the turkey turned out so that everyone thought it was great. It all happened by accident. The electricity was out, so I fired up the wood cook stove. By candle light, we put the turkey in the oven bag. But since it was dark, I didn't notice it was put in upside down. I followed the normal directions with the cooking bag.
When I took the turkey out of the oven (everyone laughed at the fact that it was upside down), it was the moistest turkey ever. So from now on, my turkeys are always upside down! I hope it works for you!
By Beth from Bloomfield, IN
I still like to put my stuffing directly into the turkey cavity. My mother did it for years and so have I and it's perfectly safe. No one has ever gotten ill from this. However, scooping the stuffing out can be quite messy.
I learned many years ago to wrap the stuffing in a layer or two of cheesecloth and then put it in the bird. When the bird is done, I just pull the cheesecloth out, unwrap it and put the stuffing in a dish. The result is a clean turkey. When all the meat is gone, the turkey is nice and clean to make soup.
November 11, 2005
0

found this helpful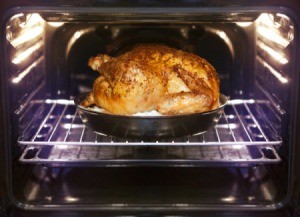 These are all mistakes I have made over the years. After 30 or so years of cooking and eating Thanksgiving dinners, I have seen these mistakes made first hand.
Cooking a Turkey That is Still Frozen
It takes 3 to 4 days in the refrigerator to thaw a frozen turkey. If you don't have that much time, fill your kitchen sink with water (cold) and place it there. As the water gets colder from the frozen turkey, keep letting some out and adding more water. When it seems that the outside is unfrozen, unwrap it so the water can reach the inside of the turkey. Many a turkey is still frozen in the center when being cooked.
Taking Out the Neck and Giblets Package
There is a package of giblets and a neck that are stuck into the breast cavity of turkeys. Make sure you remove them. Sometimes they are put into little plastic bags which makes for a nasty mess. You don't want your beautiful turkey to taste like plastic. If you are fast thawing your turkey, make sure you take these out because they will keep the turkey frozen longer. It's near impossible to get them out until the turkey is thawed some.
Worrying About Stuffing the Turkey
I put an onion and a piece of celery inside the turkey while it is baking. It gives the turkey the flavor of stuffing without sucking up all the juices. I make my stuffing and cook it separately. You can put it in with the turkey in the last hour.
I'm sure there are more of these. Please add your own rookie moves to this post to help those that are making their first Thanksgiving dinner.
Turkey Breasts
If you don't feel up to baking a whole turkey, the turkey breasts are a great option. They take much less time to thaw, give you lots of good breast meat and even have a gravy packet inside to help. If it is the day before Thanksgiving, unless you buy a fresh turkey, this may be your only option.
If you have any more tips for rookie cooks, feel free to post them below.
Susan from ThriftyFun
My hubby discovered long ago the secret to a tender Thanksgiving turkey: moisture. Don't wait for your Thanksgiving turkey to make its own juices for basting. Give it an extra-moist start by adding your favorite broth or bouillon.
We use at least 32 ounces, but you can use more or less according to your preference. If you're out of broth or bouillon, you can make your own brine with plain table salt and water. Low-salt diet? Leave out the salt and use plain water instead.
Don't forget to keep the lid on your roasting pan or "tent" with aluminum foil until the last half hour of cooking time. If you're not sure how long to roast your bird, the rule of thumb I was taught was 20 minutes of cooking time per pound. A 15-pound turkey, then, would need about five hours in the oven at 350 degrees F. Test for doneness by uncovering and trying to wiggle the drumstick. If it wiggles freely, it's done.
Source: My DH, who's taught me a lot about cooking over the years
By JustPlainJo from Springfield, OH
One way we have found to decrease the time in the kitchen on Thanksgiving and other holidays is to use an alternate source for cooking the main course - turkey, ham, etc.

We use our Weber kettle to cook our turkey each year; it cooks in less time, adds flavor (from charcoal and/or wood chips), and it comes out perfect each time. Plus, that leaves the oven in the house for preparing other dishes. That way we don't have to make things ahead of time and then warm them up while the turkey is being carved. Everything is warm and fresh and ready at the same time.

You can also do this with other large cuts of meat - ham, brisket, etc.

We have used this method as far North as Arkansas; when the weather was bad we just cooked in our carport or covered patio.

Further North or in times of bad weather, you can do what my aunt did every year up in New York state. She had one of the big electric roaster/ovens. If you aren't familiar with them they are are like a separate oven with a lid you remove, instead of a door that you open. Just set the temp and put in whatever you need to bake/roast.

These are often on sale before Christmas and they are really very reasonably priced. I have never been able to find one second hand; the people who buy them NEVER seem to give them up.

But, whichever you choose, this gets the main course out of your primary oven and lets you do everything in less time.
June 29, 2017
0

found this helpful
To enjoy especially moist breast meat, you can cook your whole turkey upside down. This is a guide about cook a turkey breast side down.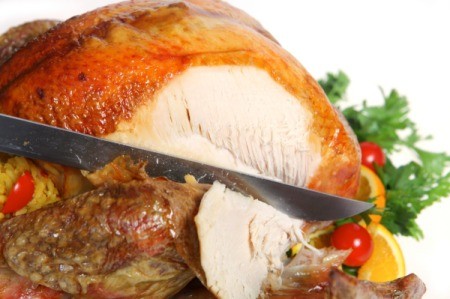 Related Content