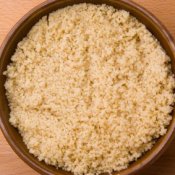 This recipe is cheap and different! It is tasty for breakfast, or as side dish for any other meal. It freezes nicely and carries well to get togethers. I changed it up from much richer, more expensive versions that called for heavy whipping cream.
Ingredients:
3 cups milk
1 cup water
1 chicken bouillon cube
1 cup "quick" grits
1 1/2 cup freshly grated Parmesan cheese
1 lb. greens (mustard, turnip, collard, spinach, chard, or any combo of these) or equivalent amount of frozen or canned greens
1 Tbsp. bacon drippings (or oil or butter)
several slices of bacon, cooked and crumbled
salt and pepper to taste
Directions:
In large heavy saucepan or pot heat the milk, water and bouillon cube to just below a boil. Slowly whisk in grits and cook for 5-10 minutes or until thickened, stirring often to prevent scorching.
When grits are thickened, stir in 1 and 1/4 cup Parmesan cheese and allow to melt (reserve 1/4 cup for top). Remove from heat.
Meanwhile, wash greens and heat bacon drippings in large skillet over high heat. Put greens in skillet while still a little wet from washing. Cook until thoroughly wilted, then drain. If using frozen greens, just heat and drain well; if canned, just drain well. Chop greens up very fine. Stir into grits mixture. Add salt and pepper to taste.
Pour into casserole dish (I use 2 pie pans and freeze one of these for later). Top with crumbled bacon and remaining 1/4 cup cheese. Bake uncovered at 350 degrees F until bubbly, about 20-25 minutes. You want it to still be a little bit loose. It will thicken as it stands. Use broiler to brown top.
This freezes well. Just thaw beforehand and cook as above, adding another 10-15 minutes.
Servings:
8
Time:
20 Minutes Preparation Time
22-27 Minutes Cooking Time
Source: Bought one at a bake sale, then searched for it on the web. Found several, but adjusted the recipe to make it cheaper!
By Shawna from Paris