August 10, 2010
0

found this helpful
No stores in my city double coupons. Furthermore, it seems most coupons are for things I never buy, cleaning products, beauty products, prepared foods, etc. A coupon for 25 cents off when you buy 2 or 3 is not worth my time and effort when it's something I seldom use. I buy mostly store brands and I just learned to stay away from the warehouse clubs. I just bought a 5 pack of canned chicken at the warehouse club ($10.89 for 5 cans). I left there to go to Walmart to finish up my shopping and found same size canned chicken for $1.79 a can. The math tells me I overpaid about $2.00. Since my stores don't double coupons it pays for me to buy store brands. Most of the time they are still cheaper than if I bought the brand name with a coupon. These people who say they get hundreds of dollars of groceries for 10 bucks, sorry I don't believe it. Makes for a good show on Good Morning America. I'm frugal in my own ways (thrift stores, store brands, eating lots of beans and leftovers) but couponing is not one of them.
August 10, 2010
0

found this helpful
In addition to what I just said I looked into the web sites where you print off coupons and I will not give out the info they asked for just to print a few coupons.
January 28, 2011
0

found this helpful
Although, I agree with TXBETTY that not all coupons are equal-your comment does not really go with this tip. I love using a good coupon-thank you for this tip. I had not thought about making a section for other than food items but I will now.
February 27, 2011
0

found this helpful
TXBETTY, I understand why you are saying that. I used to believe the same thing. I still do not use coupons very much. Still, I have friends who have made a commitment to use these coupons to the best of their abilities. Trust me, it is possible to save more money that way than by buying the store brands.
I have witnessed this first hand. My friends spend a lot of time getting and staying organized in order to do this. I choose to use my time for other things...I'm no grocery shopper. It's possible, but it takes serious commitment and organization. I have neither.
May 27, 2011
0

found this helpful
Well TXBetty. I do massive coupon shopping and last week my bill was for $3742.23 and I only paid $163.24. This included everything from food, to beauty, to cleaning, to even dog food and diapers. As my picture shows. Plus, I find it very hard to believe that you dont buy any cleaning products. I mean, how do you do dishes, or clean your toilets, or just the basic brushing your teeth and washing your hair.
Sounds kinda nasty to me. Yesterday I got 20 bottles of Dawn dish soap and 45 cans of Purina dog food for only $2. Now please tell me how does it make more sense to buy 5 cans of chicken for $10.89 when you can get a whole lot more than just that?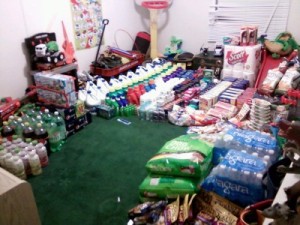 July 4, 2011
0

found this helpful
I agree with TXBETTY. I don't understand or believe how you buy $3700 in groceries for $160. Save money with coupons, yes, but that much?!. In the little town where I live we have a locally owned store and a Wal-Mart. Neither of them double, the local guy would ask me not to come back and probably wouldn't let me use that many coupons in the first place.
I do use coupons but only for what I need. Like the guy on TV that has a special room just for toothpaste! What was it he had over 1000 tubes, and I don't remember how many years that would last, more than a lifetime. That's not just crazy that's stupid to get that many tubes just because it's free.
July 5, 2011
0

found this helpful
Deb: The coupon categories for yr coupon organizer is unique! My organizer uses categories like the city names where I know I can use those coupon, the mall,names of specific stores i.e. Hallmark, McDonalds etc. Thanks for your idea!