I wrote in awhile back regarding rabbits eating my veggies. I received a number of responses and I actually purchased a friendly trap so that I could catch and release it in the surrounding countryside. I gave up trying to save my garden after catching sight of the culprit though. (He doesn't eat that much.) At first we thought it was a neighbor's pet, because it didn't seem to be too afraid of us.
It would come close then hop away if we moved. It nibbled its way around the perimeter of the yard along the fence but I never saw it eating anything other than the stray weed.
The following day I shot the second photo from our front yard. I haven't seen him since. He comes and goes at will. I explained on my blog that he's the original Easter Bunny and the youngsters in my extended family were delighted to finally see the elusive fellow actually exists. Now, if I could just capture the real Tooth Fairy too, I'll be legendary.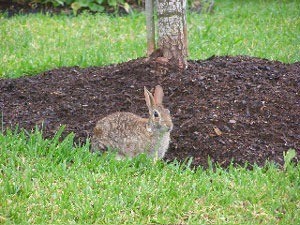 I really do enjoy The Happy Garden Newsletter. Keep up the great work!
Regards,
Jean