If you've had success growing pumpkins or squash, you might want to consider trying your luck with gourds. Since most gourds have a long growing period (from 90-130 days) now is a great time to start them indoors. They aren't very good to eat, but they are notoriously easy to grow. And if history is any indicator, you'll find plenty of other uses for them. Turn them into birdhouses, bath sponges, bowls, scoops, centerpieces, Christmas tree ornaments, trinket boxes-even jewelry.
Three Kinds of Gourds
There are three basic groups of gourds: Hardshell, Luffa and Ornamental. All grow on vines like cucumbers or squash, but they all differ in size and appearance.
Hardshell Gourds:
Also sometimes referred to as Bottle gourds, Hardshell gourds take the longest time to mature. (110-130 days). These gourds are heavy with a tough outer skin and a round or tear-drop shape. Hardshell gourds are often made into bird houses or carved with ornate patterns and made into bowls or boxes after they are dried and cured.
Start Hardshell seeds early (indoors) if you live in a climate with a short growing season. The seeds are hard and rigid and should be soaked for a day to two to speed up germination. Most of this gourd's early growth takes place below the soil so make sure you give their roots plenty of room to grow when they are just starting out. Hardshell gourds mature late but their vines grow quickly and can reach over 100 feet in a single season.
Provide vines with a sturdy trellis or vertical support immediately after sprouts are transplanted. Fruit should be supported off the ground with slings made from nylon hose or socks to prevent rotting and keep fruit from developing flat spots. Prop them upright in place on the ground (on a can or cardboard) if you want them to develop a flat bottom for craft purposes.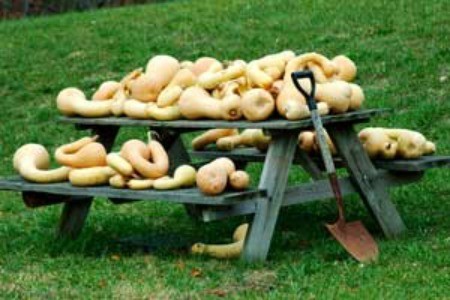 Luffa Gourds:
Luffa gourds, also called vegetable sponges, need approximately 110 days to mature and should be started early (indoors) in climates with short growing seasons. These are the gourds you see as luffa sponges in the bath and cosmetic sections in department stores. Luffa seeds should be soaked for at least 24 hours before planting to speed up germination. Seeds tend to sprout rather erratically and young plants should be monitored carefully for disease. Provide growing plants with a sturdy support for climbing as soon as new growth emerges.
When Luffa gourds are healthy, their leaves are a bluish-silver color. Leaves that lose this color indicate the plant needs a boost of fertilizer. Luffa gourds can be harvested when the outer skin turns brown or yellow or left on the vine until completely dark brown. To prepare the luffa for use, peel off the outer skin and shake the seeds lose.
Ornamental Gourds:
Ornamental gourds are a good choice for gardeners with shorter growing seasons. They are the quickest gourds to mature-needing about 90 days. These gourds are smaller and come in a variety of bright colors and interesting shapes. Ornamental gourd seeds do not require soaking before planting. Their outer skins are less tough than the other gourd types, which leave them more vulnerable to insect damage (aphids, cumber beetles, slugs, squash bugs and vine borers).
Harvesting Ornamental gourds is trickier because they are not left on the vine as long as other gourds. If left on too long their bright colors will fade. Taken off too soon and they will rot. When harvesting, cut the gourds from the vine that feel the hardest first. They will generally going to be gourds located closest to the mound.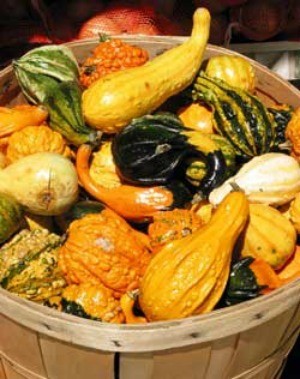 General Growing Tips
Soil Requirements: Ideally, gourds should be planted in mounds of nutrient rich, well-drained soil with a pH of 5.8-6.2. Space mounds about 4 feet apart with 3-4 seeds to a mound. Mulch around plants to control weeds. Gourds will deplete the soil of nutrients and should not be planted in the same place in consecutive years.
Exposure: Full sun. Plant them several hundred feet away from late varieties of squash and pumpkins to avoid cross pollination.
Feeding: Fertilizing gourds is generally not necessary, but plants can be given a balanced organic fertilizer or side-dressed with well-rotted manure once about mid-season.
Watering: Gourds are not drought tolerant. Soil should be kept consistently moist (not wet) and plants should be watered at least once a week during dry periods.
Supports: Fruits are heavy and plants are fast climbers. They should be provided very sturdy supports while growing.
Harvesting: Gourds should be left on the vine until the stems die back and turn brown unless there is danger of a hard frost. Handle mature gourds with care and place them in a warm place with good air circulation to dry. When you shake them and hear their seeds rattle they are completely dry.
Using Gourds for Crafts
Hardshell gourds can be carved, wood-burned, painted, stained, drilled and cut for craft purposes. The skins of Luffa gourds are peeled after drying to expose the fibers for scrubbing or for use as bath products. Ornamental gourds are generally harvested when they reach their peak color and used for decorations.