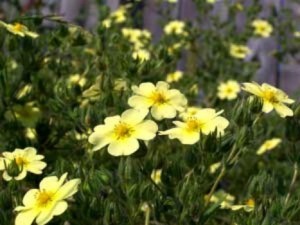 Botanical Name:
Potentilla
Life Cycle:
perennial
Planting Time:
spring or fall
Height:
2' to 4'
Exposure:
full sun to partial shade
Soil:
average to rich, well-drained soil with a neutral to slightly alkaline pH; drought tolerant
Hardiness:
zones
3 to 9 (except Florida and Gulf Coast)
Bloom Time:
early summer to fall
Flower:
yellow, orange, pink and red buttercup-like flowers depending on variety
Foliage:
green leaves densely set on branches.
Propagation:
seeds, cuttings (late spring/early summer) or division (fall/spring)
Suggested Use:
borders, shrubby ground cover, low growing hedges, rock gardens and mass displays
Growing Hints:
Start from seeds by sowing in containers in a cold frame during the fall or spring. Starting in early summer and producing less toward fall, these low-growing plants flower longer over the course of a season than most other shrubs. They prefer lots of sunshine and will thrive in any soil as long as it drains well.
Interesting Facts:
The name "Cinquefoil" means "five leaves, " although the number of leaves on a stem actually varies from three to seven.