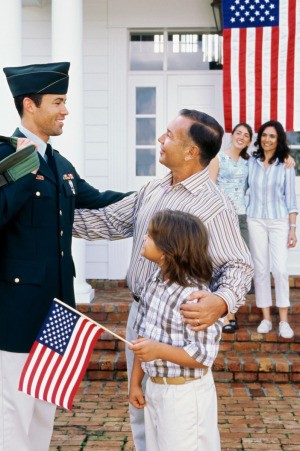 My son will be leaving for Basic Training in the Air Force in a couple of months. We are planning a send off party for him. I need ideas for the party from invitations to food. Any ideas will be greatly appreciated!
By Karen Deaderick from Knoxville, TN
Answers

Suntydt
Bronze Feedback Medal for All Time! 109 Feedbacks
January 11, 2010
0

found this helpful
How about a Bon Voyage party? He may not be leaving on a boat but he is leaving on an adventure.
You can make invitations look like Passports. Food can be just about anything but you can go the exotic and have seafood brought in or roasted pig. Dancing, have a funniest joke contest.Get the sound track for Titanic and play it in the back ground. If you think about it you could probably make this more plane oriented.

January 12, 2010
1

found this helpful
The 3 months before I left for Basic, my immediate family would get together and have a game night or just have Sunday dinner. We took tons of pictures, most of which I took with me and was able to look at during the "Dorm Guard" part of my nights.
Make the memories.. The theme of the party wont really matter.

January 12, 2010
0

found this helpful
We gave our son a BBQ dinner at noon. I had all food in freezer so it were very easy to re heat & serve, we were very surprised at how many showed up,I had to re heat more as they all came in. It were raining that day. Did not expect too many people but food will draw a crowd, good luck to all.

Joan
Bronze Feedback Medal for All Time! 186 Feedbacks
January 12, 2010
1

found this helpful
I don't understand why it seems like parties now need a theme. I believe go with whatever pops into your mind. If you want to do it economically just do a basic party, serve what you want and forget the theme type decorations. If you want some decoration, most places that have fabric, have cotton type fabrics that have logos for the different branches of the military. Some are panels with one large logo on it and some are basic prints that have small logos all over.
The panel would be neat tacked up on a wall for a decoration and they run between $3.00 and $5.00 a panel. If you go with the polar fleece the person could use it as a throw later on. The fleece is a little bit higher priced. But a large panel on a wall would really be all the decoration you would need. Wish your son well and good luck!

January 15, 2010
1

found this helpful
Prior to my son leaving for marine corp boot camp we hosted a party. I purchased a cake at a local grocery store and had the usmc emblem put on the cake. I went to my local $ stores and party stores and bought military decorations.
I didn't find marine corp items so I used general military items instead. I used a paper tank as the centerpiece. In your case, you could use a plane. It was simple and fairly cheap. Hope this helps

September 17, 2011
1

found this helpful
Does he know he is getting a party? My hubby is retired army, the food at basic is not so good, they can't add spices and salts anymore also the good stuff like fried chicken and burgers and pizza are no more during basic. He suggests you ask him what food he wants and his favorites because he will miss them! a lot of pictures the decorations won't matter, he will be happy everyone is there to support him! We support him here and send our prayers!
May 16, 2017
1

found this helpful
I just came up with a fun idea I will be doing at my nieces party. Cutting4x6pieces of paper( Maybe camo paper) asking guests to jot down a little message or words of encouragement. Place them in one of12 folders, marked for the next coming 12 months.
We will then mail the monthly folders to her to read. Hopefully a way to lesson her home sick self...

March 23, 2019
0

found this helpful
Did you receive gifts at your party for your send off and if so what were they. Im invited to one and not sure if I need to bring something?
Answer

this Question

Onesummer
Bronze Post Medal for All Time! 219 Posts
Does anyone have any ideas on how to have a simple going away party (20 people) for my daughter who is leaving for the Army next month? She is 20 years old. I just want something simple with military decorations. One thought was to invite family and friends to a nice restaurant and decorate the table with Army/military decorations Do you have better suggestions?
By Onesummer
Answers

September 9, 2011
0

found this helpful
How about a pitch-in dinner of her favorite foods? Everyone bring something; this will allow everyone to spend more time with her.
Something low key and relaxing would probably make her the happiest.

September 12, 2011
0

found this helpful
Invite folks to bring stuff for care packages to be sent to her over the next several months: socks, body powder, insect repellent, deodorant, razors, individually wrapped hard candies, instant Starbuck's (or whatever) coffee, phone cards, etc.

September 12, 2011
2

found this helpful
I would forego the restaurant and have a pot-luck party at your home or the home of another family member or close friend. That way, it's more informal and everyone can stay as long as they'd like.
There are many military-type scrapbook papers and stickers out there with which you could make candy wrappers, napkin holders, banners (cut out letters that spell your daughter's name, then hang them with ribbon glued on the back), and even confetti for the tables; very cute and VERY inexpensive!
Also, you might like to buy a small photo album (maybe 4x6) with plastic pockets. Before the party, invite your guests to write advice, encouraging words, or fun memories with your daughter on sheets of paper a little smaller than the pockets in the album; once the sheets are collected, you could decorate them with stickers or stamps, or whatever, and give it to your daughter to read when she's lonely or just needs a pick-me-up.
Please give my thanks to your daughter for her service to our country; she's just awesome, and I pray God blesses her time in the military.

August 1, 2016
0

found this helpful
I'm taking pictures of all the guest so I can send them later to her when,all,that missing home kicks in

August 19, 2016
0

found this helpful
Lol , I know this was a question from 5 yrs ago . But ,..........
perhaps all your loved ones FAV THINGS , is the best theme . They will have plenty of Military , camo ,red / white /blue , American surroundings S-O-O-N enough !

February 24, 2017
0

found this helpful
I asked my son who he wanted to invite to his Navy going away party, which is around 50-60 people total. I also asked what food he wanted, and he said Cajun. So, I am borrowing 5 tables and have 3 of my own, borrowing folding chairs from the church. Im getting plastic navy blue table cloths from dollar store, making mason jar centerpieces filled with rice in layers of dyed red white and blue with votive candles in them that I saw on pinterest. For decorations, I'm getting 3 nine foot paper anchor themed banners to run down the patio I saw on Amazon, and some American flag mylar balloons from the dollar store to go in between. For food, I'm ordering fried chicken from the grocery store, making potato salad, red beans and rice in crock pots, and a big pot of gumbo. I'll have family bring pies for dessert if they want to contribute. On the invitation I'm making on my computer, I am listing the website folks can go onto to view his graduation from boot live online, since only a max of 4 guests can attend. I say ask what your child wants and it will make it more special! - Charlotte
Answer

this Question
My son is leaving for Army Basic Training in mid-October; I am having a going away open house for him in the (finished) basement of our church. I need decorating and food ideas, please. His aunt is doing the cake.
By Dianna P.
Answers

Joan
Bronze Feedback Medal for All Time! 186 Feedbacks
September 16, 2011
1

found this helpful
Food: Sloppy Joes, salads, and chips. Decorations: Balloon bouquets in red, white, and blue and maybe an occasional silver mixed in. At fabric stores a lot of the time they have fabric panels with the different military logos on them. Most of the time they are made out of polar fleece. You could buy one of these for no more than $15.00 and hang that on one wall, and then it could be used as a throw or wall hanging in his room at home, until he has someplace to take it. This fabric requires no hemming as it doesn't fray.

September 17, 2011
1

found this helpful
Does he know he is getting a party? My hubby is retired army I asked him what he suggests. Because they can't add salt and spices to the food and there is no pizza, burgers, or fried chicken things of that nature during basic, he suggests you ask what his favorite food is and what he wants because he will miss them! Decorations don't have to be much, he will be happy everyone is there to support him!

August 16, 2016
1

found this helpful
Yes ! All his favorite foods , 'cuz he will miss them . My daughter's leaving 10/3/2016. I know that she will dream of all the yumminess , that she misses. #pizza
Answer

this Question

My son is graduating from high school and 2 weeks later leaving for army basic training. This is happening in May. We are having one big party for both as that will be easier. The party will be at a boat club with both inside and outside seating. I need help with decorations, food, pretty much everything. The only thing my son has asked for is hog meat, which we are doing. There will be over 200 people at the party. Any advice is greatly appreciated.
By Christina K.
Answers

December 4, 2017
0

found this helpful
We did the same thing 2 years ago for our Army daughter. We had it outside, 2 tables for food, 1 for drinks and 1 for desserts. We had a couple more tables set up with photos, letter jacket, and all kinds of school souvenirs, such as programs from the play, yearbook... We had a book for people to sign. We also had a signup sheet for people to put their address so they could be given her address to write to during bootcamp and AIT school. We stuck to using her school colors for our tablecloths and flower centerpeices. I did notice at Hobby Lobby that they had camo items that could be used for centerpieces as well. We used disposable plates and silverware, because we didn't want to spend hours cleaning up. The food we had was walking taco's, various salads, veggie tray, fruit trays and a decorated cake and various desserts. As most graduation parties, we had kids who were going to several, so it was an open house style. People came and went as all the parties were that same day.

Judy
Gold Post Medal for All Time! 677 Posts
December 4, 2017
0

found this helpful
I would have a sign-in board where all the guests will wish him well. Also have a person taking videos. This will be a real comfort to him when he leaves home. Food that serves a crowd would include chili and chicken
Answer

this Question