December 13, 2009
0

found this helpful
If it's really nasty, start with oven spray cleaner and seal it in a big plastic bag for a day or two. *Remember to be safe with chemicals and cleaning agents. Handle these according to the manufacture's specifications.
Then scrub it down with a wire brush, brass if you have it.
I've been known to get impatient and get to really scrubbing too hard, but I haven't seen any negative effects yet.
Just get the big stuff off with the hand held brush, then you 'll want to use a brass wire wheel on a battery powered drill to really knock out the tough stuff; you shouldn't hurt it with this.
It may be more risky to use a "brass wire cup" and a hand-held grinder, but it works.
*Remember to wear all required safety equipment.
*Note: Brass is a soft metal and bristles will break and fly off during use on a powered wheel or cup. Also, remember the debris will also be flying and could cause harm.
Safety gloves should fit without causing excessive loss of hand dexterity, or usefulness.
After thoroughly scrubbing the cast iron, any remaining crud can be soaked in 50/50 vinegar & water for a few hours.
Then, the final cleaning should be completed. Leaving a bare cast iron waffle-iron in front of you that needs to be seasoned (warmed, baked-in, rubbed down).
Start with warming it in the oven at 225F for a few minutes then applying a little shortening, vegetable cooking spray, lard or bacon fat. After you have a good coat on there, replace the iron back in the oven for 30min. Then, wipe the cast iron down with a rag, mopping up pools of oil and spreading them over any dry spots.
Replace the Iron back into the oven for another 30min. and re-wipe with your cloth.
This time reapply oil to any dry spots, mopping up any pools, and maybe spray with a little coat of cooking oil before you put it away on some paper towels or something, because the iron should be wet with oil, and will soak in some more while in storage.
As you continue to use and cook with the cast iron the seasoning will continue to get better with use. Provided you continue proper care for cast iron.
Many people say not to use steel-wool when cleaning cast iron, or any really scratchy pads, and even go as far as to say; don't use dish soap.
I say use what ever method gets the remnants of the last meal off the easiest. Just keep in mind, you'll have to oil the iron before you store it away.
*Remember: Don't leave submerged in water more than 25 hours. No Air-Dying. Don't put it away un-oilled.
Jay W.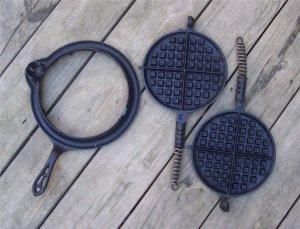 December 29, 2009
0

found this helpful
Cleaning cast iron skillets can be easy if not allowed to dry hardened for a few days. My way is to put water into the skillet and add Dawn dish liquid or baking soda. Turn on heat and let water mixture come to a boil. I usually boil no more than 3 -5 minutes. Let cool or pour water mix down the drain and start to scrub out stuck on food. Boiled water is very helpful. If the stuck food does not release, try scrubbing with a scrubber or steel wool.
If necessary take a knife blade to remaining stuck food.
Caution: never leave just water in the skillet as it will rust very quickly. Always oil and or dry thoroughly before putting away.
Oh by the way, I have seen iron skillets cleaned by putting into a fire also. It will remove everything from the inside and outside. There is danger of rust to inside and outside until seasoned well again. I love my iron skillet.