February 7, 2008
0

found this helpful
Hugs to you Randa! From a mom who's been in your shoes and knows that it's not an easy time you're going thru now. Keep adding to David's Wall. I used to find all sorts to stuff to added to our "Marine's Room" as we call it...and still do with one headed for Japan. Godspeed to your son and you're in our prayers too!
Nelda
Proud Mom of Two Marines
Dallas, Tx
By HaleyP (Guest Post)
February 7, 2008
0

found this helpful
Thanks for the picture and post! My son is in the Navy too! He's only 20 and already has served in Iraq and will be going again this year. I scrapbook his Navy memories but do have a wall in my hallway with pictures of him and his Military buddies.
I know the super proud and scared feelings all too well! Growing up as a daughter and a sister to military men doesn't make it easier. Just a very proud way of life!
February 7, 2008
0

found this helpful
Hi Randa,
What a great idea and a beautiful picture. I know how hard it is not to have David home. I'll keep your family in my prayers and for David to return home safe. Be sure to thank David for his service to our country.
Hugs and Prayers.............Danialle
By Jean in GA (Guest Post)
February 7, 2008
0

found this helpful
Your a good mom! I hope and pray that your son will be home soon and for good.
February 7, 2008
0

found this helpful
Randa, best wishes for your son's safe return. My son left Monday to return to his 3rd tour of Iraq. He has been there from the very beginning. During his first 1-yr tour we worried all the time and went weeks without hearing from him. During his 2nd 1-yr tour we discovered internet and webcam. I leave Yahoo Messenger running and he just pops on to chat. We can instantly upload pictures. I show him home improvements, he shows me his gorgeous new muscles (he's working out) and pictures of him out and about.
With the webcam it's almost like being together again. The most wonderful part of my day is when he pops onto my computer. Once we chatted for 6 hours. When I said "I bet you're tired of chatting with me," he said "No way, it's the hi-light of my day."
For anyone missing their loved one in Iraq, the internet is a God send.
By (Guest Post)
February 8, 2008
0

found this helpful
Thanks to ALL our troops EVERYWHERE! May you come home safe & soon David and all of your troops. God Bless you and yours...and
God Bless America. Pray for our leaders to make the right choices.It has been said before and needs to be said again. FREEDOM is NOT FREE!
So proud of our young people in service of our country.From the begining of this country until now our family has had men & boys in service. Our love, prayers and Thanks every day, Our Flag flies for you. Great Granny Vi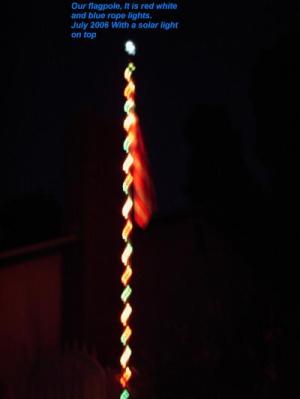 February 11, 2008
0

found this helpful
Dear Randa'
Your idea of a Memory wall is so Beautiful. I have a idea for you, my husband is into woodworking an he made this frame for my brother who who was in the navy. I love it . Just send a Blk/wht 5x7 photo and we'll see what he can do with it
God bless you and yours,and May God bring him home safely,soon!